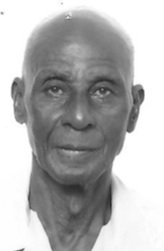 Archerless King
unknown - unknown
Funeral Service for the Late Mr. Archerless King, 88 years of #16 Martinique Road, Golden Gates #2 and formerly of Mangrove Cay, Andros, will be held on Saturday April 20th, 2013, 10:00 a.m. at St. Cecelia's Catholic Church, 3rd Street, The Grove. Monsignor Simeon Roberts will officiate. Interment will follow in Woodlawn Memorial Gardens, Soldier Road.
Predeceased by his parents:  Melvin and Marinetta King, his twelve siblings and his grandchild:  D'carlo Smith
Cherished memories of a good husband, loving father, grandfather, great-grand father, great-great grandfather will linger in the hearts of his: His wife of 66 years: Betty King; Children: Sylvia, Micheal of Miami, Florida, Patricia and Wilfred Smith of Ft. Lauderdale, Andre of Miami, Florida, Lawerence and Hester King, Geoffrey and Anne King; Grandchildren:  Sheryl and Valentino Brown, Melvern and Corporal 363 Andrew Thompson, Pennelope-Carla, Suzette, Jaime and Moniesa Smith, Shantell, Stacia, Dwight, Dwayne, G. Jason, Sherelle,  Lawerence Jr, D'Andrea, Jessica, Arielle, Robin, Simone, Patricia,Corey, Ryan and Kyle; Great- Grand Children:  Ramel, Ashley, Danielle, Kyanna, D'Angelo, Sinaii, A'aliyah, Demetrius, Jade, Nicholas, D'Shante, Raheem, Tristan, Donovan, Akeem, Kimora,  Mackenzie, Peter and  Bri-AnnaLyn; Great-Great Grandson:   Kareem; Sister in Law: Dorothy Thompson of Miami, Florida; Nephews: Tony and Donald of Miami, Florida, Gregory; Nieces: Sandra of Freeport, Grand Bahama, Betty, Kate, Rosalee, Sherry, Dianne and Rowena. A host of other relatives and friends including: Barbara Cox- Cooper, Della King (New York), Marlene Hutchinson & Family,  The Horine Family, The Brown Family,  The Thompson Family, The Smith Family of Ft. Lauderdale, Florida,  Sarah Cleare & Family, Adeline Virgil & Family, Geraldine Darville & Family, Bernadette, Bernicka and Kayla  Smith,  Benjamin Bain & Family, Pedro Miller, Virginia and Gregory Moss, Wellington Johnson, Warcara Hanna, Temeiko Neymour, Julio, Shaneeshiann, Jack Allen and Family, Tony Allen & Family, Inez Dorastant & Family, Maudeline Pinder, Shirley and Clinton Thompson, Louise Cargill, Dorene Bain, Elviro Wilson, Mr & Mrs. Price, Aldora Wilchombe, Father Simeon Roberts, The Ladies Auxillary of St. Cecilia's Church, The St. Cecilia's Parish Family , Dr. Robin Roberts,  Dr. Fung Chung the Staff of Male Medical I, Sandra, Zoe and family, Ms. Faye Charlow & Family, Mr. & Mrs. Kenneth Beneby, Mr. & Mrs. James Neely, Mr. & Mrs. Andrew Sweeting, Dr. Joan King & Family, Chris Smith & Family, Harbour Island Association, Avis Lewis, Clarise Allen, Marge Rolle, & Family, Prince Dill, Bishop Mark D Knowles & The Deliverance Tabernacle Family, Rev. Ranford Patterson & The Cousin McPhee AME Cathedral. The clients of Kingco Construction Ltd., and The clients of  Customs Brokerage Limited, The Management & Staff of Master Technicians & Best Buy, The Management and Staff of Pinders, Customs Brokerage, The Management & Staff of Sun Trust Bank Broward, Ft. Lauderdale, and The Management and Staff of Cable Bahamas Limited
Friends may pay their last respects at Bethel Brothers Morticians, #32 Nassau Street on Friday from 10:00 a.m. to 6:00 p.m. and on Saturday at the church from 9:00 a.m. until service time.