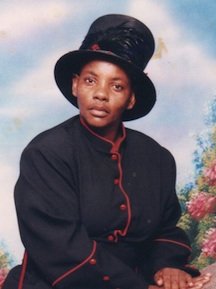 BRENDA JANET FERGUSON-GIBSON
unknown - unknown
Funeral Service for MINISTER BRENDA JANET FERGUSON-GIBSON aged 51 years of Strachan Subdivision and formerly of Lowe Sound, North Andros who died on Friday, August 2nd, 2013 will be held on Saturday, August 24th, at 11:00am at the Lighthouse Church of God, Pinewood Gardens. Officiating will be Bishop Carlton J. Stuart assisted by Apostle Rev. Dr. Dorinda Dean, Rev. Kirk Stuart, Bishop Roy Burrows and Rev. Garth Fynes. Interment will follow in the Woodlawn Gardens Cemetery, Soldier Road.
Precious memories will forever linger in the hearts of her Daughter: Anna Gibson Lewis; Sons: PC 2751 Elvardo, Valvin Jr. & Brendon Gibson; Sisters: Angela King, Sabrina Knowles, Nurse Michelle Johnson and Charlene Burrows; Step Sisters: Georgie Allen Moss and Veronica Young; Brothers: Jerome and Roger Ferguson; Adopted Grandson: Rajan Knowles; Daughter-in-law Nashanka Gibson; Son-in-law: Jeremy Lewis; Sisters-in-laws: Janet Ferguson, Rev Rosemary Russell & family, Grace Flowers and family, Beverley Dean and family, Nichelle Delaney and Family, Julie Planto and family; Brothers-in-law: Peter King, Quincy Johnson Sr., Michael and Drexel Gibson and family, Gary Wallace and family; Aunts: Remilda Sturrup, Mildred Burrows, Emily Rahming, Jestima Rolle, Albertha McPhee, Minister Genesta, Thelma, Priscilla, Mary and Albertha Stuart; Uncles: Christopher, Levit, Wendell, Bishop Charlton, Wilton , Bertram and Godfery Stuart, Edmund Rahming, Randy Rolle and Carlton McPhee; Nieces & Nephews: Devon, Deneia, Aniska, Deangelo King, Aletha Wilson, Chilea and Chilico Knowles, Roger Ferguson Jr., Quinn Johnson, Shakeitha Felicia and Keith Burrows Jr.; Grand Aunts: Florence Mingo and family of Tarpum Bay and Mary Ingraham and Family; Grand Nieces & Nephews; Keffia Strachan, Anson Johnson & D'ajanea King; Numerous Cousins including: Dr. Abigail Ramtulla, Miriam Daxon, Andrew and Cornell, Desmon Stuart, Angela Bailey, Christine Gomez, Cecila Stuart, Edlyn Lewis, Elisa, and Edmund Rahming Jr., Shanna McCartney, Aniska Rolle, Glendina Saunders, Lillith Burrows, Alfreda McPhee, Rev. Roy Burrows, Pastor Garth Fynes, Minister Barbara Smith & Marva, Rose and Jennie Sturrup, Kendra Donald, Carlton Jr. and Garrison Stuart, Qutell Deveaux, Calvin McPhee Jr., Randy Rolle Jr., Sharnell Rolle, Thomas Beckwith, Leotha Rahming, Keffieanne Ferguson, Harvita Knowles, Arnette and Rev. Kirk Stuart, Berthia Knowles, Lambert Roberts, Jesime Gayle & Desmond Stuart, Lambert Roberts, Bobby, Lamont and Anthony Ferguson; Special friends: Minister Maria Russell, Lucy Harris, Georgina Reckley, Johnnie Mae Bowe, Cleomea Farrington, Sabrina Moss & family; A host of other relatives and friends including: Buelah Stuart & family, Burnell Rolle, Pastor Lerodney Rolle & family, Agatha Butler and Shirley Smith and family, Michael and Weeann Johnson, Delcie Thompson and family, Desmond Johnson and family, Calvin Johnson, Carol Johnson & family, Claramae Johnson and family, Patricia and Yusha Morton and family, Joanne Munnings and family, Lucinda Symonette, Golden, Joanne, Jessie and family, the Cooper's from Free Town, Shirley and family, Betty Johnson and family, Estermae, Yolanda and Michelle Lewis and family, Florence Rolle and family of Lowe Sound, Cleomie & family of Lowe Sound, Florence Mingo & Family, the Hunt family of Tarpum Bay, Eleuthera, Apostle Rev. Dr. Dorinda Dean and the Voice of Deliverance Church family; Special Thanks: Dr. Patrick Cargill, Dr. Grant Taylor, Dr. Turnquest, Dr. Gerrad Deveaux & Dr. Justin Albury, Dr. Roker (South Beach Clinic), Doctors and Staff of Nicholl's Town Clinic North Andros, the Flamingo Gardens & Blue Hill Road Clinics, Staff of Neuro Developmental Clinic, Department of Environmental Health, Services Eleuthera, Public Health Department including Mrs. Stephanie Brown, Mrs. Sandra Coleby, Acting Principal Nursing Officer, Mrs. Brenda Armbrister, Mrs. Peggy Cooper, Mrs. Laurence McSweeney, Medical Block Staff & Emergency Department PMH, Alfreda Strachan, Strachan's Estate community, Pastors Orlando & Clarice Thompson & Global Outreach Ministries family, Kingdom Explosion Ministries family, Lighthouse Fellowship Church of God family , The Church of Christ family, The Delancey, Stubbs, Fox, Barr and Bell families, Sherria Stubbs and family, The Lowe Sound North Andros, James Cistern & Rainbow Bay Communities, the Staff of Viola's Bar & Grill, the Staff of Atlantis, the Royal Bahamas Police Force, Freeport Grand Bahama and the staff of Teacher's and Salaried Workers Cooperative Credit Union.
Viewing will be held at Clarke's Funeral Home #10 Tonique Williams-Darling Highway on Friday, August 23rd from 10:00am to 6:00pm and on Saturday from 10:00am at the church until service time.