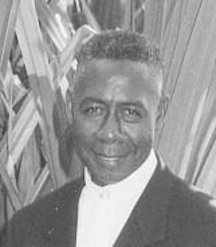 Wellington Shalman Lewis
unknown - unknown
Funeral service for Wellington Shalman Lewis 67 yrs., a resident of Pine Forrest Close, will be held at Our Lady's Catholic Church, Deveaux Street, on Saturday at 2:00 p.m. Officiating will be Fr. Alaine Laverne, assisted by Deacon Maxwell Johnson. Interment follows in Catholic Cemetery, Tyler Street.
Left to cherish his memories are:
Loving Wife: Silma
Sons: Davos and Wellington Jr., Orlando(deceased)
Brothers: Edmund(Geraldine), Samuel, Roderick, Dudley(Ella), Tony, Brian, James and Perry Lewis, Anthony Goodman
Sisters: Jennamae Goodman, Helen Pinder, Brenda, Patricia, Deborah and Bernadette Lewis, Daphne Barr (Keith), Linda Major(Keith), Rosyln Astwood(Llewellyn), Dorothy Roberts, Cecile Brown, Marie Wilson, Ethelyn Caple.
Aunts: Laurial Lewis and Orthlese Coleby
Numerous nieces and nephews including: Elizabeth, Miriam and Rosa Pinder, Antonio, Elaine, Shamaine Goodman, Elaine Sands, Diedre Ferguson, Edmund Lewis Jr, Sandra Gaitor, Juanita, Scott, Latoya, Tiawan, Prince, Andre, Michael, Raina, Jeno, Tito, Dylan, Stacy, Shandy, Vasco, Ron, Sebas, Alia, Alvin Jr, Brandon, Rory, Keith Jr., Latrell, Latoya, Lakeisha, Monique, Antonio, Leevan, D'Angelo, Vandia, Bria, Tia, Trevor, Roberto, Karen, Samantha, Sean, Jamal, Tanya, Llewellyn, Lamont, Sharon, Lynn, Donna, Anthony, Kevin, Sheldon, Vaughn, Aaron, Marcian, Kimberley, Ronnique, Ava, Patrice, Dwayne, Danielle, Precious, Crystal, Dudley Jr, Demarco, Danielle, Ashlee, Ellison and Ellisha, Keith, Keithrelle and Kiedre, Nadia, Raquel, Clive, Brian, Tina.

Other relatives and friends including: Juankah, Stacy, Ella, Monique and Tony Hanna, Frances, Monique and Wellington Hepburn, Zhizario Mortimer, St. Matthew's Church Family, St. Matthew's Choir, Mr. Clarke and Family.
Friends may pay their last respects at Demeritte's Funeral Home, Market Street, from 12-5:00 p.m. on Friday & on Saturday from 9-12:00 noon & at the church from 1:00 p.m. until service time.