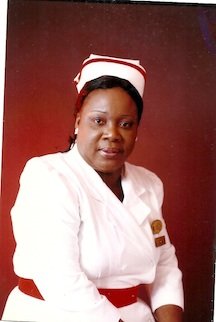 Carolyn Alean Rolle-Steer
unknown - unknown
Funeral Service for the late Nurse Carolyn Alean Rolle-Steer age 52, will be held on Saturday July 13th, 2013, at 11:00a.m. at Salem Union Baptist Church, Taylor Street. Officiating will be Reverend Deno V. Cartwright assisted by Reverend Dr. Adam J. Brown,Apostle Phalmon A. Ferguson, Pastor John H. Innis other Ministers of the Gospel. Interment will follow in Woodlawn Gardens, Soldier Road .
Those Left to Mourn and Cherish His Memories Include:
Survived by her Husband- Dickey Steer, Daughters – D' Annestine Sherick Taylor and Cortina Rolle; Grandchilden: Sharundo, Tenaj, Raina, Derion; Siblings: Roveina Rolle, Leanna (Leroy) Weir, Rev. Louis (Naomi) Rolle, Joycelyn Rolle, Inez Cartwright, Judith (Ishmael) Bain, Sandra (George) Moss, Alice (Wendell) Francis, Lucinda Rolle; Step Mother: Nathalie Rolle; Stepsisters: Patricia (Roosevelt) Mckenzie, Ronna, Judy and Michelle Smith; Stepbrother: Jeff Smith; Uncles: Elkin and Rolston Flowers; Aunts: Christina Rolle, Evelyn (Wayne) Major; Nephews and Neices: Denise Weir, Jason Weir, Victoria (Roosevelt) Mckenzie, Pastor Brenda (Nehemiah) Clarke, Delma (Van) Ferguson, Indera Stubbs, Janis Duncombe, Patrick (Tasha), Cardwell (Sharonda) Taylor, Derrick Rolle, Deon Rolle, Stephanie Rolle, Arnette (Troy) Neymour, Zhavargo (Yvonne) Rolle, Carlis (Rev. Lynden) Clarke, Edison (Talitha) Rolle, Alexion, Dellareese, Michael, Louis Rolle, Cypriana (Clifford) Woods, Rev. Deno, Delarionda Cartwright, Lavarison, Ellena, Dentri, Maurice Moss, Jueisha Bain, Alindell (Paul) Price, Phylicia, Wendell Francis, Jr., Jabaron, Jameiko Rolle, Numerous Grandnieces and nephews; Cousins: Anniemae, Clementina, Anthony, Lorene, Angela, Karen, Kendal, Elton, Berrynetta, Virginia, Jestina, Rovenia, Judy, Elbert, Harrington, Forester, Leaman, Dotlyn, Sylvanus, Lawrence, Ross, Clie, Franklyn, James, Jacob, Clint, Charles, Craven, Gabriel, Berthalee, Bernice, Zelma, Phyllis, Janet, Lorann, Livingston, Maggie, Nora,Alvira, Enamae, Leon, Wesley; Numerous relatives & friends including Taurus Farrington, Hannah Brice and Family, Gladstone Rolle and Family, Elsiemae Smith and Family, Ezra Curry, Diane Rolle and Family, Wesley Ferguson and Family, Ruth Smith, Oveta Strachan and Family, Gloria Strachan and Family, Hezekiah Smith and Family, the Entire Farmer's Hill and Old Place Community, Wendy Williams, Hessiemae Bethel, Dr. Lochan, Dr. Homer Bloomfield, Neonatal Intensive Care Unit, Princess Margaret Hospital, Rev. Dr. Irvin Clarke and Ebenezer Union Baptist Church, Farmer's Hill, Exuma, Rev, Heuter Rolle and the Salem Union Baptist Church, Apostle Phalmon Ferguson and the United Faith Ministries International, Bishop Victor Cooper and New Bethany Baptist Church, Apostle Ivry Johnson and Gilead Full Gospel Baptist Church, Canon Basil Tynes and the St. Barnabas Church, St. Peter's Union Baptist Church, Rev. Dr. Charles Culmer and the Foresight Baptist Church, Farmer's Hill and Old Place Communities, and a host of other relatives and friends.

Viewing will be held in the Legacy Suite of Vaughn O. Jones Memorial Center, Mt. Royal Ave. and Talbot St. on Friday from 10:00 a.m. to 6:00 p.m. and on Saturday at the Church from 9:30 a.m. to service time.