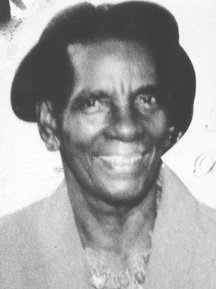 Corine Adderley
unknown - unknown
Funeral service for Matriarch Corine Adderley, 90, a resident of Spence Corner, Wilson Track, will be held at St. Barnabas Anglican Church, Baillou Hill & Wulff Roads, on Saturday at 10:00 a.m. Officiating will be Canon Basil Tynes, assisted by Fr. Donald Kerr. Interment follows in St. Barnabas Cemetery, Moore Avenue.
Left to cherish her memories are her three Sons: Craven, Ezekiel & Alfred Adderley. Two Daughters: Shirley Adderley & Sheila Duncombe. Adopted Children: Sharon Capron, Mardee Higgs, Elizabeth Griffin, A.S.P. Joy Bosfield (R.B.P.F), Joseph Johnson & Kevin Eve. Grandchildren: Tyrone, D/Insp. Jeff Adderley (R.B.P.F), Cheryl, Ayanna, Erica, Kenva, Tanyinka, Farron, Ricardo, Leading Woman Marine Denise Oliver, Christopher & Christina. Great Grandchildren: Ashinique, Marissa, Tazmane, Corrine, Tyler, Sony Jr., Sanayo, Orrin, Quntrel, Tyrone Jr. Travez, Kelson, Lamar, Isabella, Catharina, Theo, Latesha, Latoya & Tashina; Great-great Grandchildren: Kayla Lutous & Arhianna Duncombe. Daughters-in-law: Minister Julia & Angela Adderley; Son-in-law: Sybrone Duncombe; Grandson-in law: Miguel Coello. Nieces & Nephews: Nathalie Griffin, Elizabeth Miller, Dorothy Russell, Dell Frazer, Gloria Pinder, Margaret Armbrister, Audrey Munroe, Victoria Russell, Rose Pratt, Leila Armbrister, Mildred Stubbs, A.S.P Livingston Adderley, Donald Miller, Richard, Charles, Melvin, Wellington & Neely. Grand Nieces & Nephews: Fredericka Thompson, Minerva Patton, Percy, Bruce, Chester, Leon, William Jr., Stephen, Andrew, Barry, Robert, Peter and Ernest.
Other Relatives & Friends: Father Canon Basil Tynes & St. Barnabas Anglican Church family, Mr. & Mrs. Eloise Storr & family, Mrs. Jocelyn Armbrister & family, Matthew Morris, Mr. Walter Capron & family, Burt Miller, Gladys Lightfoot & family, Mr. Theophilous Fritz & family, Mrs. Sheila Johnson & family, Ms. Vernita Johnson, Ms. Nicole Gibson, Israel Thompson, Rev. Fredrick Cartwright & family, Mr. Panza & family, Kim, Cynthia, Jackie & Alvin Smith & family, Barbara & James Brice & family, Brigette & Jenson Darling & family, Albertha Roberts & family, Prescola Thompson, Patrice Ross, Stephen Rolle, Sony Boa & family, A.S.P. Cleophas Cooper & family, Debbie Adderley & family, Petrona Powell, Kenneth Missick & family, Brista Johnson & family, Francita Clarke & family, Rev. Jeffrey & Francita Johnson, Abe & Lola Johnson & family, Mr. Wilson & family, Joe McDonald & family, Shirley Miller & family, Mr. Garland Miller, Terrance Collie, Sean & Bruno Lynes, Rev. Glenn Miller, Gregory Archer & family, Tamyka Walkine & family, Sheniqua & family, Ms. Wright & family, The Lightbourne family, The Berry Islands & Burnt Ground Long Island family, Female Medical II & P.M.H Staff, Dr. Fox & Medi Center family, The Labor Street family, The Wilson Track & Spence Corner family and many others too numerous to mention.
Friends may pay their last respects at Demeritte's Funeral Home, Market Street, from 10-6:00 p.m.on Friday & on Saturday at the church from 9:00 a.m. until service time.