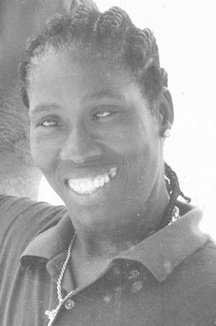 Bernadette "Bernie" Knowles
unknown - unknown
Funeral Service for Bernadette "Bernie" Knowles, 55 yrs., a resident of Francis Avenue, Fox Hill, will be held at St. Paul's Baptist Church, Bernard Road, Fox Hill, on Saturday at 11:00 a.m. Officiating will be Rev. J. Carl Rahming, Rev. Ruben Rahming, Rev. George Bodie, Rev. Laura Glinton, Rev. H. R. Chaleus Hart, assisted by other Ministers. Interment follows in the Church's cemetery.
Left to cherish her memories are her husband: Michael Knowles; children: Keyon, Kendra & Keneisha Knowles; stepchildren: Michael Jr., Kevin & Arlene Knowles; adopted son: Daniel Knowles; sisters: Shirley Armbrister, Rosemary Burrows, Arnette Davis, Coralee Demeritte, Sandra Kerr, Millicent Dean & Blanche Demeritte; brothers: Maxwell, Anthony, Harvy Jr., Leroy & Anvil Demeritte; aunt: Genesta Adderley; aunts-in-law: Florence Knowles Richardson & Shirley McQueen; brothers-in-law: Huey Armbrister, Willard Burrows, Reuben Davis, Leonard Kerr & Maxwell Dean; sisters-in-law: Melvern Demeritte, Rachel Knowles & Samantha Swain; 26nieces:Marsha, Michelle, Tamara, Dale, Janeen, Phillippa, Sheena, Melisha, Melbirth, Anne, Sonia,Tamara, Amanda, Melissa, Samantha, DeEdgra, Sherika, Shaniqua, Anthonique, Cherrylee, Paulamae, Michelle Janice, Marva, Helen & Kirsten; 20 nephews: Huey Jr., Adrian, Keith, Melcus, Nicholas, Darren, Marvin, Gordro, Bernard, Maxwell Jr.,Jay Michael, Ian, Johnell, Jetson, Raymond, Stephen, Ramon Carlton, Dencil & Johnathan; 46 grandnieces & 49 grand nephews; a host of other relatives & friends including: Albert Brice & Dorothy Symonette, Faye Cooper, Deidre Gray, Sue Anne & John Dunkley, Colleen & Robert Dunkley, Rev. J. Carl Rahming & Mother Evangeline Rahming, Rev. Carrington & Sabrina Pinder, Pastor Lynden & Sister Knowles, the Oncology Center, Dr. Thomas & Nurse Hanna, Frances Dawkins & Debbie Burrows, the entire Strachan & Demeritte family, the Fox Hill Community & the Movi Group.
Friends may pay their last respects at Demeritte's Funeral Home, Market Street, from 10-6:00 p.m. on Friday & on Saturday at the church from 10:00 a.m. until service time.