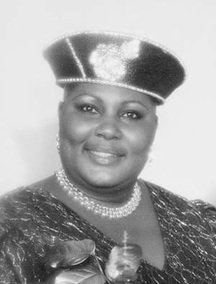 Ernestine "Queenie" Andrea Arthur
unknown - unknown
Funeral Service for Ernestine Andrea Arthur "Queenie", age 58 years, of Elizabeth Estates, will be held on Saturday July 20th, 2013 at 11:00 a.m. at Zion South Beach Baptist Church, Zion Boulevard, South Beach. Officiating will be Bishop B. Wenith Davis assisted by Pastor Charles T. Dorsett. Interment will follow in Woodlawn Gardens, Solider Road.
Those whom she left with cherished memories are her grandsons: Cordaro Pinder and Dontray Arthur; step mother: Janette Arthur; adopted daughters: Nykia Smith and Lakeisha Rolle; adopted son: Kevin Rolle; adopted granddaughters: Nyla Bastian and Lakofeia Rolle; adopted grandson: Lakofe Rolle; one sister: Denise Arthur-Adderley; four brothers: Patrick, Anthony, Kevin and Gerald Arthur; brother-in-law: Troy Adderley; sisters–in-law: Julie, Beulah, Vanria, Grace and Marilyn; god-mother: Annie Gilbert; two uncles: David Pennerman J.P., and George Thomas Arthur; ten aunts: Ruth Nairn, Madeline Mackey, Pandora Miller, Isadora Miller, Lillymae Miller, Rowena Johnson, Ernestine Bowleg, Arrie Evans, Mary Wilchombe and Gloria Delancy of Freeport Grand Bahama; nieces: Angelique, Cherrilyn, Alexia, Alexandria, Di Marcia and Geranique; nephews: Anthony Jr., Miguel, Benjamin Patrick Jr., Gerand, Patrick, Alexander, Germico, Andrew and Andre; four grandnephews; numerous cousins including: Dr. Geoffrey Pennerman and family, Bryan Pennerman and family, Ian Pennerman and family, Kendal Pennerman and family, McFarlane, Audrin, Percival, Julian, Sylvan, Agatha, Georgina and Greta Pennerman, Vernal, Leonard, Paul, Peter, Fredrick, Michael and Gelita Rolle and Family, Loretta Francisco and family, Permel Schimps and family, Beverley, Yvette, Donna, Keith, Andy, Miguel MacFarlane and Lawrence Bowleg, Jaclyn Hanna, Franklyn Rolle, Annette Bain, Kayman, Marcus, Maston, Dorin, Gayle, Claudette, Shantell and Naterah Evans, Lenora Gray, Veronica Outten, Raquel and Anita Deveaux, Charmaine Poitier, John, Tyrone and James Deveaux, Mark Greene, Sandra Greene-Gordon, Hazel Rolle and family, Princess and Renthea McPhee and family, the children of Mary Wilchombe and Gloria Delancy, Bishop B.W. Davis and family, Bishop Samuel Greene and family, Kirklyn Barr and family, children of the late Corene Cox , Caroline Sands and family, Miriam Curtis and Marrino Hamilton, the Curtis family, Berthamae Pyfrom and family, Ismalene Bowe and family, Rev. Tyrone Greene and family; other relatives and friends including: Rt. Hon. Melanie S. Griffin Member of Parliament for Yamacraw Constituency, the Management & Staff of the Seaside Buffet, the Management & Staff of the Old Pink Pussycat Club, Mrs. Russell and Mrs. Fox from Family Guardian Insurance, Ms. Collie from British American Insurance Company, Dr. Francis and the team of Nurses of Female Surgical II, Dr. Grant-Taylor and the team of Nurses of Female Medical I, Andrea Thompson, the entire communities of Barbados Ave and Elizabeth Estates and many others too numerous to mention.
Friends may pay their last respects at Butlers' Funeral Homes and Crematorium, Ernest and York Streets on Friday July 19th, 2013 from 10:30 a.m. to 4:30 p.m. and at the church on Saturday July 20th, 2013 at 10:00 a.m. until service time.