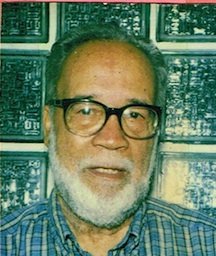 Gerald Michael Major
unknown - unknown

Funeral Service for the late Mr. Gerald Michael Major age 84 years old of Arundel Street and formerly of Berry's, Long Island who died at the Princess Margaret Hospital on Friday, July 12th, 2013, will be held at 11:00am on Saturday, July 20th, 2013 at Rhodes Memorial Methodist Church(MCCA), Montrose Avenue. Officiating will be Rev. Dr. Livingstone Malcolm and Rev. Emily A. Demeritte. Cremation will follow.
Left to cherish his life and legacy are his: loving and devoted wife of 63 years: Irene Major; three daughters: Shirley Major - Bachtis, Susan and Pam (Sharlene) Major; two sons: Paul and James Major; three sisters: Marjorie Kemp, Flossie Darville and Lottie Davis; two brothers: David and Albury (Doc) Major; two daughters-in-law: Janice and Ann Marie Major; four sisters-in-law: Lilleth Major, Margaret Gibson, Doris Hanna, and Neka Sands; two brothers-in-law: Charles Kemp and Carlton Hanna; thirteen grandchildren: Douglas Vaval (wife Denise Vaval), Kurt, Kristina and Kristin Major, Eulisa and Eugina Edwards, Atalia Robinson, Ja'Ann, Gerald III (J.Jay) and Shanique Major, Tamika Woodside (husband Dion Woodside), Carson Russell and Shanreece Major; fifteen great-grandchildren: Dillon and Drew Vaval, Kurdero and Kurdaz Major, Jermaine Allen Jr., Mario Jr. and Marlissa Wright, Kenzell Armbrister, Desmond Kelly Jr., Jakwon Clarke, Janicia Major, Dion Woodside Jr., Shainne, Kreig and Latrell Major; nieces and nephews: Janet, Roselyn, Linda, Thelma, Michael & their families, Debbie, Steph, Dolly, Pam, Tony, Steve & their families, Lori, Sherry, Joy, Sherman, Denny & their families, Ray, Lawrence, Hugh, Kenny, Lawson & their families, Audrey, Angela, Christine, Hayward, Ali, Wayne & their families, Keva, Joy, Basil, Eddie, Glen, Alton, Tracy, Andre, Carlton Albert & their families; other relatives and friends: Pat and Andrew Pinder & Family, Andrew Hanna & Family, Bill, Beryl, Judy, Donny, Kevin, Steve, Kendal & their families, Sheila, Clyde, Randy, Rodney, Dale & their families, Barbara Chong & Family, Hugh, Wendell and Robyn, the Dean Family, the Beckford Family, Alfred Brennen, Sybil Seymour & Family, the Sturrup Family, the Armbrister Family, the Christie Family, Liz Cumberbatch & Family, Leslie Perigord & Family, Dora Smith & Family, George Robinson, Donavon Dorsett, Dennis Bastian, Raymond Wilson, Rena, Carrie, Marie & Family, Angie & Family, Robert Newman & Family, Jackie Jenoure & Family, Addington Darville & Family, the Rt. Hon. Perry G. Christie and Mrs. Bernadette Christie & Family, Senator Frank Smith & Family, Rev. Emily Demeritte & Family, Rev. Livingston Malcolm & Family, Rev. Raymond Neilly & Family, his church family of Rhodes Memorial Methodist Church, the management and staff of McCartney's Pharmacy, the management and staff of Scotia Bank, the management and staff of the Department of Environmental Health Services, the management and staff of Homer Plumbing, the management and staff of Island Gas, and a host of other relatives and friends too numerous to mention.
Viewing will be held in the Serenity Suite at Restview Memorial Mortuary and Crematorium Ltd., Robinson and Soldier Roads on Friday from 10:00am to 6:00pm and at the church on Saturday from 9:30am until service time.