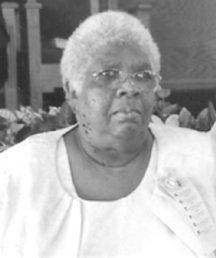 Deborah Johnson
unknown - unknown
Funeral Service for the Late Deborah Johnson, 77 years of Pinewood Gardens and formerly of Glinton Square, will be held on Saturday July 20th, 2013, 10:30 a.m. at East Street Gospel Chapel, East Street. Senior Pastor Thomas Roberts assisted by other Ministers of the Gospel will officiate. Interment will follow in the Western Cemetery, Nassau Street.
Left to cherish memories are her: Children: Ann Legore, Kathy Johnson, Mark Johnson and Hubert Johnson; Son-in-Law: Howard Legore; Stepson: Nevil Johnson; Grandchildren: Sergeant Latoya Pratt, Lexanne, Kimberly, Christopher and Mark Jr.; Sister: Carmel Cancino; Sister-in-Law: Verna Elcock; Brothers-in-Law: Lesley Johnson and Peter Bowe; Aunt: Sheila Pessoa; Stepfather: Daniel Drost; Special Friends: Doristine Culmer, Mora Dorsette, Janet Hepburn & Alexandria Hepburn, Pastor Tom & Lesa Roberts, Lillian Gibson, Ms. Jones-Smith; Nieces & Nephews: Sandra Wright, Christine Porter, Anishka McPhee, Shanta Williams of Florida, Della Reese Tucker, Dianne Watson, Melver Bowe-Seymour, Cheryl Bowe-Moss, Ruth Bowe– Darville, Claudette Bowe-Davis,  Val Roker, Wayne Williams of Florida, Gilchris Tucker, Christopher Bowe and Adrian Bowe; Numerous Relatives and Friends: Charles A.P. Smith & Family, Charles Allen Smith & Family, Corin Fountain & Family, Audrey Fountain & Family, Dewitt Thompson & Family, Gloria Cleare & Family, Joyanne Eccleston & Family, Ann Marie of New York, The Tucker Family, The Bain Family, The Prosper Family, Garnet Pratt and The Davis Family
Friends may pay their last respects at Bethel Brothers Morticians, #32 Nassau Street on Friday from 10:00 a.m. to 6:00 p.m. and on Saturday at the church from 9:30 a.m. until service time.