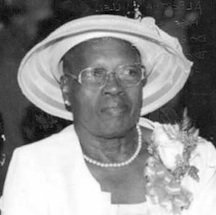 Albertha Miller
unknown - unknown
Funeral Service for the Late Albertha Miller, 86 years of #21 Mall Road, off Soldier Road West and formerly of Knowles, Cat Island, will be held on Saturday July 27th, 2013, 10:00 a.m. at St. Barnabas Anglican Church, Wulff & Baillou Hill Roads. Canon Basil Tynes assisted by Fr. Donald Kerr will officiate. Interment will follow in St. Barnabas Cemetery, Moore Avenue.
Mother was predeceased by two daughters: Brenniemae King and Daisy Woods-Turner
Left to cherish her memories are: Daughters: Marietta Thompson, Cleomie E. Woods, Patricia Woods- Hamilton, and Marsha Woods- Williams; Sons: Randy Woods and Philip Miller; Sisters: Rosemary Archer, Geneiva Rollins, and Cardell Russell; Son-in-law: Godfrey Williams; Daughter -in-law: Rena Woods; Grandchildren: Tremmie, Bertis, Valentino and Erin Thompson; Shena Carroll, La'Daisy Turner, Verne and Vanessa Perigord, Lavaughn Hamiliton, Ashley Ingraham; Ramon, Shane, Reno, Robert and Randi Woods; Lakira, Yasmine, Latarvia, Phelan and Ramesh Miller; Great Grandchildren: Janae Curry, Jessie, Taylor, Jade and Aleah, Chatarra, Noslen, Bertina, Jade & Vashawna Thompson; Darnell Pulphus, Yorick Carroll III, Andrew Thompson, D'Quan Smith; Alex, Valentino Jr., Sabian, Lester, and Adam Thompson; and Shachan Rahming; Great-Great Grandchildren: Demarhi Pulphus and Yorrick Carroll IV , Xavier & Trea' Curry, & Lundon Dyous. Numerous Nieces and Nephews including: Eldric and Gertrude Miller, Nellie Brooks, Lilla Wong, Charles & Andrea Adderley, Vernita Meadows, Beryl Elliot, Edward and Anishka Archer, Eula and Cadron Nixon, Sherry Green, Donna and Gary Bullard, Patrice and Preston Ferguson, Cecil and Judy Boyd, Gladys Roberts; Alexander, Anthony and Van Boyd; Berthamae and James Lane, Brenda Knowles and family. Dedicated Caregiver: Pamella Green and Family. Numerous Relatives & Friends including : Cleopatra Rolle and Family, Michelle Taylor, Phillipa Delancy and Family, Yvonne Taylor, Karen, Arnette, Victor(Sonny) & Dwain Moxey, Staria Ortiz, Comton Cuffy, Mavis and George Johnson and Family, Mrs. Evelyn Cooper and Family, Burcil and Elmaria Williams and Family, Eunice Pyfrom and Family, Luther Turner and Family, Alva Thurston and Family, Evamae Ferguson & Bianca Campbell, The Boyd Family, The Thompson, The Miller Family, Wellington, Dwayne, Darrin, Harold, Lavon and Sterling Woods, Denise Woods-Llyod, Latovia Woods-Romer, Sterling Stephanie Rose & Family, Cynthia Wells and Family, Persephone McQuay and Family, Kenneth Perigord and Family, Roger and Iva Simmons and Family, Dr. Eugene Gray and Family, Bishop Gilbert Thompson and Family, Canon Basil Tynes and Family, Fr. Colin Saunders and Family, Fr. Donald Kerr, Fr. Kingsley Knowles and Family, St. Barnabas Church Family, especially: ACW, Senior Choir, Auxilliary, Family & Prayer Ministry, and the Prayer Band; The Soldier Rd. Neighbourhood Group, Doctors and Nurses of the Princess Margaret Hospital Accident & Emergency & Female Medical II.
Friends may pay their last respects at Bethel Brothers Morticians, #32 Nassau Street on Friday from 10:00 a.m. to 6:00 p.m. and on Saturday at the church from 9:00 a.m. until service time.