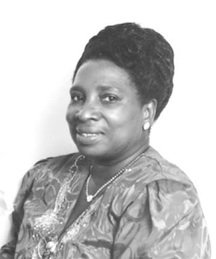 Susanna "Mama" Wallace Sears-Rolle
unknown - unknown
Funeral Service for the Late Mrs. Susanna Wallace Sears-Rolle "Mama", 78 years of #50 Rupert Dean Lane and formerly of Knowles, Cat Island, will be held on Sunday July 28th, 2:00 p.m. at Apostles of the End-time Church, West & Ferguson Streets. Apostle Carlos Wallace assisted by other ministers of religion will officiate. Interment will follow in Woodlawn Memorial Gardens, Soldier Road.
She is Pre deceased by Nathaniel "Tanny" Rolle (Husband), Elizabeth Sears (Daughter) & Christopher Sears (Son).
Memories will linger on in the hearts of: Two Daughters: Rose Sears & Stacy Baker. Six Sons: Audley, Tyrone & George Sears, Jeffrey, Gregory & Godfrey Gardiner. Twenty-two Grandchildren: Delneisha, Dorneka, Audirio, Tyrone, & Audiesha Sears, Jeffrey, Tamika, Jeffernice, Rashad, Jeffrey, Grea, Gredesia, Symphony & Braxton Gardiner, Damien Dean, Briannardo Baker, Canderia & Demarko Miller, Lashanda Tucker, Linda Dillet, Urshula Rodgers & Philip Minnis. Eleven Great-grandchildren: Delniko Smith, Angela, Aaliyah, & Adrian Tucker, Lashante Knowles, Dejanae Bodie, Jeffrey, Robin & Jamal Gardiner, Bernard Rodgers & Jatte Newton. One Son-in-Law: Brian Baker. Four Daughters- in- Law: Sandra & Yvonne Gardiner, Donnalee & Gloria Sears. One Grandson-in-law: Adrian Tucker. One Granddaughter-in-law: Lashan Gardiner. Two Sisters: Coinette Martin & Doralyn Miller. Two Brothers: Leviticus & Ralph Wallace of Michigan. Three Sisters-in-law: Eldora & Althea Rolle, & Margaret Taylor. Three Brothers-in-law: Timothy Martin, Earnest & Basil Rolle. One Step brother: Bishop Leonard Josey. Two God brothers: Uric & Olrick Pratt. Eleven Nieces: Ester & Dorthymae Outten, Sharlene Gaitor, Sherrylee Arlene, Cecila Mackey, Rose Williams, Wendy Rolle, Carolyn Ambrister, Patricia Adderley, Elga Delancy & Deta Miller. Twelve Nephews: James & Clarence Outten, James, Pedro, Perry, Andy & Randy Sands, Patrick & Livingston Adderley, Basil & Walcott Miller & Troy Wallace. Eight Nieces-in-law: Diane, Carmetta & Esthermae Dorsett, Beverly & Sandra Bain, Linda Bridgewater, Coralee Sears, Elizabeth Hepburn. Eight Nephews-in-law: Orthnel Poitier, Stafford, Reginald & Toney Dorsett, Charles, Jimmy, Earlin, Daniel & Franklin Sears. Adopted Children: Judymae & Daniel Gardiner, Debra Davis, Janet Russell, Anthony Moss, Kennedy Polidor, Portia Cooper, Theresa & Kirk Demeritte, Eloise McKenzie, Theresa Lamm, Rosemary Seymour, Mark Knowles, Dereck Clarke, Jacklyn Clarke, Angela Brown, Allison Sealy, Margaret Bethel & Barbara Mortimer of Florida.
A host of other relatives and friends including: Alvin Gardiner, Pathina Cox, Maud Kelly, Irma Smith, Hesterlina Miller, Ellen Sears, Cyprianna McDonald, Pat Colebroke, Rhoda Knowles, Mavis Douglas, Lesley Footman of New York, Lolamae Carey, Elva Hart & Family, Sandra Johnson & Family, Everett & Helena Miller, Shirley Adderley , Lovely Miller & Family, Agnes Saunders and Family, Shirley Johnson & Family, Hazel Dawkins & Family, Sherry Ferguson, Lavern Gardiner, Karen Andrews, Patricia Thompson, Jerrylin Pratt, Earl Wilmot, Kathleen Minnis, Elizabeth Rox, Alexander & Anthony Knowles, Drucila Rodriquez , Dellerese Ramsey, Patrick & Jadie Leadon, Clarise Adderley, Mervin Davis & Family, Drucilla Munnings, Hilda Woodside, Lanette Ambrose, Denver Dames, Franklin Rolle, Marry Stubbs, Nancy Saunders, Rosana Mackey, Lamm Family, Irene Watkins, Anthony Pierce, Trevor & Denise Austin, Denise Gardiner, Angelo Murray, Eugyneel Nixon, Collie Family, Vernal & Vernita Dawkins, Joycelyn Bowe, Bathsheba Smith, Melvise Ramsey, Brian Christie, Rose Evans, Adrian Smith, Reginald Deveaux , Vernice Scott Miller & Family, Gloria Grant & Family, Carey Family, Cassandra Hart, Carla Coakley, Robert Rahming, Lydia Adderley, Janice Adderley, Ivy Butler, Elizabeth Rahming, Steve & Nicole Johnson, Mother Wallace, Rev Carlos Wallace, Rev Philip McPhee, Zelma & Merlene Simmons, Roosevelt Bethel, Ceaserina Hepburn, Rose Knowles, Louise Johnson, Ellison Greenslade Commissioner of Police, Leon Sweeting, Loveitta Roker, Pat Ward, Rupert Dean Lane Family, The Livingston Family, Wallace Family, Simmons Family, Moncur Family, Sears Family, Hepburn Family, Edward Family, Josey Family, King Family, Poitier Family, Nurse Patrice Hanna, Nurse Sabrina Hepburn, Nurse Amancha Ferguson, Dr. Anita Dean, Dr. Eugene Gray, Dr. Antonio Guerrero, Dr. Jamal Smith, Dr. John Pierre, Dr. Willnae Bain, Staff of Female Medical Ward #2 Princess Margaret Hospital, Ministry of Health Staff, Symphony's Fencing Staff, Atlantis Casino Beverage Dept., Bahamas Bus & Truck Staff; and a host of other relatives and friends too numerous to mention.
Friends may pay their last respects at Bethel Brothers Morticians, #32 Nassau Street on Saturday from 10:00 a.m. to 6:00 p.m. and on Sunday from 10:00 a.m. to 11:30 a.m. and at the church from 12:30 p.m. until service time.