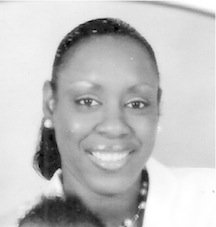 Tanya Edgecombe
unknown - unknown
Funeral Service for the late Tanya Edgecombe age 40 of Collie Ave., Kennedy Subdivision will be held on Saturday July 27th, 2013 at 10:00 a.m. at Bethany Assembly, Church Hill Subdivision. Officiating will be Pastor Tomiko Collie assisted by other ministers of the Gospel. Interment will follow in the Southern Cemetery, Cowpen Road.
She will be missed by her loving Son Trent Edgecombe, her Father Leslie Edgecombe. Step father: Alfred Lundy Sr.; Stepmother: Cleopatra Edgecombe; Adopted Mother: Sr. Minister Gloria Basden; Step grandmother: Evanna Lundy; 7 Sisters: Tammy Edgecombe, Terrol Boodle, Clare Lundy, Shonell Greenslade, Felice Edgecombe, Elizabeth Emmanuel and Tammento Lundy (deceased). 3 Brothers Alfred Lundy Jr. Leslie Edgecombe Jr. and Lavado Edgecombe. Grandaunt: Victoria Higgs; 18 Aunts: Minister Ruthmae Miller, Zerline Curtis, Brenda Hepburn, Laverne Williams, Icelyn and Vanessa Bostwick, Sanya Strachan, Felice Wallace, Linda Burrows, Karen Edgecombe, (Miami Florida), Janet Hall (Freeport), Susan Edgecombe and Diane Rolle, Vernel, Alvera, Inez, Janet and Shirley Lundy; 17 Uncles: Minister Jonathan Miller Sr. Roger Strachan; Stanley Hepburn, Bernard Williams, Caleb Stubbs, Harvey and Godfrey Bethel, Charles and Rollins Rolle, Cecil and Kenneth Edgecombe, Calvin Wallace, Superintendent Derek Burrows, Stanley, David, Emmanuel, and Gien Lundy. Nieces: Yvanna Lundy, Julia, Ashley, Juliet and Lauren Edgecombe. Nephews: Hyly Moss, Maximus Walkes, Vanti Whymns; Roberto Thurston, Tyler and Tetian Boodle, Jeremiah, Jay, Charles Jr. and Crashawn Greenslade, Khamerin Bain, Khaiden Knowles, Adrian, Kenny Jr. 2 Brothers in law: Leonardo Boodle and Able seaman Charles Greenslade. 34 Cousins: Ron, Marvin, Jason, Jonathan Jr. Deandra, Shantol, Chrisshawn, Samantha, Sylvester, Travis, Kyle, Shamar, Shanita, Shaniqua, Sherell, Kim, Karen, Khaila, Kenrick, Keva, Karla, Angel, Theophilus, Rashad, Iesha, Destiny, Deasha, Cecil Jr. Shanvice, Devrika Burrows, Marune, Catherine, Durel and Donver. 3 Godchildren: Anastasia Miller, Michael and Joaquin Fountain and Saniyah. Other Relatives and Friends including special friends: Whittington Brown, Nekita Johnson; Albert and Laverne Bowe, Nursing Officer Williamae and Alphonso Smith, Stephanie Gray, Keva Miller, Sam Fox, Melony and Cherissee Higgs, Otiene, Betsy, Willistine, Sheila, Brenda, Ricardo and Judy Musgrove, Judy Minnis, Janet Harvey, Susan Decosta, Erma, Lillian Wilson, Joanna Knowles, Carol Johnson and Family, Janice and Randy McFall and Family, Francis Family, Eneas Family, Mikey Godet, Latoya Fountain, Bridgette, Althina Paul, Ruth Green, Keith Ingraham, Pastor Collie and the Bethany Assembly family, Pastor Frankie Scott and Holy Bible Mission Family, Fritz, Otario, Samira, Dale Bain the entire Kennedy Subdivision family, Antoinette Lewis, Antoinette Johnson, Friends, Neighbors and the families of Joan's Heights Subdivision
Viewing will be held in the Legacy Suite of Vaughn O. Jones Memorial Center, Mt. Royal Ave. and Talbot St. on Friday from 11:00 a.m. to 6:00 p.m. and on Saturday at the Church from 9:30 a.m. to service time.