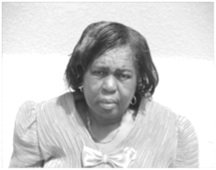 Freda Matilda Mayne
unknown - unknown
Funeral Service for the Late Freda Matilda Mayne, 73 years of James Cistern, Eleuthera, will be held on Saturday June 22nd, 2013, 10:00 a.m. at Wesley Methodist Church, James Cistern, Eleuthera. Deacon Elmena Bethel assisted by Pastor Orlando Thompson will officiate. Interment will follow in James Cistern Public Cemetery.
She leaves behind to mourn; four (4) Sons: Otis Pinder, Brennen, Eldon & Frankie Mayne; two (2) Daughters-in- law: Vanessa Mayne & Shawndrea Pinder; one (1) Brother-in-law: Thomas Ford; three (3) Adopted Sons: Rex Johnson, Nico Mack & Jimmie Saunders; four (4) Sisters: Rosemary Thompson, Sylvia Johnson, Lisa Ford & Mattie Berry of Cocoa Beach, Florida; two (2) Brothers: Cleveland & Milton Johnson; Adopted Brothers & Sisters: Jane Smith, Emma Whyte, Ethel Farrington & Judy Gardiner, Norman & Rudy Gardiner of Nassau, Bahamas; nine (9) Grand Children: Brenika, Brendon, Brenae, Benji & Bary Mayne, Otiesa & Alex Pinder, Charisma & Franisha Mayne; three (3) Great Grand Children: Jaden, Nellie &Terez; two (2) Uncles: Cyril Johnson & Charlie John; one (1) Aunt: Eloise Johnson; Nieces & Nephews: Rex & Elizabeth Johnson, Vernal & Latisha Johnson, Elvis Johnson, Denise & Miska Clarke, Donna & Daryl Davis, John & Ruby Thompson, Macy Pinder, Rhonda & Byron Rolle, Pastors Orlando & Clarice Thompson, Quincy & Besty Thompson; Great Grand Nieces & Nephews: Nikia, Rex Jr. Amber, Aaron, Erin, Shakeitra, Shian, Shantae, Darryl Jr., Levi, Elvan, Desiree, Jaced, Sheena, John Jr., D'Shanti, DeAndra, Malikah, Myeasha, Mashana, Ashley, LeRonda, Mya, SyRai, Hadassah, Yasmine, Zian, Rhonda & Justin; Great Grand Niece: Shawnae; Cousins: David, Truman, Dudley, Doria, Shadrack, Enos, Mavis, Florence, George, Rupert, Pearl, Melvin, Georgie, Sammy, Kingsley, Judy, Maryanne, Peggy, Daisy, Shirley, Wendy, Kelcy, Lornaine, Keva, Renita, Ricardo, Saundra, Erskine Jr., Sherry, Yvonne, Henry, Clara Mae & Lillimae; God Child: Glenda Johnson; Other Relatives & Friends: Rodney Pinder, Anthon Thompson, Panthera Mack, Father Berkley Smith, Hon. Philip M. Bethel & Family, Hon. Damien Gomez & Family, Mr. Alvin Smith & Family, Apostle Dr. Clifford Smith III and Dr. Judy Smith ,Rita Johnson & Family, Melba Butler & Family, Rowena & Joan Johnson & Family, Alphemia Johnson & Family, Freddie Ferguson & Family, Rev. Godfrey Bethel & Family, Mr. Theo Neilly & Clay Sweeting & Family, Brandera Johnson, Prince & Lillian Petty & Family, Deacon Almena Bethel & Family, Nurse Bernadette Colebrooke and Family, Nurse Patrice Johnson, Dr. Menza & Medical Staff of Central Eleuthera, Calvin, Orville, Martin Weiss & Family, U.S.A., Hannan Hill, Eight Mile Rock Community, Blanche Sanford, Olga Bowles, Vernita Ward, Leona Johnson & Family, Kenneth Duncombe & Family, Rosalyn Bethel, Philicia, Global Outreach Int'l & Family, Jim & Debra Marshall, Vernita Bethel & Family, Eastern Star & Good Samaritan Lodge, Regional Women's Ministry, Wesley Methodist Women's League, Latiesha Newbold & Family, Audrea & Sandy Scavella & Family, Martha Bethel, Miranda Smith & Family, George Rolle & Family, Dewitt Whyte & Family, Edmund Bethel & Family ,the entire Community of James Cistern, and Eleuthera; and a host of relatives and friends too numerous to mention.
Friends may pay their last respects at Bethel Brothers Morticians, #32 Nassau Street on Thursday from 12:00 noon to 6:00 p.m. and on Friday at the church (in James Cistern) from 7:00 p.m. until service time on Saturday.