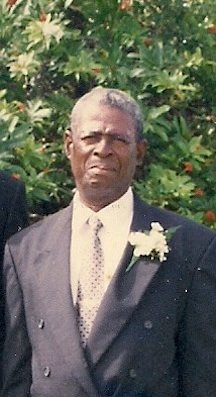 Samuel Victor Robinson
unknown - unknown
Funeral Service for Samuel Victor Robinson age 86 years a resident of Pinedale, Eight Mile Rock, Grand Bahama and formerly of Bottle Creek, North Caicos, Turks Island will be held on Saturday, June 22nd, 2013 at 1:00 p.m. at Bethel Baptist Church, Pinedale Grand Bahama . Officiating will be Rev. Dennis Missick assisted by Evangelist Eula Strachan and interment will follow in the Harbour West Cemetery, Eight Mile Rock.
Memories are held by his wife: Nellie Robinson; six sons: Keith, Herbert, Franklyn, Troy, Kent and Sherman Robinson; one step-daughter: Anita Henfield; grandchildren: Troy, Herbert, Tameko, Xavier, Travan and Sherman Jr. Robinson, Tequilia, Kia, Ta'Keisha, Sheniqua and Aladrian Robinson and Latoya Curry; four step-grandchildren: Nicole, Chauncey, Jason and Shane Henfield; three sisters: Emily Rahming, Sarah Williams and Evette Henfield; one son-in-law: Peter Curry; four sisters-in-law: Mauriel Smith, Olga Garland of Miami Fla and Vickie Bain and Elaine Robinson; three brothers-in-law: William Jones, Harold Rahming and Maxwell Henfield; two daughters-in-law: Paula Gatie and Kizzy Robinson; one grand-daughter-in-law: Amanda Robinson; 15 nephews: William, Stanley, Carlos, Branford, Bonnie, Westly and Charlie Jones, Peter Higgs, Tony Rahming, Lelin Robinson, Velin, Timothy and Daniel Williams, Tony Jolley and Fred Jones; 15 nieces: Mary, Isildia, Annis, Charlis, Elaina, Vangelina, Vernell, Annie, Dockas, Violet, Veronica, Martha, Sheila, Paula and Peggy; favorite cousin: Robin Grant and a host of other relatives and friends including Patrick Bain, David Williams, Lightbourne, Missick, Rev. Dennis, Cannon Curtis Robinson and families, Cadwell Henfield, Father Steven Grant, McAuthor Harvey, Bethel Baptist Church and Male Choir Families, Dec. Manuel Forbes, John Grant, Central Church of God, Home for the Aged, Fred Basden, Gertrude Fritz, Alma Russell, Norma Smith, Deborah Green Delarice Ferguson, Albert Francis, Bennie Fritz, Arby Basden, John T. Missick and Alexander Swan and families special thanks to Doctors and Nurses at the Rand Memorial Hospital, Jubilee Cathedral Care Group, Ms. McGregor and Staff and Princess Allen
Relatives and friends may pay their respects at Yager Funeral Home & Crematorium, Queens Highway on Friday from 12:00 noon until 6:00 p.m. and at the church on Saturday from 11:30 a.m. until service time.