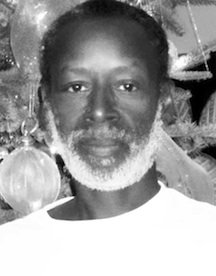 Van Derek Ferguson
unknown - unknown
Funeral Service for Van Derek Ferguson, age 58 years, a resident of Cowpen Road, will be held on Saturday June 22nd , 2013, 2 :30 p.m. at Zion Baptist Church, East and Shirley Streets. Officiating will be Rev T. G. Morrison assisted by other Ministers . Interment will be made in Woodlawn Gardens Soldier Road.
Left with cherish memories are his Mother: Juanita Davis, Father: George Ferguson, Daughter: Vandeka Curry Son: Omar Belle, Brothers: Brian & Andre Davis, George Jr., Dwayne, Keith, Terrence & Jason Ferguson, Sisters: Linda Major, Sharon Smith, Jill Virgill, Jasmine Hepburn & Andrea Smith, Adopted Brothers: Raphael & Kevin Munroe, Adopted Sisters: Marina Stubbs, Marilyn Munroe, Patrice Taylor & Lorraine Strachan, Son-in-law: Patrick Curry, Grandsons: Zaelan & Zakai Curry,Uncle: Franklyn Rodgers (Toronto Canada), Nieces: Aisha, Anyiah, Courtney,Drew, Paige, Blair, Andrea, Brittany, Ja'sanne, Tia, Alissa, Vandessa, Tenesha, Natasha, Faith, Ashley, Brittany T, Kevinique, Mellany, Joelle, Kailee, Peyton & Keiona, Nephews: Kale, Yuri, Yale, Keith, Rory, Brandon, Steve, Charles, Kevin, Churton, Josh, Elray, Sterling, Justin, Joshua, Willie, Antoine & Keith Jr, Sisters-in-law: Claudette, Natasha, Wanza, Jessica, Paigelee & Patrice, Brothers-in-law: Keith, Wemsley, George, Yuri, Joseph, Whitney & Charles, Other Relative & Friends including: Carolyn Hanna, Rosebud McIntosh & Family, Clarice Cooper & Family, Ona Bailey & Family, Pat Belle, Portia Taylor, Faith Pennerman, Pam Wilson, The Carey Family, Virginia Smith, Peter Bowe & Family, Rozina Bullard, Ty Culmer, Mildred Johnson, Rev. Leon Johnson, Judy Wood, Sonia Muir,Philip Symonette, Cindy Francis, Management & Staff of Bahamas Experience, Rev. Rolston & Min. Wendy Smith, Gayle Davis, Nellie Young, Brenda Lewis, Dorothy Roberts, Rosemary Black, Patricia Thompson, Deborah Sands, Dudley Lewis, Gaynell Hutchinson, Lynette & Leslie Isaacs, Mellany Zonicle, Betsy Morris, Anthony & Stella Hepburn, Raynard & Dwayne North, Mr. & Mrs. Lou Adams, Dianne Miller, Janet Thompson, Jennifer Petty, Gwen & Paul King, Sandra & Mervin Smith, Teresita Woodside, Mr. & Mrs. George Rolle & Family, Deacon Yelverton & Jenniemae Cox, Cyprianna Winters, Rev. T. G. & Royanne Morrison, Rev. Anthony Sampson, Freddie North, Marsha Bain, Shayne Archer, Ena North, Ruth Bowe-Darville, Karen Cox, Muriel Johnson, Gloria & Sadiemae Wallace, The Prayer Ministry of Zion Baptist Church, Nursing Officer Lillian Charlton, Nurses Harris, Francis & Sister Woodside, Doctors Deveaux, Pratt, Hall, Whyms & Serville, Hosanna Full Gospel Baptist Family, New Covenant Baptist Church Family, Zion Baptist Church East and Shirley Street and The Mason Addition Family. And others too numerous to mention.
Relatives and friends may pay their respects at Cedar Crest Funeral Home & Crematorium , Robinson Road and First Street on Friday from 12:00 noon to 6:00p.m. and on Saturday at the church from 1:00p.m. until service time.