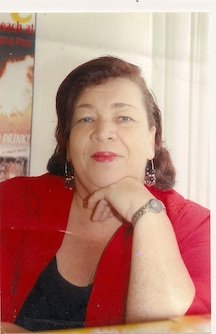 Andrea M Cartwright
unknown - unknown
Funeral Service for Andrea M. Cartwright age 55 years and a resident of #206 Jansel Court, Freeport and formerly of Hard Bargain Long Island will be held on Saturday 2nd, November, 2013 at 2:00 p.m. at Mary Star of the Sea Catholic Church, East Sunrise Highway. Officiating will be Father David Cooper and interment will follow in the Grand Bahama Memorial Park II.
Cherished memories will forever linger in the hearts of her daughter: Keneka Woodside; mother: Evelyn Cartwright; six sisters: Sylvia, Christine and Carol Cartwright, Marilyn Clarke, Nora Cooper and Kayla Predelus; one brother: Patrick Cartwright; two sisters-in-law: Willacine and Jackie Cartwright; three brothers –in-law: Herbert Clarke, Osborne Cooper Jr.,and Reina Predelus; 12 nieces: Natasha Chatelain, Shantel Russell, Heidi Swan, Nordaina Cooper, Dewhitney Farrington, Kallista Predelus, Patrinique, Danica, Cherise and W/Cpl 2861 Desiree Cartwright, Raquel and Joy Rolle; 15 nephews: Daziano, Dialo, Dorian, Delano, Gerard and Cpl 2475 Terrence Cartwright, Herbert and Christopher Clarke, Neil and Carvel Rolle, Osborne Cooper III, Ryan Predelus , Jamaal Ferguson , Allen Russell and Steve Chatelain; eight aunts: Rosa, Gaudia, Maria, Angela, Agnes, Lena and Ivis Cartwright and Agnes Saunders; two uncles: Uriah and Vincent Cartwright; eight grandnieces and 14 grandnephews, five godchildren: Destin Robinson, Angelo Russo, Brianca Forbes, Kelia Kemp, and Angel Armbrister and a host of other relatives and close friends including: Angela and Cephas Taylor, Florine and George Robinson, Jarel, Andrea and Devon Albury, Patricia Armbrister, Sharel Carter, Ellen Dickenson, Lateia Bailey, Barbara & Lorie Heggie of Canada, Helen Williams, Sylvia Hield, Shirley Cooper, Brennen Taylor & Family , Mr & Mrs Hadley Forbes and the staff of H Forbes Charter, the Cartwright, Martinborough, Taylor, Major, Cooper and Outten families, Kenneth Woodside, Daniel Kemp, Donald Delhomme, and the Grand Bahama Taxi Union , the staff of the Grand Lucayan Hotel, the Board of Directors of Jansel Court, Dr Kevin Bethel and the IAT Clinic.
Relatives and friends may pay their respects at Yager Funeral Home & Crematorium, Queens Highway on Friday from 12:00 noon until 6:00 p.m. and at the church on Saturday from 12:30 p.m. until service time.