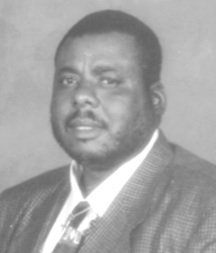 Anthony Jerome Willis
unknown - unknown
Funeral Service for the Late Anthony Jerome Willis, age 55 years of #18 Warren Street, will be held on Saturday July 19th, 2014, 10:00 a.m. at St. Joseph's Roman Catholic Church, Boyd Road. Monsignor Alfred Culmer will officiate. Interment will follow in Woodlawn Memorial Gardens, Soldier Road.
Anthony was predeceased by: his wife Rochelle Bastian Willis (August 3rd, 2011), his parents Leslie and Irene Willis (February3rd, 1997 and April 24th, 2014 respectively), his sisters, Linda and Miriam Willis (April 28th, 2012 and September13th, 2013 respectively) and his brother-in-law, Carlton Coleby (May 16th, 2014).
Anthony is survived by: Sister: Patricia Willis-Coleby Brothers: Leslie and Christopher Willis; Nieces: Lesley Armaly Bannister, Abbigayle Armaly and Cydne' Coleby; Nephews: Darius Willis and Garcia Bannister; Grand Nephew: Braylen Bannister; Adoptive Sister/cousin: Annette Allen; Mother-in-law: Maria Bastian-Frazer; Brothers-in-law: Richard Bastian, Jamal Bowe and Lt. Renardo Bastian; Sisters-in-law: Rnessa Richardson, Renicka Bastian and Megan Minus; Niece-in-law: Davina Willis; Aunts: Dillis Ingraham, Mildred McKinney, Verdell, Esther and Annis McPhee, Sylvia Willis, Brenda Frater, Toni Thomas, Velta Willis, Meta Bethell, Keva Nethersole and Patricia Rolle; Uncles: Gettis and Newton Willis, Troy McPhee and Prine McKinney; Grand Aunts: Mary Sweetnum and Kathleen Demeritte. Other Relatives & their families: Brenda & Bert McKinney, Margaret & Lawrence Thurston, Sheralyn & James McCartney, Valerie & Rodger Carpenter, Margaret Russell, Deborah Bassett, Annette & Michael Allen, Danette & Veldora Arthur, Almarie Reid, Robert & Belfield Arthur, Stephen & Shervin Seymour, Greg, Kevin & Julian Ingraham, , Garfield & Sheila McPhee, Diana Sands, Donald, Carlton, Alexander, Jeffrey, Alfred and Mel Gray, Santina Smith, Carlton Gray, Stephanie Mackey, Sheilamae Adderley, Carolee Gray, Helen & Ronald Stubbs, Joan & Michael Gibson, Paula Balfour, Sherry Robinson, Stacey Harding, Judy Miller, Vernice Ingraham, Sheila Cooper, Kimberley Smith, Cheryl & Cedric Collie, Pamela Adderley, Jason, Vance, Kimble, Kenny & Lenny McPhee, Philip, Jeffrey & Leslie Cooper. Brantis Adderley, Bertha & Garnell McPhee, James, Donna, Michael, Karlas, Kayla, Virginia & Edward Demeritte, Renardo Neely, Luther McDonald, Donna Smith, Hon. Alfred Sears, Marcia& Godfrey Bannister, Una Elliott, Flora Davis, Marie Cash, Angela Smith, The Coleby Family, Franchelle Dorsette, Valencia Saunders Warren Street Family: The Bethell Family, The Bastian Family, The Davis Family, The Stuart Family, The Miller Family, The Seymour Family, The Thorton Family, The Mackey Family, The Bain Family, The Adderley Family, The Francis Family, The Moncur Family, The Dillette Family, The Kerr Family, The Hall Family, The Major Family, The Conliffe Family, The Sweeting Family Life Long Friends/University of Warren Street: Derek Roach, Wayde Sweeting, Cecil Moncur, Derek Stuart, Ivan Hanna, Philip Bastian, Martin Storr, Shervin Burrows, Chimmey and David Burrows, Nipper, Sidney Bain, Anthony Seymour, Tyrone Knowles and Hermane Thompson. Special Thanks to: Monsignor Culmer and the Saint Joseph's Church Family, Bahamas Faith Ministries Family, Women of Excellence, Pastor Arlington Rahming & Christian Discipleship Ministries, Cenita Duncombe,Visna Armbrister, Rochelle Lightbourne, Theresa Moss, Livingston Marshall, Helen Taylor, Stacie & Samita Alleyne, Brendalee Lewis, Ilene Smith, Tyrone Miller, Walkinsia Jean, Dotlee Fox, Marcia Perpall, Hugo Andrews, Petra Burrows, Denarii Rolle, Water & Sewerage Family, LAU Department, Andrew Knowles, Fidelity Bank, Kerzner International Family, Wayde Wallace, BahMar Family and host of other family and friends too numerous to mention
Friends may pay their last respects at Bethel Brothers Morticians, #34 Nassau Street, on Friday from 10:00 a.m. to 6:00 p.m. and on Saturday at the church from 9:00 a.m. until service time.