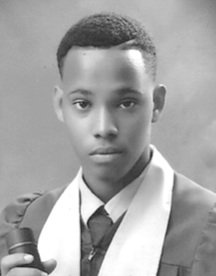 Enrico Miguel Major
unknown - unknown
Funeral Service for the Late Enrico Miguel Major, age 17 years of Cable Beach, will be held on Saturday June 21st, 2014, 11:00 a.m. at Southland Church of God, Soldier Road West. Bishop Lindo Wallace assisted by Bishop Dr. R.J. Deleveaux, Rev. Dr. James Sweeting, Pastor D.W. Dorsett and Pastor Cy Russell will officiate. Interment will follow in Woodlawn Memorial Gardens, Soldier Road.
Cherished memories will forever linger in the hearts of his: Mother: Keva Major; Father: Dwight Major; One Sister: Krizia Major; Two Brothers: Keyzerro & Ravon Major; Grandparents: Pastors Donald & Clara Dorsett and Elgin & Terricita Major of Roses, Long Island; Aunts: Donnava Dorsett, Donnell & Keitho Bess of New Orleans, Louisiana, Sheena & Craig Adderley, Sherridan Major, Vanessa & Larry Knight, Patricia & Craig Sawyer, Princess Knowles & Family; Uncles: Captain Dave Dorsett, Corp Darrell & Racquel Dorsett family, Darren & Rosemarie Major, Baltron & Akilah Major; Grand Aunts: Ruthlee & Victor Lightbourne Family, Dr. Ruth & Aubrey Hanna, Carmelita & Jerome Treco, Rev. Paulette & Andrew Cartwright, Decns. Henrietta & Dec Charles Brown, Patricia & Shelton Johnson, Juliana & Lorenzo Bullard, Mary Dorsett, Ceolah & Mertland Turnquest, Barbara & Orlando Turnquest, Dorothy Stubbs, Pulcheria Dorsett, Betty Ramdas, Dorothy Rolle, Joyce, Terrance Ferguson, Marsha Carroll, Rosemarie & Joe Bowles of Fort Lauderdale, Toinette Major; Great Grand Aunts: Delores Deleveaux, Lorinda Smith, Natalie Scavella & Family, Susanna Martinborough, Alwhyne & Pastor Neville Scavella, Delores Patricia Deleveaux, Joanna Allen, Annie & Mavis Pratt; Grand Uncles: Elkanah Major, Raymond & Vernita Carroll, Lorenzo Johnson, Deacon Nevis Ferguson, Allen & Ella Ferguson, Samuel & Millicent Johnson, Wesley Carroll, Solomon Watson, Ezra Cartwright, Robert & Beulah Johnson Family, Godfrey & Marion Johnson, Michael Dorsett, Sherman & Sandra Dorsett, Vincent & Olga Dorsett Family and Ernest Johnson; Great Grand Uncles: Bishop R.J & Mother Elizabeth Deleveaux & Family, James Pratt and Lincoln Major; Other Relatives, Family & Friends: Eltha & William Naughton, Tracey, Sean & Tre'Shawna Brown, Kenatha Huyler, Jada & Craig Adderley Jr., Ladashia & Garfield Burrows, Patrick & Gloria Smith, Rosemary & Bernel Bullard, Pastor Jennie Deleveaux, Nevista, Vernique & Tarjanique Ferguson, Olivia & Camille Knight, Davaiughn, Deshawn & Devonte Dorsett, Daniel Dorsett, Baltron Major Jr., Minister Derrick & Patrice Munroe, Kenya Dorsett & Family, Michelle Pratt & Family, Shanique Gibson, Norman & Wendell Munroe, Linda Roger & Lowell Watson, Sharon & Rev Eugene Bastian, Kayla Greene, Ashley Aranha, Janie Bullard & Family, Aretha Graham & Family, Kaylea Albury, Shakala Strachan, Devano Harris, Savannon Moss, Oreya Pratt, Bijzhad Woodside, Pastor Natalie Stubbs & Family, Vernita Thompson & Family, Bonika Moss & Family, Donetta Brown, Shaun Smith, Donna Major, Harold & Carol Dorsett & Family, Velma Turnquest, Sherice Dorsett, Pandora Neilly, Rydell Turnquest, Diane & Kenneth Brown Family, Eleanor James & Family, Maria Farquharson & Family, Judy Deleveaux, Ricardo & Patsy Wilson & Family, Byron & Andre Cartwright, Michelle Woodside & Family, Rudolph & Naomi Pratt, Kevin & Angie Pratt, Simeon & Clarice Cartwright, Paul & Sandy Carrol, Rudelle, Kelly, Ian, Darren, Edgar Stubbs, Jamal Ramdas, Paul & Eddie Dorsett, Lushano & Alendjro Johnson, Deante Dorsett , Wendel & Maud Carrol, Leonard Carol, Charles Braithwaite, Cyprianna Curtis & Family, Craig Bowe & Family, Admiral & Jennifer Ferguson Family, Jacintha Smith & Family, Libbye Darville & Family, Steven & Denise Wilmore Family, Rasta, Cruz Hanna, Min Karol Mackey, Deaconess Cassandra Evans & Family, Eng Melissa Rolle & Family, Dennis Watson Jr., Paul Carrol Jr., Charlton Cartwright Jr., Pastor Paul Scavella, Shirley Brown, Charlton Cartwright Jr., Artesia Davis, Omar Archer & Family, Mr. Arlington King & The Entire Staff of Hope Academy Family, Bishop Lindo Wallace & The Coconut Grove Temple, Church of God, The Entire Staff of Faith Temple Christian, Morrisville Primary School Family, N.G.M. Major High School Family, The 8th Street Church of Christ & Family, Pastor Cy & Nichola Russell & The New Golden Gates Church of Christ Family, Pastor Lisa Horton-Strachan & Soul Reapers Church of Christ, Pastor James Sweeting & Nicholls Town Church of Christ, The Communities of Berry's and Roses South Long Island, and the other family members & friends innumerable to mention, we still recognize that you have grieved with us.
Friends may pay their last respects at Bethel Brothers Morticians, #34 Nassau Street on Friday from 10:00 a.m. to 6:00 p.m. and on Saturday at the church from 10:00 a.m. until service time.