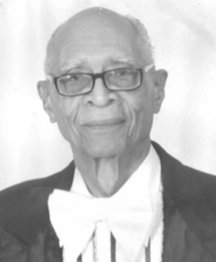 Paul Fitzgerald
unknown - unknown
Funeral Service for the Late Reverend Paul Fitzgerald, age 94 years of Harold Road, will be held on Saturday June 21st, 2014, 11:00 a.m. at Enoch Backford Auditorium, Carmichael Road. Pastor O. Humes assisted by other Ministers of the Gospel will officiate. Interment will follow in the Western Cemetery, Nassau Street.
Paul is survived by his beloved son:  Edward Fitzgerald; Daughters:  Mrs. Cyprianna Brice, Charlean Strachan, Marjorie King of West Palm Beach, Florida and Judith Bannister of Orlando, Florida; Grandsons:  Jason, Charles, Jonathan, Roloyn, Rakeem, James, Franklyn, Lowell Mustapha, Edward George and Jonathan; Granddaughters:  Anastacia, Emajane, Lakisha, Margo, Katell, Billy Jean, Shanika, Shamon, Raneika, Rakeima, Zion, Sharise, Tatiana, Deibre, Jamie, Misty Reid and Marsha Hepburn; Great Grand Children:  Jason, Demargio, Jasonique, and Shekinah; Son-in-Law: Benjamin Brice; Daughter-in-Law:  Mary Fitzgerald and Rose Strachan; A Host of Relatives and Friends Including:   The families of the late Irvin Morley, John Morley, Morris Morley, Frank and Rozelda Morley, Douglas and Mary Morley, Frederick and Wendy Morley.  Others including: Dorothy Butler, Beverly Clarke, Mary Smith Johnson, Rev. Hector and Mrs. Shirley Smith, the Barr, Smith and Bullard families, Ruth & George Cash and her children, Henry Willie, Jaron, Freddie, Douglas & Ferris Cash, Betty Woodside, Winnie Muriel Saunders, Terriceta Thompson, Lucine Cash, Volvick & Collin Fluriffant and George & Alice Harris.
Friends may pay their last respects at Bethel Brothers Morticians, #34 Nassau Street, on Friday from 10:00 a.m. to 11:00 a.m., and at the Lynden Pindling Centre (PLP Headquarters), Farrington Road, from 12:00 noon to 4:00 p.m., and at the auditorium on Saturday from 10:00 a.m. until service time.