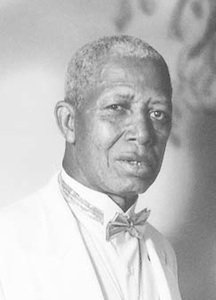 Lionel Balfour Johnson
unknown - unknown
Funeral service for
Mr. Lionel Balfour Johnson, 77
a resident of Carmichael Road, will be held at St. James Anglican Church, Adelaide Village, on Saturday 29th March, 2014 at 10:00 a.m. Officiating will be father Andrew Topping, assisted by Canon John Clarke & other Ministers of the Clergy. Interment follows in Adelaide village Cemetery.
Left to cherish his memories are:
DAUGHTER: Prophetess Paula Adams; SONS: Bishop Rudolph Balfour and Marvin Rolle; STEP-SONS: Audley Roberts and Christopher Newman; SON-IN-LAW: Pastor Larry Adams; DAUGHTER-IN-LAW: Associated Pastor Linda Balfour; GRANDCHILDREN: Adelaja, Covepre, Tacoma, Ashakie, Charles, Lorraine, Colette, Nicola, Crystal, Katavia, Katie, Marvin Jr.; GRANDSON-IN-LAW: Michael; GREAT GRANDCHILDREN: De'Shea, Isis, Tyrone, Kadin, Ashlin, Kashawn; NEPHEWS: Lionel, David, Michael; NIECES: Barbara, Joy, Antinotte, Ervine
And a host of other relatives and friends including: Brothers-in-law and Sisters-in-law, 5 Grandnieces, 17 Great Grandnieces, 3 Nephews-in-law, Bob Pierre, 8 Grandnephews, 8 Great Grandnephews, The Carmichael Road Community, Sarah Saunders & Family, Rev. Jane Newbold & Family, Father Andrew Toppin & the St. James Anglican Church, Prince Bastian & Family, Arthur Higgs, Ralph Bastian, Cindy Bain & Family, Lulie Burns & Family, The Carroll Family, Bernard & Brenda Saunders, New Wine Kingdom Ministries, Harvest Outreach Ministry Family, The Marshall Family, The Humes Family, The Ferguson, Doctors and Nurses of Male Medical 1, Pastor Pennerman and Bishop Wilfred Bastian of Mangrove Cay, Andros.
Friends may pay their last respects at Demeritte's Funeral Home, Market Street, from 10-6:00 p.m. on Friday & on Saturday at the church from 9:00 a.m. until service time.