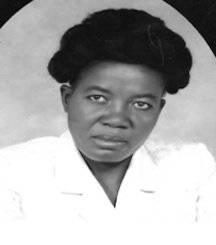 Lucianna Joseph
unknown - unknown
Funeral Service for Lucianna Joseph, age 48 of Cowpen Road and formerly of Lareserve, Haiti will be held 2:00P.M. on Saturday 25th October, 2014 at Ebenezer Baptist Church, Carmichael & Lazaretto Road Bishop Laurent H. Papouloute will officiate. Interment will follow in Southern Cemetery, Cowpen and Spikenard Road.
Left to cherish her memories are her: Mother: Cecile Louis Father: Emmanuel Joseph Brothers: Cany, Amand and Oslet Joseph Sisters: Elanise and Lyse Joseph Grandmother: Mrs. Mondesir Jolvert Aunt: Hermane Uncle: Inel and Lucien Louis
Cousins: Mr. Mondesir, Ilersier and Elites Louis, Germina Joseph, Mediles, Louis Mrs. Mondesir Friends: Sr. Idoles, Sr. Angelo, Idoles, Angelo, Marc, Jymy, Oldy, Leroy Fanor, Fr. Rony, Conpere Guillaume.
Friends may pay their last respects at Rock of Ages Funeral Chapel, Wulff Road and Pinedale on Friday, 24th October, 2014 from 10:00a.m. to 6:00 p.m. and at the Church on Saturday from 1:00 p.m. until service time.