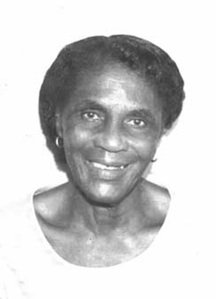 Olive Drucilla Knowles
unknown - unknown
Funeral Service for Olive Drucilla Knowles, age 98 years, of Nassau East South, formerly of Simms, Long Island, will be held at St. Matthew's Anglican Church, Shirley and Church Streets, on Friday October 24th, 2014 at 10:00 a.m. Officiating will be the Rev. Chester Burton assisted by Canon Basil Tynes, Fr. Mark Fox and Fr. Ernest Pratt. Interment will follow in the Western Cemetery, Nassau Street.
Left to celebrate her long life are her daughter: Gloria Reid; her granddaughters: Tanya Adderley, Glennis Knowles and Lisa Rolle; great grandchildren: Davon, Dario and Tahj Adderley, Kentira, Kent III and Rashad Reid, Cydnay Vanderpool Wallace, Synae Smith, Dalane and Zara Phillips; two great-great granddaughters: So'Mya and Ranae; sisters-in-law: Florence Pratt, Thelma Knowles and Lois Thompson; brothers-in-law: Burlington Knowles and Kent Reid I; step-daughters: Elizabeth Mills and Edna Jones; nieces and nephews including: Karen, Helen, Christopher, Linda, Jen, LaGloria, Jor, Margarette and Addington Adderley, Burton, Lloyd and Azel Smith, Herbert, Lawrence and Dr. Phillipa Pratt, O'Brien, Edith, Susan, Glen, Deon, Demetrius, Dwayne and Yvonne McKenzie; and host of other relatives including: Susan, Ella, Ronnie and Sharon Peterson, Sharelle, Tara and Kilo Knowles, Valentine, Marvin, Nolan Jr., Jacqueline and Brenda Knowles, Carrie Pratt, Rosemary Adderley, Marion Brown, Millicent Brady, Blanch Edwards, Len Knowles, Hemrock Adderley and the entire Burnt Ground, Millerton and Simms Communities, Sonia Smith and family, Fairolyn Livingston and family (U.S.A); Special thanks to other family and friends including: Akira Reid, Philesia Wallace (Care Giver), Mr. and Mrs. Conrad Bethel, Winifred Brennen, Elizabeth Sweeting, Dr. Leslie and Beverly Culmer, Mr. and Mrs. Warren Rolle, Larry Burrows and family, Rev. Dr. Clayton and Carmeta Taylor, Micheal and Bermadette Saunders, Mr. and Mrs. Charles, Venus Bonimy, Phillip and Dorothy Hilton, Sylvester and Angela George, Alice Innis and family, Desrick Phillips, Anna Hall, The Lockhart family, Beverley Moss, Dorothy Outten, Leroy Miller and many others family and friends too numerous to mention.
Friends may pay their last respects at Butlers' Funeral Homes and Crematorium, Ernest and York Streets on Thursday October 23rd, 2014 from 10:00 a.m. to 4:30 p.m. and at the church on Friday October 24th, 2014 from 9:00 a.m. until service time.