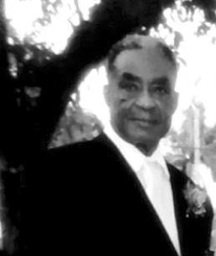 Rudolph "Boots" Valentine Bethell
unknown - unknown
Funeral Service for the Late Rudolph "Boots" Valentine Bethell, age 81 years of #17 Serville Avenue, South Beach Estates, will be held on Friday October 24th, 2014, 10:00 a.m. at St. Joseph's Catholic Church, Boyd Road. Monsignor Alfred Culmer will officiate. Interment will follow in Woodlawn Memorial Gardens, Soldier Road.
He is survived by one (1) Daughter: Vanessa Saunders; one (1) Son-in-Law: Youthal Saunders; one (1) Step Son: Marvin McKenzie; three (3) Grandchildren: Youthal Saunders, Yohanz Saunders and Alyssa Saunders; one (1) Sister: Gloria Forbes; five (5) Sisters-In-Law: Lenora Rahming, Margaret McKenzie, Advilda Sweeting, Mavis McKenzie and Stephanie McKenzie; three (3) Brothers-In-Law: Rev. Wilton McKenzie, Daniel McKenzie and Theodore Rahming; fourteen (14) Nieces: Ramona Forbes, Margaritte, Wilkeishna, Jean, Christal, Bernitta, Shanell and Luzanne McKenzie, Bridgette Colebrooke, Nicole Rahming, Theodora Rahming, Laverne Lewis, Winnifred Ching and Shawan Clarke; seven (7) Nephews: Jackie Thompson, Lunsworth , Wilton Jr. and Barry McKenzie, Johnathan Lewis, Vernal Ching and Dale Clarke; three (3) Grand-nieces: Simone Thompson- Williams, Gabrielle and Giana Wright; two (2) Grand-nephews: Tavares Thompson and Kevin Williams; one (1) Great Grand Niece: Shekinah Thompson; one (1) Great grand-nephew: Kevin Williams Jr.; Numerous cousins including: Michael Roker, Howard Bastian, Mary Mitchell-Rolle, Telcine Pickstock, Florentine McPhee and Gwendolyn Brown; and a host of other relatives and friends.
Friends may pay their last respects at Bethel Brothers Morticians, #34 Nassau Street, on Thursday from 10:00 a.m. to 6:00 p.m. and on Friday at the church from 9:00 a.m. until service time.