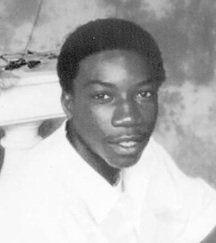 Yvenel Milfort
unknown - unknown
Funeral service for Yvenel Milfort, age 30 of Goal Alley will be held on Saturday, October 25th 2014 at 2:00 p.m. at. The New St. Paul Baptist Church, Blue Hill Road and Bias Street. Officiating will be Rev. Dr. Robert L. Colebrook, assisted Rev. Kenneth Bain and Rev. Christopher Strachan. Interment will follow in the Southern Cemetery, Cowpen and Spikenard Roads.
Yvenel was predeceased by his Uncle: Robert Milfort and Cousin Kenthy Milfort.
He is survived by his Mother: Macillia Milfort; Sister: Naomi Milfort; Brothers: Michete, Gray and Rueben Milfort and James Mortimer; Grandparents: Marcisse and Martha Milfort; Aunt: Maggie Milfort; Nieces: Miyah and Nacillia Milfort and Renae Michol; Nephews: Matthias and Malachi Milfort and raynaldo Michel; Uncles: Francis and Tenacis Milfort; Cousins: Queen, Tynasha, Gabby, Lizzy, Lila, Francine Milfort, Tynaska, Maxi, Kendicka and Kendal Rolle, Troy, Trembley, Bianca, Verdrine, Grandcousin: Quentasha Milfort, Devano and Genesis Jr, Stepfather: Marcellus Esty, Sister-in-law: Inosia Milfort and a host of other relatives and friends including: Mitchel Vedrine, Sonia Verine, Betty Vedrine, Rose Vedrine, Nevil Etienne, Jocelyn Augstine and family, Henel Michel; Postia Wallace, Buju Vedrine, Gege, Thimothy and Tanya Coakly Best Friends including: Luckerson Vernloa, Micheal, Dwright, Ben, The Moss family, The Wallace family, The Grave Yard Crew, The Masons Addition family and many others too numerous to mention.
The body will repose in the Blessed Redeemer Chapel at Ferguson's Funeral Directors, 7th Terrace Collins Avenue, on Friday from 10:00a.m. - 5: 00 p.m. and at the church on Saturday from 1:00 a.m. until service time.