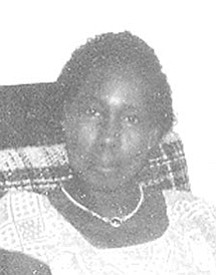 Eunice White
unknown - unknown
Funeral service for
Eunice White, 84
a resident of James Cistern, Eleuthera, will be held at Wesley Methodist Church, James Cistern, Eleuthera, on Saturday 28th February, 2015 at 11:00 a.m.  Officiating will be Rev. David Cann, assisted by Rev. Henry Whyte.  Interment follows in James Cistern Public Cemetery, Eleuthera.
Sadly mourning her passing are her children: Patrick Bethel and Donna George; One adopted son: Samuel Bethel of James Cistern, Eleuthera; Three grandchildren: Fritzroy George of San Diego, California, Lemuel George of Nassau & Hanna George of Boston, Massachusetts; One great grandchild: Lemuel George Jr; Two sisters: Melba Butler of Freeport, Grand Bahama and Vernica Gibson of Nassau; Four Brothers: Stanley and Whitfield White of Freeport, Grand Bahama, Felix and Ronald White of Nassau; One aunt: Louise Bosfield of Nassau; One son in law: Fritzroy George Sr.; Nieces: Marion Moss, Bonnie Dean, Dedrie Prescott, Pamela White, Debbie Gibson, Shonell Scavella, Delores Cartwright, Althea Gibson & Sharlamae of Nassau, Sharon, Colette, Melinda, and Carolee White of Miami, Florida, Vandette White of Grand Bahama, Yvonne and Brenda Gibson of Miami, Florida, Brenda Reynold of Canada; Nephews: Charles, Delbert and Jeffrey Rolle of Nassau, Vincent Rolle of North Andros, Lorenzo and Lester Gibson, Emmette White of Nassau, Henry Lee, Weston White, Whitfield Jr, Charlie and Bruce Butler of Freeport, Grand Bahama; Grandnieces: Nikkitta, Ashontae and Iyancy Rolle, Desiree and Ricquell Neely, Charlese and Rheavencia Rolle, Marcarla, Shonell, Carolle and Roxana Williams, Tenae Rolle, Shakira Palmer and Keva White; Grandnephews: Diagerny, Eleric, Enrique, Zaccario, Jethro and Jordan Rolle, Alonzo Fowler, Randy Jr., Randolph and Randyo Dean, Kazhem Duncombe, Omari, Jacuavias, Carrie and Shaquan White; Great grand nieces and nephews: Eleric Jr. and Enric Rolle, N'Kya Moss, Shanae Fowler, Aria, Tazara, Malachi and Melika Rolle.
Other relatives and friends including: Edith Rolle and family of Governor's Harbour, Estermae Lewis, Vernita Ward, Loretta Jacques, Nurse Bernadette Colebrooke, Nurse Patrice Johnson, Nurse Priscilla Scavella, Nurse Sharon Cooper, Dr. Clifford Baccaus and Mrs. Baccaus, Shirley Burrows, Judy Johnson of Gregory Town, Barbara Tennis, Israel Johnson and Family, Rev. Phillip Bethel and family, the Leotha Pinder family, the Lawrence Rolle family, Andy Rolle and family, the James Johnson family, the Nicholas Thompson family, the Eugene Bethel family, the Eustace Johnson family, Kenneth Duncombe and family, Perline Saunders and family, the Chem Johnson family, the Rufus Johnson family, the Leroy Johnson family, the Samuel Johnson family, the Irvin Johnson family, the Hubert Johnson family, the Elijah Mackey family, the Joseph Bethel family, the Fred Bethel family, the Sylvanus Bethel family, The James Rolle family, the Philip Bethel family, The Austin Johnson family, the Fred Pinder  family, the Berlin Ward family, the Malachi Johnson family, the Thomas Bowles family, the George Mackey family , Mr. Billy & Brenda Stubbs and family, the Albert Johnson family, the Arthur Johnson family, Pastor Henry Whyte and family, the Lewis White family, Sylvia Johnson and family, Olga Bowles and family, Rosemary Thompson and family, Velma Forbes and family, Florie Green and family, Roslyn Bethel and family, the entire James Cistern and Governor's Harbour Community, the entire  Palmetto Point Community, the entire Savannah Sound Community, the entire Hatcher Bay Community, the entire Gregory Town Community and the Staff of the Princess Margaret Hospital.
Friends may pay their last respects at the church in James Cistern, Eleuthera on Friday from 6:00 p.m. until service time on Saturday.