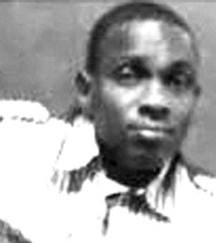 Pedro Raymond Carey-Moss
unknown - unknown
Funeral Service for the late Pedro Raymond Carey-Moss age 28 years of Williams Street, Nassau Village will be held on Saturday, January 31st, 2015 at 10:30am at Central Church of Christ Ministries, Yellow Elder Way, Yellow Elder Gardens. Officiating will be Evangelist Andrew Major. Interment will follow in Woodlawn Gardens, Soldier Road.
Precious memories will forever live in the hearts of Pedro's Mother: Sharmine Carey Alain; Step father: Rene Max Alain; Step-mothers: Sherry Stubbs (Moss) and Delores McKenzie; Sons: Tydro, Ramon, Nathaniel, Devon, Elijah Moss, Pedro Jr. and Jamal Lewis; Daughters: Sky, Pedrinika, Peardia, and Padricka Moss; Sisters: Maxlean and Maxneka Alain and Aliya Moss; Brothers: Maxward, Max and Maxwell Alain, D'Angelo, Shaquille, Cuadero, Marco, Shavardo and Rashad Moss; Step-sister: Trika; Step-brother: Cordell; Grandfather: Rudolph McCartney- Moss; Aunts: Mary Carey LaFrance, Braniza, Rosemary, Monique Frater from Ft. Lauderdale Florida; Tiffany, Keva, Sherine and Indeira; Uncles: Everette, Dervin, Terrence Moss, Otto and Nathaniel; Perry, Jeff and James Carey, Lidejea Lafrance, Robert Adderley, David Wilson; Nieces: Shakia, Elia, Angel; Nephews: Deangelo Jr. & Nathaniel Jr.; Grandaunts: Melvina and Catherine of Moore's Island, Abaco, Alma Mills of Freeport Grand Bahama, Alice, Louise and Lylliemae and Linda Smith, Lozina Gunder of Miami Florida, Delores McCartney of Arizona, USA; Granduncles: Robert Green of Moore's Island, Abaco, Rev. Alfred Rolle, Rubin, and Richard Farrington of Freeport, Grand Bahama; Great-grand aunt: Ethel Edgecombe; Special friend: Alexis Maycock; Cousins: Jill, Denise, Dayann, Julia, Daniella, Jaleasa, Lisa, Lidia, Lorraine, Dornelle, Donette, Dorcia, Otheddra, Okeria, Evelyn, Keisha , Chantel, Robert, Nathaniel, Edward, Ephraim, Dean, Lawrence, Jeff, James Carey Jr., Samuel and James Wilson, Sherell, Sherise, Latanya, Melinda, Samara, Marco, Giovanim, Nikita, Ebrinique, Shakara, Loretta, Brenda, Destine, Valencia, Latanya, Donavon, Ocassio, Oterio, Prophet Remington Rolle, Desmond, Glenton, Angelica, Gwendolyn, Violet, Stacia, Lisa, James, Rashae, Keyshawn, Tiesha, Petra and Pete Jr., Dale, Deante, Tiesha, Angelica, Jamal, Karan, Jasmine and Jade, Amard, Akheem, Alexiou, Ashton, Angel; A host of other cousins too numerous to mention; Host of friends and other relatives including: Nadia Rolle, Shatika Stuart, Jasmine Hield, Tanaj McKinney, Tenae, Kendrick Newbold, Deneana, Andrew and Andre, Ericka, Niquea, Phillipa, Ressie, Ham, Chrissy, Jolly, Reche, C.I. Gibson class of 2004, Delandro, Price and Williams Street families, Arnette Stuart (Godmother) and the Stuart family, Nick and Pheva Roberts and family, Pandora Hield and family, Trisha Wilson and family, Princess Moss and family, Esthermae Williams and family, Lyndel Delancy and family, Edris and Vernita McBride and family, Mills family Howard Carey and family, The Bight Moore's Island community, Apple Street Crew, Centreville Crew, Cowpen Road Crew, Nassau Village Crew, The Grove Crew, The 56 Park Boy, Jolly Bus Crew, Bain's Electric, Knowles Electric, Andrew Construction Company, The Penny Bank Lane families and Claridge Road Families.
 
Viewing will be held in the Celestial Suite at Restview Memorial Mortuary & Crematorium Ltd, Robinson and Soldier Roads on Friday from 10:00am to 6:00pm and at the church on Saturday from 9:00am until service time.