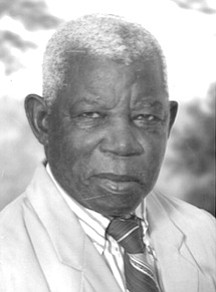 Wilfred "Preacher" James Mackey
unknown - unknown
Funeral Service for the Late Suffragan Bishop Wilfred James "Preacher" Mackey, aged 80 years of Barc Project, North Andros and formerly of Cargill Creek, Andros, will be held on Saturday November 28th, 2015, 10:00 a.m. at Greater Bethel Cathedral, Faith Way off Blue Hill Road. Diocesan Bishop Ellis Farrington assisted by Suffragan Bishop Christopher Minis and Suffragan Bishop Ezekiel Munnings will officiate. Interment will follow in Woodlawn Gardens, Soldier Road.
Left to cherish his fond memories are His wife of 58 years: Mother Inez Mackey; Five (5) sons: Prince Sr., Oral Sr., Edison Sr., Steven & Christopher Mackey; One (1) Adopted son: Clayton (and Meryl) Mackey; Six daughters: Brendamae Wilson, Merald Joseph, Genevie Bastian, Michelle Hinsey, Renna Marshall and Shantell Riley; Three (3) brothers: Harold, Wellington & Abraham Mackey; Two (2) sisters: Adrianna Lowe and Evangelist Rachel Mackey; Five (5) Sons-in-law: Perry Wilson, Everette Bastian, Oral Hinsey, John Marshall & Cordell Riley; Five daughters-in-law: Barbaralyn, Bettyann, Monette, Debra & Shonoray Mackey; One (1) brother-in-law: Mervin Wallace; Three (3) sisters-in-law: Cordella, Madrey and Michelle Mackey Forty-six (46) grand children: Navonne & Justin Tisma, Lanette & Nick Firth, Diann Mackey, Leola Mackey, Donnell Mackey, Lenardo Mackey, Alfreda Mackey, Marlin Mackey, Sanovia Mackey, Leandra Mackey, Tiffany Mackey & Derek Harriette, Marcus Ambrister, Keithra Baker, Edison Mackey Jr., Keisha Baker, Angel Mackey, Brenden Baker, Lydia Mackey, Natanya Mackey, Rebecca Mackey, Clinton Mackey, James Mackey, Brandon Mackey, Sharel Bastian, Ava Mackey, Jamal Bastian, Advardo Mackey, Anton Bastian, Oral Mackey Jr., Esther Mackey, Shanrease & Gabriel Meme, Olrica Hinsey, Lyndera Grant, Ridge Hinsey, Lynrease Grant, Olrineka Hinsey, Casnell Joseph Jr., Marochelle Hinsey, Rojina Marshall, Oralyn Hinsey, Stephon Marshall, Rakell Riley, Jayron Marshall, Tyrell Riley, Ry'shawn Marshall, Ry'naisa Marshall; Three adopted grand children: Van, Latoya & Dayon Mackey; Ten (10) great-grand sons: Khyheil, Brenardo, Devin, Tyler, Kenyon, Dakota, Reno, Reon, William, Nathaniel; Sixteen great-grand daughters: Shaniqua, Laurinique, Brion, Keishla, Precious, Lyndeisha, Terry, Regan, Terrinique, Solo, Shancara, Rianna, Skye, Layla, Janay; Three adopted grand children:- Ashley, Valentina, Daineka & Daeandrah; Nieces & Nephews including: Leann, Violet, Patricia, Margaret, Patrice, Daniel, Kermit, Barrington, Tyrone, Cyril, Rodney, Sandra, Nickea, Garvin, Kino, David, Monique, Wellington Jr., Clint, Jamal, Caro, Beethro, Otis, Adrianna, Ricardo, Fay, Terry, Daphene, Linda, Joanne, Ziporrah, Carolyn, Lashae, James, and others too numerous to mentio; One God-Child: Latisha Frazier-Coakley; A host of other relatives and friends including: Diocesan Bishop Ellis Farrington & the Pentecostal Assemblies of the World Family, District Elder Bruce Farrington & the Greater Power House Family, Bishop Raymond Mackey & the Wings of Faith Family, Pastor Stephen and Marilyn Adderley & the B.A.R.C Community Pentecostal Church Family, Pastor Thomas Mackey & Family, Pastor Olive Curtis & Family, Pastor Emeritus Leroy Hanna & Family, Mr. Carlton Bowleg & the Family of the Northern Star Burial Society, The North Andros Branch of The Bahamas Christian Council Family, Pastor Minerva Pratt & The Church of God of Prophecy Family, Bishop Theo Neely & Family, Margaret Riley & Family, Renadell Marshall & Family, Pastor Janet Marshall & Family, Mother Catherine Hinsey & Family, the Wallace, Sargent, Ebanks, Lafleur, Rolle, Butler and Newbold Families; the Pentecostal Assemblies of the World Incorporated, members of the Progressive Liberal Party and the entire communities of North & Central Andros.
Friends may pay their last respects at Bethel Brothers Morticians, #43 Nassau Street, on Friday from 10:00 a.m. to 6:00 p.m. and on Saturday at the church from 9:00 a.m. until service time.