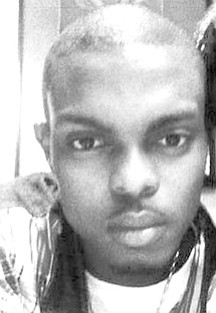 Calvin "C.J." L Thompson
unknown - unknown
Funeral Service for the late Calvin L. Thompson affectionately called "C.J." age 24 years of Price Street, Nassau Village will be held on Friday, April 29th, 2016 at 11:00 a.m. at Mount Tabor Church, Willow Tree Ave., Mount Tabor Drive. Officiating will be Pastor Delton D. Ellis. Interment will follow in Lakeview Memorial Gardens, John F. Kennedy Drive & Gladstone Road.
 
Precious memories will forever linger in the hearts of his loving Mother: Simone McKenzie; Father: Calvin Thompson Sr.; Grandmothers: Pastor Ruby Thompson, Rosella Moxey; Great-grandmother: Rowena Gibson; Step-grandfather: Cecil Moxey; Step-father: Nathan McKenzie; Step-brothers/sisters: Thyrique, Emmanuel, DeAngelo, D'Von Murphy, Keisha Archer, Natalie, Tiffany, Vanessa; Brother: Samuel Thompson; Special Friends: Keshieka Bain, Constance Major, Loana, Dakota; Grand-aunts/uncles: Elizabeth Ferguson, Inez Ferguson, Marilyn Ferguson, Edroy Ferguson, Ruby Ferguson; Uncles: Ellington Ferguson, Zendal Thompson, Grenville Thompson, Charles Thompson, Cheivargo Thompson, Shane Thompson, Shawn Thompson, Dencil, Ednal, Dalton Jr., Calvin, Brandon, Wilton, Jamal, Jacob Evans, Tavari Evans Sr., Carlos Evans, Dwight Evans, Andy Moxey, Charles Watson, Byron Thompson, Kingsley Adderley, Rancourt Nixon; Aunts: Danielle Thompson, Chalavar Thompson, Patrice Thompson, Shereice Ferguson, Judyann Thompson, Melrose, Anita, Cindy, Karen, Dianne, Eltymae, Daphne, Terry, Valencia, Marie Watson, Stacy Thompson, Deidre Nixon, Cindy Adderley, Achara Anderson; Cousins: Chamalye Lightbourne, Elshadi Ferguson, Iyesha Thompson, Grenville "G.J." Thompson Jr., Shekinah Ferguson, Shaquille Thompson, Juzenya Thompson, Elkano Ferguson, Selena Thompson, Marcus Thompson, Jadyn Morris, Sarah Thompson, Shanazia Thompson, Tavari Evans, Elia Ferguson, Marjorie, Shaniqua, Norman, Indera, Shakara, Ishmael, Latrell, Shanna, Deandra, Shawn, Cornell, Raynaldo, Theron, Ranz, Anishka, Ashney, Hank Jr., Daltino, Peaches, David Jr., Decoya, Raquel, Ricardo Jr., Janel, Delano, Adrian, Bernard, Antoine, Phillip Jr., Torian, Torino, Calvin Jr., Shaquan, Arnold, Runaja, Rayden, Brandon Jr., Brenda, Wilton Jr., Teddy, Monique, Mindy, Ashanti Thompson, Aaliyah Thompson, Rashad Watson, Kellie Watson, Rancourt Nixon Jr., Razario Nixon, Kaylee Adderley, Kingsley Adderley Jr., Arean Evans, Carlysa Evans, Andreaz Evans, Aiden Moxey, Jordan Evans, Tamiko Evans, Amir Evans, Jamal Anderson(Desha), Wonisha, Keshieka Bain, Kerstin Bain, Shenique Henfield, Kevin Bain, Bahamas Mack Family, Desiree McKenzie, Shameka McQueen, Kera Pratt; Friends: Miguel, Donovan, Tevin, Shad, Tanaz, Studda, Dwight, Peter, Tavie, Gary, Kota, Daniel, Ken, Floyd, Kishie, Brittney, Lil Geo, Yakia Flowers, Yellow Elder Family, Price Street Family, Sophie Gardiner, Sabrina Woodside, Antionette Duncombe, Aniskha Louis, Constance Major, Lorna and others too numerous to mention.
 
Viewing will be held in the Celestial Suite at Restview Memorial Mortuary and Crematorium Ltd., Robinson and Soldier Roads on Thursday(TODAY) from 10:00 am to 6:00 pm and at the church on Friday from 9:30 am until service time.