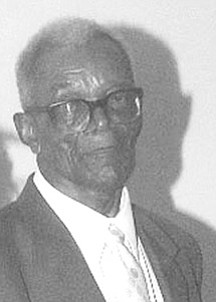 Cecil Mackey
unknown - unknown
Funeral service for
Cecil Mackey, 88
a resident of #7 Ludlow Street, Mt. Royal Ave. & formerly of Waterford, Eleuthera, will be held at Agape Baptist Church, Golden Palm Estates, Kennedy Subdivision, on Saturday 30th April, 2016 at 11:00 a.m.  Officiating will be Minister Rapeth Rigby.  Cremation will follow.
Left to cherish his memories are his children: Verlene and Kermit Mackey, Linda Demeritte and Yvonne Johnson; 1 son-in-law: Anthony Johnson; 1 adopted daughter: Inez McNair of Pompano Beach, Florida;2 brothers: Leonard and Johnathon Mackey of Waterford, Eleuthera; 2 sisters-in-law: Ellen and Pecola Mackey; 18 grandchildren: Enere Scriven, Charlene Pratt, Avia Pratt-Mackey, Adrian Miller, Gelano and Joel Roberts, Kermit, Cecil, Shakera, Candice, Kendria and Michael Mackey, Roquelle Pyfrom and Sharona Johnson, Police Constable 3383 Lou Johnson, Barron, Antonya and Shavonne Johneon; 18 great-grand children: Quinell, Shamara, Marvin, Glennia, Adrian, Antavia, Adriannica, Adrian Jr., Arian, Rachel, Richard Jr., Taleigha, Tiana, Camron, Anae, Sanai, Kai and Jasmine; 11 nephews: Louis, Nelson, Edward, Howard, Vernon, Johnny, Bartholomew, Thomas, Granville, Ezra and Simon; 11 nieces: Beryl Wright of Atlanta, Georgia, Florence Brown and Brendamae McCray of Miami, Florida, Helena, Bernice, Helen, Magdalene, Bettyann, Rachel, Lakeisha and Albertha; other relatives & friends including: Winifred Moss, Simeon and Adam Mackey, Rev. Winslow and Shirley Moss, Corraine Mackey, Richard aka Soup, Andrew aka Felix, Kirk aka Mo, Eleanor, Olive, Arnette, Mitzie, Walter, Stephanie, Dellareese, Catherine, Elsine, Teka, Stancil and Robert Todd, Geno Miller, George Mills, Stylin Davis, Richard Pyfrom, Tomiko Johnson, Antonio Mackey, Melinda Scriven, Erica Miller, Woman Corporal 3373 Cathea Johnson, Frank Rolle, Alphonza Ward, Sybron Duncombe & family, Troy Hamilton & family, Lavon, Sean Williams, Deborah Mackey, Bobby  McCray, Edward, Ronald, Kendal and Wendal Russell, Donna Johnson, Porlea Rollins, Drucilla Munnings, Drucilla Rhodriquez, Cynthia Hanna, Brenda Newman, Elizabeth Munnings, Mary Capron, Jeffrey Strachan, Jack Colebrook, Scoopy & Florence, Rochelle Scavella & family, Camille Puckerin & family, Sherese Saunders & family, Gaynell, Velma, Shanell, Freddie, Edmond Delancy, Waterford Community, Uriah McPhee Primary School family, Stapledon School family, Bishop Designate Helen McPhee & Agape Baptist Church family, Martha Brown, Thurston Butler, Ruby Nixon, Wilbert Whylly and family, Terry Gardiner & family, the Brown family, the Roach family, the Ellis family, the McKenzie family, Joshua Knights Softball team, Henry & Matilda McCartney, Sandra Gibson, Brenda Johnson, Stephanie Thompson & Leonard Johnson.
Friends may pay their last respects at Demeritte's Funeral Home, Market Street, from 12-6:00 p.m.on Friday & on Saturday at the church from 10:00 a.m. until service time.