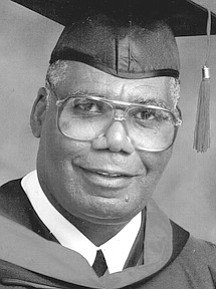 DR. CARL ERRINGTON KNOWLES
unknown - unknown
Funeral Service for the late DR. CARL ERRINGTON KNOWLES age 77 years of #21 Bamboo Street, Golden Gates #1 will be held on Saturday, April 30th, 2016 at 11:00 a.m. at Ebenezer Methodist Church, East Shirley Street. Officiating will be Rev. Christopher Neely assisted by other Ministers of The Gospel. Interment will follow in Lakeview Memorial Gardens & Mausoleum, John F. Kennedy Drive & Gladstone Road.
Fond and beloved memories will forever linger in the hearts of his CHILDREN: Patrick Knowles, Christopher Knowles, Rev. Tyronne Knowles Sr., Pastor Kendrick Knowles Sr., Captain Carl Knowles Jr., Charles Knowles, Robert Knowles, Dec. Arlene Symonette, Police Insp. William Knowles & Rev. Henry Knowles; SON & DAUGHTERS-IN-LAW: Rev. Lexton Symonette Sr., Mary, Catherine, Doranda, Deborah, Servant Lagloria, Michelle, Charmaine, Miquel, and Scieska Knowles; GRANDCHILDREN: Keniqua Burrows, Terran, Tyronne Jr., Tristyne, Kristia, Kendrick Jr, Krystal, Karissa, Whitney, Williah, William Jr., Sarah, Robyn, Unique, Leonitus, Jaden, Javaan, Patranique, Matthew, Azaria, Zakari & Adrianna Knowles, Lindsey & Kelsey Gallagher, D'Andre Robinson, Danielle Turnquest, Tyrone & Tyrell Whyley, Lexton Jr., Arland and Alexia Symonette, Kelalrico Burrows, Vanessa Knowles, Marife Moldes-Robinson, Inga Knowles, Vernessa & Oniel Sweeting; GREAT GRANDCHILDREN: Kassidy, Kaylee & Kaiden Burrows, T'ahjah Moss and Skylar Hopkins; SIBLINGS: Thelma Porter, Neville Clarke, Benneth & Alva Knowles, Pastor Roslyn & Melbie Smith, Dorothy & Alexander Walkes and Birdiemae Marshall; BROTHERS & SISTERS-IN-LAW: William and Gabrielle Woodside, Rosella Fountain, Eurine Saunders, Alva Hudson, Esther, Cleo & Ena Woodside; UNCLE: Anthony Knowles; NEPHEWS & NIECES: Thomas Porter Jr, Viola, Ruthnell, Dellarese, Inspector Sybrina & Cyprianna Porter, Peggy & Terrance Antonio, Agatha & Bernard Williams, Petty Officer Lawson & Judy and Rev. Kevin Clarke, Shane & Frank Moxey, Natashia Ferguson, Sandra Smith, Anthony Johnson, Samuel Rahming, Dianne, Luann & Tony Fortune, Willadale, Joshua & Grace, Maria & Tishla Menelus, Solomon & Helga, Philip & Rosalee, Jonathan & Brittney, Shadrack & Sheryl, Anthia, Leroy & Shekera, Debra, Kasey & Morgan, Moesha, Falon, Shawn, Nikita, Tyrone, Shavorn and Benneka Knowles, Kerry Marshall, Jennamae Russell, Judy & Henson Prosper, Shelton Smith, Shanette & Lester Mackey, Shandy & Anthony Evans, Angela, Shawn and McQuell Hanna, Agatha Bowe, Elcid & Alesa Evans, Florence Walkes, Joan & Hugo Pratt, Christine & Gary Hanna, Natasha & Lorence Evans, Cynteish Walkes, Sgt. Ricardo Walkes and Beulah & Oswald Laing, Ngaio Hinsey, Fredina Scoules and Jandara & Peter Husted, Jen & Bernadette, Stephen & Shalease, Wadye Russell, Lorraine Edgecombe, Sherry' Edgecombe, Leo Sumner; Crystal and Deangelo Darville, Shane Moxey and Cynteish Walkes; GRANDNEPHEWS & NIECES: Reno Miller, Jamaal Stubbs,Sharee Morley, Lavardo Burrows, Latoya Johnson, Rashon & Stanley Sands, Teranae Antonio, Kristianna & Ethan Williams, Taneicia, Deangelo & Devanno Porter, Danielle, Crystal, William, Lalique, Kevin & William Clarke, Terrance Stuart Jr., Franquell, Shanquell, Katria & Franklyn Moxey, Clarinette Knowles, Philip Major, Nicholas, Payton, Nylah, Sarah & Philip Knowles, Irvenisha, Leroy Jr, Leanne, Madison, Kasey Jr., Tyrone Jr., Tyesha & Antranique Knowles, Neveah, Savannah, Dewayne, Sharmaine & Wayne Marshall, Kevin Evans, Dorothea Rahming, Deadra, Uriah & Charity Russell, Malenia Dean, Tanya McQueen, Bernizer Prosper, Sheltia & Elizabeth Smith, Brittney, Shantea & Lester Mackey, Shanton & Anthony Evans, Shakeil, Lj & Shawnika Hanna, Royanne, Deangelo & Lamar Armbrister, Tenneil & Isaiah Bryan, Brian Riley, Heneka & Henniqua Rolle, Dominick & Elli Evans, Charles, Stantia, Lashanda, Mario & Cnyq, Tejuan, Angel & Storm, Sarah Oliver, Rennard, Rakim & Lorence Evans, Nigel &Tetrae Lafluer, Rykadra, Ricardo, Keanu & Ricario Walkes, D'Arj , Ellise & Shekinah Laing, Camryn Scoules; Host of Other Relatives and Friends Including: Natasha Austin, Karen Bain & Family, Marilyn Neilly & Family, the descendants of the late Rupert and Lenora Knowles, The H.O. Nash Junior High School family, Rev. Harvey and Min. Roselda Woodside and family, Rickiesha McPhee, The Bahamas Conference of the Methodist Church, members of Curry Memorial Methodist Church, Rev. Charles Sweeting & Family, Rev. Godfrey Bethell & Family, Majorie Albury and family, Rev. Vincent Moss and family, Rev. Dr. Michael C. Symonette & Family, Angie Wring and family, Mrs. Helen Campbell, The Bamboo Street Golden Gates #1 Family, Mr. Vincent Knowles & Family, District Superintendent Howard Newbold, Mrs. Howard Kemp & Family, Mr. Leon Taylor & Family, The New Destiny Baptist Church Family, The Mt. Tabor Full Gospel Church Family, The St. James Native Baptist Church Family, The Bahamas Faith Ministries International Family, The North Eleuthera Methodist Region, Ebenezer Methodist Men's Group, The Relevant Kingdom Center Family, The Doris Johnson High School Family, The Communications Dept. of the Royal Bahamas Police Force, The Water & Sewage Family, The Scotia Bank Family, The Bahamas Telecommunication Company (J.F.K), The Broadcasting Cooperation of The Bahamas, The Bahamas Electricity Cooperation (Balliou Hill Road), Pictet Bank & Trust, The Anatol Rodgers High School Family, L.N. Coakley High School Family, St. John's College Family, The Bluff Primary School Family, GHS Class of 1979, Lawrenceville Road United Methodist Church Family (Tucker, GA), and Trinity United Methodist Church Family (Austell, GA); SPECIAL THANKS: Dr. Linwood Brown, Stacey Leadon, the Ministry of Health Community Nurses, and Restview Memorial Mortuary & Crematorium.
 
Viewing will be held in the Perpetual Suite at Restview Memorial Mortuary and Crematorium Ltd., Robinson and Soldier Road on Friday from 10:00 a.m. to 6:00p.m and at the church on Saturday from 9:30 a.m. until service time.