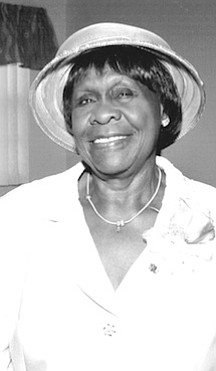 ELIZABETH "ALTHEA" MARTHA GIBSON
unknown - unknown
Funeral Service for the late ELIZABETH "ALTHEA" MARTHA GIBSON age 82 years of Seven Hill Estates will be held on Saturday, April 30th, 2016 at 10:00 am at Church of the Resurrection Catholic Church, Resurrection Way. Officiating will be Rev. Fr. Paschal Ukpeh, M.S.P. Interment will follow in the Catholic Cemetery, Tyler Street.
Daring memories will linger in the hearts of her Elizabeth loving memories will remain in the hearts of her DAUGHTERS: Theresa Capron of Freeport, Grand Bahama and Rosemary (Nick) Thompson; SONS: Joseph (Viola), Patrick and Derek Gibson; GRANDCHILDREN: Terrance and Ricardo (Karlean) Capron, Monique (James) Davis, Delano (Tina) Saunders, Lavern Brassen, Jermaine Gibson, Dereka, Josephine (George) Turner, Joanna (Alexander) Bain, Obafemi, Omar and Jessica Gibson Kennellin and Jeffara Gibson, GREAT GRANDCHILDREN: Kendall Fowler II, Justin Hudson, Tekara, Ricquay, Rikwon and Rikai Capron, Albinique, Blair, Kenneth Gibson (KJ), Fredrick Anderson III, Akio, Montell, Musgrove, George and Geno Turner, Lackary Wemyss, Alexio and Alexia Bain, Dylan, Tamara, Ciera and Analise GibsonAlexia Bain, Latoya Gibson, Shazell, Jestin and Angela Bodie, Quincy Saunders, George and Geno Turner, Zachary Wemyss, Alexio and Akexia Bain; GREAT GREAT GRANDCHILDREN: Kendall fowler III and Mickai Simmons; BROTHERS: Alpheus and Phillip Ramsey; SISTERS: Frances Ramsey-Morley, Helena and Alice Ramsey; SISTER-IN-LAW: Lillis Ramsey; NEPHEWS: Anthony, Adrian, Alpheus Jr., Spence and Phillip Jr. Ramsey and Raymond Whylly; NIECES: Anastasia Isaacs (Derek), Andrea, Patrice, Alecca, Aleeka, Cecile, Tamika Gray and Raquel Ramsey, Annamae Whylly-Ferguson, Christina Ramsey-Williams and Coulette (Darron) Antonio; GRAND NEPHEWS: Adarian Ramsey, Omar (Tara) Isaacs, Odessa Isaacs, Tremmel Williams and Darron Antonio Jr; GRAND NIECES: Tonya Williams, Ashanta Ramsey, Kera Perrigod, Grace Ramsey and Daranique Antonio; Other relatives and friends: Ruby Fox and Lavita, Barbara Millerand Family, Demond Mackey, Nat Saunders, Craige Knowles, Tessa Farrington, Edith Miller Rolle, extended Family in Freeport, Carnetta Edgecombe and Family, Neil Kesson and Family, Maxine Thompson and Family,William Dean, Anthony Rolle, Ruben Mounts, , Marilyn Moss, Pastor of Resurrection Church, The Seven Hills Community, Apostle Leon Wallace and Family, Paulette Mackey and Family and David Anderson and others too numerous to mention.
Viewing will be held in the Irenic Suite at Restview Memorial Mortuary and Crematorium Ltd., Robinson and Soldier Roads on Friday from 10:00 am to 6:00pm and at the church on Saturday from 8:30am until service time.