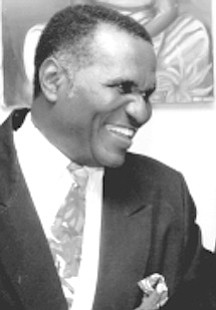 Frank Albert Hanna II
unknown - unknown
Funeral Service for the Late Frank Albert Hanna II, aged 79 years of Danottage Estates and formerly of Nicholls Town, Andros, who died on Thursday, 14th April, 2016, will be held on Sunday, 1st May, 2016, 2:00 p.m. at Church of God Convention Center, Joe Farrington Road. Bishop Victor S. Cooper Jr., J.P. and Pastor H. A. Roach assisted by other Ministers of the gospel will officiate. Cremation will follow.
He was predeceased by his son: Frank Hanna III, his mother: Adrianna Hanna and his brother: Stanley Bernard Sr.
Left to cherish precious memories are his: 2 Daughters: Francis (Lee) Chong and Katrin Hanna (Timothy Wilson); 5 Adopted children: Julian Gibson, Sean Riley, Benson Miller, Michelle Johnson, Shalece Miller; 2 Sisters: Mary Hanna-Moreira and Birdie Hanna; 2 Brothers: Wilfred Hanna of Exuma and Charles Hanna of Ft. Lauderdale, Florida; 4 Grandchildren: Frank IV (Lesan), Franaldo and Alexandria Hanna of East Hampton, New York and Kayden Chong of Nassau; 1 Great-grandchild: Alessio Hanna of East Hampton, New York; 1 Daughter-in-law: Doris Hanna of East Hampton, New York; 2 Sisters-in-law: Faye Hanna of Ft. Lauderdale, Florida and Mary Whitehead-Hanna of West Palm Beach, Florida; 1 Aunt: Agnes Bowleg; 29 Nieces & Nephews: Diane (Preston) Major, Rev. Michael (Crystal) Rolle of Detroit, Michigan, Craig Hanna, Theresa Rolle, Reynold (Alisa) Robinson of Freeport, Grand Bahama, Carlton (Portia) Robinson, Franklyn (Yanlan) Robinson, Georgianne and Gilford Robinson, Philip Hanna, Stanford (Christine) Hanna, Patricia McDonald, Valencia Moncur, Barbara Wright, Theresa, Wilebo and Adrianna Hanna, Abigail and Charles Hanna Jr. of Ft. Lauderdale, Florida, Judyann Ferguson, Rosemary (Ansolyn) Symonette of Rock Sound, Eleuthera, Stanley (Gloria) Bernard, Wilfred (Loaynas) Bernard, Lillian McKinney, Tory (Taska) Bernard, Sandra, Jackie, Maria and Gregory Bernard; Cousins including: Bartholomew Junior Bowleg, Stephanie Bowleg-Bramwell, John, Frederick and Michael Bowleg, Martha Bowleg-Dukes, Gladine Bowleg-Green, Marilyn Bowleg-Ingraham, Evelyn Bowleg-Pratt, Mark Bowleg of Freeport, Grand Bahama, Reginald Hanna and Doralyn Hanna-Bain; numerous grand nieces and nephews; Godchildren including: Elizabeth Johnson, Gabrielle Deal, Danny Ferguson Jr., Caden Smith of Farmer's Hill, Exuma, Management and staff of Frank Hanna Cleaning Company including, Russell Davis Sr., Mrs. Autherine Deal, Mr. Talmadge Jones, Mrs. Monique Gibson, Mrs. Carla Jackson, Mrs. Maureen Rahming; Special friends including: Rosa Hanna-Scott of East Hampton, New York, Ulla Dedert of Germany, Naomi Hanna, Hon. Algernon Allen and Justice Dame Anita Allen, Mr. & Mrs. Vincent Rahming, Mr. Herbert and Dr. Brown, Anthony Rolle, Naty Hailegiorgis, Darold Miller, Patsy Newbold, Sandra Moncur, Martha Pickstock, Dora Mae and Darold Wright, the Family of the late Captain Rupert Leadon, Terry Archer, Pastor & Mrs. H. A. Roach, Bishop Victor Cooper and The New Bethany Baptist Church Family, Rev. Philip McPhee and The Mt. Calvary Baptist Church Family, Rev. Timothy Stewart and The Bethel Baptist Church Family, Alphonso Smith, Marion Morris, Clara Evans of Nicholls Town, Andros, Danny Ferguson Sr., Dr. Trudy Holder, Deborah, La-Tika and Shanrya Powell, Cecil Smith, Renee and Ray Wiklund of Canada, Judy Lloyd, Ruiz Munnings, Stafford Armbrister, Tim Dames, Hank Thompson of Fresh Creek, Andros, Mackey Knowles of North Andros, Dr. Rickey Davis, Esther Hanna-Culmer and family, Dawn Arnold, Her Excellency Dame Marguerite Pindling, The Rt. Hon. Perry G. Christie and the First Lady Bernadette Christie and Family, The Hon. Mr. Earl and Mrs. BJ Deveaux, Ron Pinder, Audley Hanna, Maria Johnson, Jeffrey Stubbs, Camille Miller, Garth Johnson and family, Douglas Turnquest and family, Vanlock Fowler and family, Kim and Paul Aranah, Roscoe Gibson, The Family of the late Stunce Williams, The Patton family, Janice Henfield, Barbie Rolle, Angela and Clayton Rolle, Linda Carey, Sir Durward Knowles, The Family of the late Decosta Williams, Ian Smith and Linda & Lawrence of Canada, Herbert, Emily and Sarah Kramer of New York, Carl Spencer, Aileen Spencer, Timothy Wallace, Jerome Henfield, Paul Fernander, Neville Hart, Mr. Tennyson & Stephanie Wells, The Hon. Mr. Picewell Forbes, Anthony Ryan, Dwayne Smith, Dr. Nicholas Fox, Joe Ferguson, Dr. Kirkland Culmer, Ed Brown, Mike Edwards, Everette Hart, The Rolle family of Nicholls Town Andros, Eugene Campbell of Nicholls Town, Andros, Leroy Sumner, Linda Gibson, Arnette Hanna Rolle, Weston Saunders, Anthony Woodside, Kirkland Neely, Troy Wallace, Reginald Miller, Tanya and Ryan Lewis , Indira Thompson, Gundy, Rosie Ingraham, Lorraine Rolle, Vaughn Miller, Vern Hanna, Puggie, Cora Sawyer, Ozzie Sawyer, Lovely Rahming, Vanria Rahming, Vanda Rahming, Angie McDonald, Monica Ruiz of Cuba, Raida & Alain of Canada, Cleo McPhee, Verona Seymour, Valderine Strachan, Tanya Miller, Diane Minns, Sister Moss, Dorese Winter, Linda Butler, Yelenny Alcaron and Kirian Rodriguez of Cuba, Linda Butler, The Hon. Jerome Fitzgerald, The Dannottage Estates neighbors, The Nicholls Town Community, The Hon. Vincent Peet and Family, The Bowleg Family, The Robinson Family, The Major Family, The Munnings Family, The Chong Family, The Wilson Family, The Smith and Christie Family of North Andros, Farmer's Cay Regatta Family, Blackpoint Regatta Family, Georgetown Regatta Family, Acklins and Crooked Island Regatta Family, Premier Blood Lab, Dr. Forte, The Cuban Embassy, The Royal Bank of Canada, Commonwealth Bank, Bahamas Development Bank, Water & Sewerage Corporation, Bahamas Electricity Corporation, The Central Bank of The Bahamas, Bank of The Bahamas, Teachers & Salaried Workers Credit Union, BFMM Group, Battery & Tyre Specialists, ZNS The Broadcasting Corporation of The Bahamas (especially Julian Gibson and Opal Roach), Atlantis (especially The Cove & Reef and Coral & Beach Towers family), The Public Hospital Authority, and Princess Margaret Hospital, Special thank you to Dr. Kevin Moss, Dr. Magnus Ekedede, Dr. Rickey Davis, Nurse Khris Wring and the Elite Angels Team, Nurses and PCTs of 4th floor Doctors Hospital and the Nurses of Private Medical and Accident & Emergency, Princess Margaret Hospital.
There is a host of other relatives and friends, too numerous to mention. We apologize to anyone whose name may not have been mentioned. Please know that it was not intentional. We love and appreciate you all.

Friends may pay their last respects at Bethel Brothers Morticians, #44 Nassau Street on Saturday from 10:00 a.m. to 6:00 p.m. and on Sunday at the Convention Center from 12:30 p.m. until service time.
The family requests no dark colors at the funeral service.