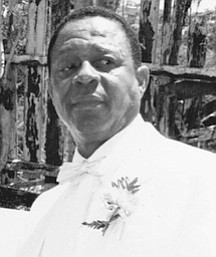 OSWALD RANDALL KNOWLES
unknown - unknown
Funeral Service for the late OSWALD RANDALL KNOWLES age 83 years of Reese Street, Fox Hill will be held on Saturday, April 30th, 2016 at 2:00 p.m. at St. Anselm Roman Catholic Church, Bernard Road. Officiating will be Fr. Noel Clarke. Interment will follow in St. Anselm's Church Cemetery.

Loving memories are engrave in the hearts of his WIFE: Faith Knowles; SON: Oswald Knowles Jr.; DAUGHTERS: Deaconist Annamae Knowles, Marilyn Deane and Minister Irene Ferguson; GRANDCHILDREN: Juanika, Christal, Nadia, Alexis (David Jr.), Andeka, Savannah(Adrian), Skiesha, Dwayne, Keno, Antonio, Jamal(Kenya),  Japeth Jr. (Delisa), Anthony Jr., (Diandra), Olando and Samuel; GREAT GRANDCHILDREN: Mya, Christianna, Natalie, Dashan, Jayla, Caleb, Nakyle, Alexander, David III, Varian Jr., Clifford Jr., Micah, Anthony III, Carter, Chase, Antwon, Aydan, Jammal, Japeth III; SISTERS-IN-LAW: Dolly Pinder and Ellen Knowles; SONS-IN-LAW: Anthony Deane Sr. and Rev Dr. Stanley Ferguson; DAUGHTER-IN-LAW: Marie Knowles; ADOPTED DAUGHTERS: Bernadette Mullings of Ft. Lauderdale FL. and Eileen Bain;; NIECES: Rose Gibson, Rosita Whiting of Arizona, Catherine Cash of Arizona, Joan McKenzie, Nita Barnes of Sarasota, Margaret Mortimer of Miami Fl., Anithra Mitchell Austin, Ernestine Douglas, Vernie Comarcho, Thoy Rahming, Lakiesha Pinder, Dale Pinder, Patricia Curtis, Margaret Sear, Jenniemae & Joanne Armbrister, Angela Stuart, Emily Brown, Judy Mackey, Maxine Gibson, Donna Russell, Minister Methreann Johnson of Ft. Lauderdale Fl., Paget Collins of Ft. Lauderdale, Fl., Shanderia Comarcho, Arethra and Shemeka Stuart and Ernestine Farrington; NEPHEWS: Clyde, Sid and Theodore Rahming, Christopher Munnings, Don Brice, Dwight and Dwayne Gibson, Marvin Comarcho (Monique), Clinton and Deven Stuart and Hendrick Narin (Inga); Numerous of friends and families: The Brennen Family, Cash Family, Dill Family Dawkins and Moss Family, Agnes Greene and The Cash Family, Stephanie Rolle and Family, Clifford Narin, Micheal Symonette, The Staff of Male Surgical I, The Nurses and Doctors of Elizabeth Estates Clinic, St. Anselm's Parish Family, The New Free Holiness Community Baptist Church, The Village Shop, The Hon. Fredrick Mitchell and The  Fox Hill Community.
Viewing will be held in the Serenity Suite at Restview Memorial Mortuary and Crematorium Ltd., Robinson and Soldier Roads on Friday from 10:00 a.m. to 6:00p.m and at the church on Saturday from 12:30 p.m. until service time.