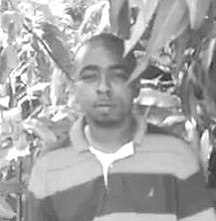 D'Andre Johnson
unknown - unknown
D'Andre Johnson age 29 years of Pinewood Gardens died at the Princess Margaret Hospital on Wednesday, March 9th, 2016.
He is survived by his DAUGHTER: Shapelle Pinder; FATHER: Michael Thompson; SISTERS: Shanique Caresse, Althenia and Lacharo; BROTHERS: Michael Jr., Patrick, Tanajah and Taron; GRAND PARENT: Naomi Taylor; other friends and relatives: Velonique, T'Shar, Stacey, Jolisa, Deval, Debbie, Rima, Laurice, Lineka, Ingrid, Ashley, Donique, Sharon, Shanya, Br'Quell, Rosaria and Harita and other relatives and friends.
Arrangements for the funeral service are being finalized and details will be announced at a future date.