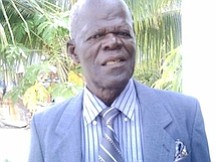 Milton "Wilton" Moxey
unknown - unknown
Funeral Service for the late Milton Moxey affectionately called "Wilton" age 84 years of Seven Hills and formerly of Little Harbour, Mangrove Cay, Andros will be held on Saturday, March 26th, 2016 at 10:00 a.m. at The Church of God of Prophecy, Seven Hills. Officiating will be Minister Julian A. Johnson assisted by Minister Trevor F. Seymour and Other Minister of the Gospel. Interment will follow in Old Trail Cemetery, Abundant Life Road.
Left to cherish his precious memories are his 1 Sister: Katherina King; Beloved Niece Thelma and Nephew Alvah and her family who he resided with in Nassau; Foster children: Patsy Wallace, Maxine Saunders and Jamal Bain; 3 Brothers-in-law: Rev Hubert King, and George Clarke of Andros and William Clarke of New Providence; 3 Sisters-in-law: Virginia Jones of Nassau, Shirley Clarke and Anna Mae Clarke- Rolle of Andros; Nieces: Janet Mackey ( Christopher) Beryl Moxey, Arinthia Taylor, Henrietta King, Brenda Mitchell and Densa Bethel Doranell Gibson, Donalee Burrows, Prenell Rolle, Carolyn Williams, Jacklyn Langner, Rochelle Trabulsy; Nephews: Eleon, Nicholas and Herman Rolle, Elon, Samuel, Archie More, Lieutenant commander Floyd Moxey (RBDF) Clayton and Prince Moxey and Rev Brenard King; numerous Grand and great Grand Nieces and Nephews; Other relatives and friends including: Archbishop Patrick C. Pinder, James and Rev. Samuel Pinder and Paulette Turnquest, Rev Menerva Pratt and family, Conch Sound, Andros, the Family of the Late Doris Burrows, Families of his Late Aunts, Selma Brown, Cloe Williams and Sis Minnie Hepburn; Families of his late Sisters-in- Law Dorothy 'Maggie" Greene and Eva Clarke of Grand Bahama; Families of Shirley Clarke and Anna Mae Clarke Rolle of Andros; Families of his Brother-in-laws: William and George Clarke; Sis Pearl Moxey and family; Families of the late Robert and Mamie Moxey; Families of the late Ettienne and Venus King; Families of the late Nathaniel and Laine Green; Solomon King and family; Isaiah King and family, Ralph Moxey and family, Rev Precious Green and family, Jeff Jolly and family, Marie King and family, Hasten Saunders and family, Faye Rolle and family, Valence Fraser and family, Melvern Rolle and family, Sandy Rolle and family, Tom Basden and family, Mary Elena Nairn and family, Nesbit Higgins and family, Derek Gardiner and family, Dr. ferriston Lockhart and family, Yvonne, George & Trevor Albury of Queen's New York. Prince Miller and his family, Gerald Bullard and family, The Church of God of Prophecy, Seven Hills, church family, Church of the Resurrection family, Bahamas Heart Association family, The entire community of Seven Hills, The entire community of St Paul Street, Chippingham, The entire community of Mangrove Cay, Andros and others too numerous to mention.
Viewing will be held in the Serenity Suite at Restview Memorial Mortuary and Crematorium Ltd., Robinson and Soldier Roads on Thursday (TODAY) from 10:00 am to 6:00pm and at the church on Saturday from 8:30am until service time.