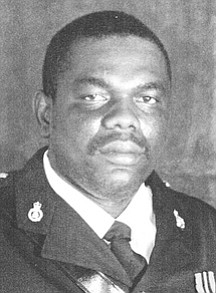 Glenroy McKenzie
unknown - unknown
Funeral Service for the late A.S.P. Glenroy McKenzie age 56 years of #72 Pinewood Gardens will be held on Friday, November 25th, 2016 at 11:00 am at Church of God Convention Centre, Joe Farrington Road. Officiating will be Bishop Albert Hepburn, DD, J.P., OBE; assisted by Rev Anthony Sands. Interment will follow at Lakeview Memorial Gardens & Mausoleums, John F. Kennedy Drive and Gladstone Road.
Cherished and fond memories of Glenroy will be shared by his Wife: Movina McKenzie; Daughters: Gleniese, Glevina & Glendira McKenzie; Son: Constable 3335 Glenroy McKenzie Jr.; Stepmother: Pearl McKenzie; Mother-in-law: Caroline Rolle; Brothers: Shelton Nolan McKenzie (Sonia), Anson Bain Sr., Keith Ferguson, Ricco Bain, Joshua McKenzie, Jadon McKenzie, Aaron McKenzie, Angelo McKenzie; Sisters: Evangelist Eula Mae Butterfield, Avis, Rona Gibson Major (Marvin), Dellerice Gibson, Taneka Bain, Sonia McKenzie, Stephanie McKenzie, Nicola McKenzie, Thora McKenzie, Rhunda McKenzie MD, Antonia McKenzie; Brothers-in-law: Ezettis Rolle Sr., Andrea Rolle; Sisters-in-law: Adrina Bastian, Sandra Frazier (Philip Sr.), Angie Thompson (Brian), Monique Delancey; Aunts: Myrthlyn Rolle Gilcud, Alma Rolle, Mirriam Rolle, Alice Moncur; Uncles: Rev Freddie McKenzie (Josephine), Reuben McKenzie (Minerva), Michael Rolle (Joan), Emmanuel Rolle (Terricitta); Nephews: Carlton McKenzie, Ivan Forbes, Alonzo Butterfield, Raphael Weise, Travis Weise Sr., Theron Gibson, D'yanza Gibson, Eugene Rolle II, Marvin McCoy Jr., Anson Bain Jr., Rio Bain, Ricco Bain Jr., Stephan Pintard, Silvano Saunders, Zaye McKenzie, Travis Ferguson, Lamont Lightbourne, Inspector Whitney Jr. & Wilton Bastian (Gabrielle), Constable Patrick Sands, Ezettis Rolle Jr., Jamal Rolle, Bradley & Philip Jr. Frazier, Lawrence, Terrance, Laron, Tameko & Leroy Rolle; Nieces: Latoya, Nola, Gabrielle, Delshama, Kerryann & Sheltonique McKenzie, Samantha Forbes, Chanderella & Dakota Butterfield, Alicia, Takera Curtis, Anola King, Anishka Bodie, Candice Ferguson, Marvinique McCoy, Ashnell, Jatequa, Antoineka, Rictiqua & Rashae Bain, Tiffany & Shantol McKenzie, Lamonta Lightbourne, Shaquel McKenzie, Dorethea Sweeting (Lynden Sr.), Macquel (Philip Pickstock Jr.) & Phillipia Frazier, Roynique Forbes, Carnique Delancey, Tameka Rolle; Grand Nephews: Adoltan Leadon, Marco Neely, Angelo Bonamy Jr., Travis Weise Jr., Braylon Moore, Eugene Rolle III, Jayceon Clarke, Joshua Sweeting, Philip Pickstock III, Lazano Bastian, Bradley Frazier Jr.; Grandnieces: Angel Neely, Ianna Forbes, Nevaeh Butterfield, Robin Weise, Tavia Brown, Randisha & Randica Moss, Deandranique Johnson, Eurika & Euria Rolle, Makeya Munnings, Shantol Sweeting, Aleah Sweeting, Phillia Roberts, Philicia Pickstock, Keithranique, Brittany Bastian, Branika Frazier; Cousins: Ella Davis (Godfrey), Rosetta Brennen, Judy Strachan (Sterling), Elaine Wilcombe (Christopher Sr.), Glenda, Eloise & Karen Gilcud, Nicola Ingraham, Denise 'Maydorn' Lightbourne, Carlean Moss (George Wilson), Wendy Rolle (Hosea Sr.), Lethera Rolle (Lyndon Sr.), Anthony Lightbourne Sr. (Pamela), A.S.P. James Moss (Ann), Leroy Miller, Lavardo Gilcud, Nichole Burrows (William), Shermaine Newbold (Kamron), Vanrea Hepburn (Raymond), Patrice Rolle (A.S.P. Anthony), Krystal Davis, Veronica Taylor, Lavetta James, Nola & Lisa Miller, Shonna Seymour, Theresa & Ericka Moncur, Wayde Moncur, Charles, Kevin & Lloyd McKenzie, Annamae, Stephanie Sands, Lawyer Charles Mackey, Sidney McKenzie, Lucinda Ambrose, Marsha Missick, Roslyn Hepburn, Lydia Knowles, Shirley Ferguson, Judith Strachan, Donesha & Mya Miller, Rickea King, Katecha, Nickeytra, Lakenya & Kaylisa Gilcud, Tonique Ingraham, Maxella Storr, Anishka Davis (Daryl), Denisha Cooper, Georgie & Christy Wilson, Sasha, Shakinah, Jireh & Judea Moss, Brittany Rolle, Tekera Curtis, Ronrico Strachan, Quincy Johnson, Domonique Knowles Sr., Doncott Aranha, Constable 3611 Christopher Wilchcombe Jr., Constable 3581 Archibald Miller Jr., Ashford, Ashley, Leroy Jr. & Aiden Miller, Able Seaman Jamon King, Kenrico Lockhart, Ryan & Lavardo Gilcud Jr., Renardo & Darron Davis, Delroy Jackson Jr., Wayne Wilson, Julian Moss Jr., Jayden Moss, Jaydin-Joshua, Khrystophe & Hosea Rolle Jr., Logan & Lyndon Rolle Jr.; A host of other relatives and friends, including: Anthony 'Papa' Sands, Alvin Sands & family, Harrison, Loretta, Annie, Andrew, & Marlina Pinder, Edna Newbold, Jackie & Mizphap Rolle, Ester Swann, Jacquelyn Hart, Lucille Archer, Lue Davis, Maryann, Debbra, Matie & Collen Clark, Carolyn Hanna, Mary Clark, Leotha Adderley, Ruthamae Ferguson, Ivadell Stubbs, Angela Dean, Janet Wright, Janet Moncur, Lucille Kelly, Rev Ordette Wells Simms, Rev Jennifer Carey, Helen Butler, Richard Clarke, Attorney Dorsey McPhee, Nurse Julie Thompson, Unique Smith, Yvonne Gardiner, Rose Ferguson, Rosetta 'Etta' Rolle, Kim Deveaux & family, Franklyn Williams & family, Magistrate Gomez, Val Butler, Valerie Storr, Magerite Bowe, Christine Brown, Karen Kikivarakis, Montez Williams, Barbara Pinder, Julie McIntosh, Carolyn Johnson, Julie Hepburn & family, The Pinder family, The Outten family, Bishop Albert H. Hepburn & the United Christian Church family Rev Dr. Philip McPhee, & Mt Calvary Baptist Church family, Rev Charles W. Saunders & the Salem Baptist Church family, Rev Eldon Musgrove & St. Matthew's Union Baptist Church family, The Communities of Eleuthera, Spanish Wells, Exuma (Forrest and Moss Town), Abaco, Great Harbour Cay, Market Street & Pinewood Gardens, The Royal Bahamas Police Force, The staff at Doctor's Hospital, The staff at Cleveland Clinic Florida.
Viewing will be held in the Serenity Suite at Restview Memorial Mortuary and Crematorium Ltd., Robinson and Soldier Roads on Thursday (TODAY) from 10:00 am to 6:00 pm and at the church on Friday from 9:30 am until service time.