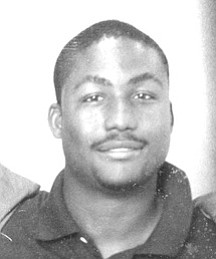 Jamal Travias Roach
unknown - unknown
Funeral Service for Jamal Travias Roach age 36 years, Resident of Bimini Avenue, will be held on Saturday November 26th, 2016, at 2pm at First Baptist Church, Market Street & Coconut Grove, officiating Rev. Diana Francis, assisted by other ministers of the gospel, Interment will follow in Southern Cemetery Cowpen & Spikenard Road.
Precious memories will forever linger in the hearts of his loving mother, Eloise Roach, father, Bertram Smith, three (3) brothers, Sherwin & Romeo Smith & Robert Smith-Lloyd, one (1) sister, Christavia Smith, six (6) aunts, Dorcas, Elizabeth, Cheresa & Jane Roach, Mrs. Carol Ritchie, Linda Smith, Karen Smith, Denise Smith & Dr. Darlene Smith, eleven (11) uncles, Patrick, Donnie, Jeptah & Alfred Roach, Franklyn, Durie, Craig & Michael Smith, Dr. Sidney Smith, Dr. Larry Smith & Mr. Kurt Ritchie, one (1) niece, Shiloh Smith, four (4) nephews, Nathan Smith, Kenrill Smith, Robert Smith Jr., & Shervin Smith, grandmother, Carolyn Smith, & a host of other family including, Zelma Roach, Keetel McKenzie, Shirley Roach-Rolle, Antionette Clark, Alfreda Smith, Glenda Patrice Smith, Theresa Roach, Margurette & Anthony Delancy, Tiffany Delancy-Laing, Deshea Micklewhite, Deann Kemp, Dominick Roach, Deon, Myiesha, Patreka, Pateko, Renaldo & Davonia, Doralee Roach, Ramarca, Franklyn Jr., Kayshonta, Sarah, Mikyle, Durie Jr., Durieann, Dremico, Damarlus, Daria, Dorum, Synteche, Daniel, Osbourne, Sophia, Lakeisha, Patrick Jr., Dominique, Shawn Turnquest, Shannon, Shian, Shiran, Monesha, Olivia, Dario, Shanon, Lawrence, Lynn, Tonesha, Shelayah, Daphne, Warren, Kennedy, Janiah, Joshua, Sydney, Sole, Mateo & Savannah, numerous friends including, Sandra Johnson, Judy Ferguson, Kazia Robinson, Kenny Rolle, Megan Smith, Sislie Smith, Shenique Barr, Judy & Jenny Bonaby, Deandrea & Celeste, Clara, Gaynell & Charlene, Olive & Donna Major, Louise Forbes, Vanessa Clarke, The Doctors & Nurses of Male Medical 1 & 2. The Staff of Melia Resort.
Relatives & friends may pay there last respects at Riverside Funeral Chapel, Market Street & Bimini Avenue on Friday from 10 am until 5 pm & at the church on Saturday from 12:30 pm until service time.