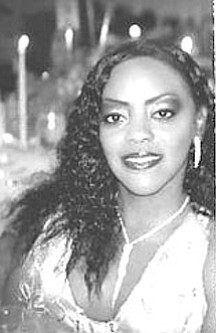 Anastacia "Stacia" Margaret Maudina Bell Barnett
unknown - unknown
A funeral service for
Anastacia Margaret Maudina Bell Barnett, "Stacia" age 36
of Pinewood Gardens, Nassau, will be held at  Church of God Greater Chippingham,Rosebud & Eden Streets, off Farrington Road, Nassau, on Saturday, 29th October 2016 at 11:00a.m.
 
Officiating will be Bishop C. Dennis Lafrenier, assisted by Rev'd John Darville, Rev'd Arlington Hanna,Rev'd Mechelle Rolle,
Rev'd Sybil Deveaux and Rev'd Brian Rolle and interment will follow in  Lakeview Memorial Gardens and Mausoleums, John F. Kennedy Drive,Nassau.
 
 
Left to cherished memories her memories are her Husband, Prescott Barnett; Mother,  Betty Bell; Daughters,  Preanna, Prenique & Prequesha Barnett; Sister,  Annishka Bell; Brother, Derek Bell Jr.; Aunts, Marina Stubbs, Eliza Hepburn-Belizare, Prolean, Hilda, Grace Lighthbourn, Brenda Percentie, Christine Lightbourne, Janet Moncur, Portia Wilson, and Juliette Bell-Strachan Magaret, Brenda Janeen & Doreen Barnett; Uncles,  Eris Moncur, Albert Stubbs, Alkmund Bonimy, Britton Bonimy, Walter & Gregory Johnson, Warren Rolle, Jefford, Michael & Mitchell Barnett, Byron Maitland, and John Brown Sr., Harry Belizare; Sisters-In-Law, Toni , Kendra & Lakeira Barnett; Brothers-In-Law:  Marco & Jermico Barnett; Grand-Uncle,  Elsworth Poitier; Cousins, Quintin & John Brown Jr., Catherine Collie, Mary Butler, Sandra Wells, Monique Ward, Kevin Ward, Lynden Smith, Javotte, Janice, Eris Jr, Dion, Edward, Jennifer Moncur , Schakeita Turtle , Sabrina Stubbs, Patrick, Richard, Patrick, Angela and June Lightbourne, Elwood, Andrew, Donna Bonimy , Leonette Percentie, Vesco Bonimy, Monique & Shevonne Miller, Sherelle Johnson, Tameka, Tamara, Antonio, Rochelle, Patrice, Petra, Jania, Gigi, Shanae, Dudly, Gregory, Eric; Special Friends, Anntionette Roberts, Deanka Smith & Melinda Young; Godmothers, Venus Cox, Hilda Forbes,Avis Lightbourne; Godchildren to numerous to mention Host of Relatives and Friends includes, Bishop C. Dennis & Family, Greater Chippingham Church of God Family, Prophetess Jenny Humes & Family, Elder Ervin Fernander & Family, Elder Ronald Jones & Family, Mary Young & Family, Rev'd Antonio Steel & Family, Rev'd Mechelle Rolle & Familly, Italia Gordon & Family, Joy Rolle & Family, Agatha Bethel & Family, Eunice Smith & Family, Zendamae Johnson & Family, Maureen Ellis & Family, Beautiny King & Family, Latoya Bethel & Family, Valencia & Family, Mr. Allen Wallace & Family, Cooper & Family, Mr. Smith & Family, Claudia & Family, Anishka & Family, Mr. Ted King & Family, Sister Francis & Family, Howard Mcphee & Family, Mr. Stuart & Family, Craven Lewis & Family, Donna Lewis & Family, Ryan Turner & Family, Sylvia Carey & Family, Dorcas Stubbs & Family, Vincent Roberts & Family, Charlene Brown & Family, Natalie Beneby & Family, Fertile,  Reginald King & Family, Nelson King & Family, Earlene Seymour & Family, Sharon Armbrister & Family, Wendy Moss & Family, Irene King,Miss Rolle & Family  Ronique Curry & Family, Carolyn Clarke & Family, Pastor John & Anne Peterson-Higgins & Family, McArthur Fernander & Family, Automotive Fire & Plumbing, G.H.S. Class of 1998', Dialysis Unit, Female Medical II of the Princess Margaret Hospital, PCT Graduates and The Staff at Town Centre Mall. Dumfries Cat Island Community, Pinewood Gardens Community & South Beach Community.
 
We the family regret that we are unable to include all of the many relatives and friends, who have been a part of the Barnett Family throughout the years.