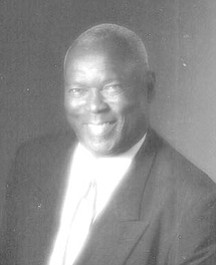 Bishop Theophilus Neely BEM., J.P.
unknown - unknown
A Memorial service for the life and ministry of Bishop Theophilus Neely BEM., J.P.
will be held on Thursday, 27th October, 2016 at 7:30 p.m. at The Myles E. Munroe Diplomat Centre, Bahamas Faith Ministries International.
Funeral service for Bishop Theophilus Neely BEM, J.P. age 76 of The Bluff, South Andros will be held on Sunday, 30th October, 2016 at 2:00p.m. at The Myles E. Munroe Diplomat Centre, Bahamas Faith Ministries International, Carmichael Road. Officiating will be Bishop Dr. William Jennings Simms, Pastor Dave Burrows, Pastor Henry Francis and Rev. Timothy Stewart, Assisted by: Pastor Antone Austin, Pastor Wendell F. Lewis and Apostle Dr. Clement M. Neely. Interment will follow in South Andros Christian Centre's Sanctuary Grounds, Money Rock Subdivision, The Bluff, South Andros on Tuesday, 1st November, 2016 at 10:00 a.m.
Left to cherish his memory and legacy are: Wife of 54 years: Blooming Neely (nee Ferguson); Daughters: Kathleen (Antone) Austin Sonia Marie (Hardy) McKinney; Grace (Charles) Sweeting; Joy-Iris, Loveletta & K. Zovia Neeley; Sons: Theodore (Anne Marie) Neely, Beryn (Shannel Marie) Neeley and Gerard Douglas; Granddaughters: Anynke Austin, Thedra Neely, Sarah Marie, Sanovia & Dawnelle McKinney, Briagernae Douglas, Samone (Kerrol) Blackwood, Kendenique (Kieran) Roker, Benita Pinder Wendy & Whitney Lewis; Grandsons: Thedro Neely, Khai Neeley, Antawn Austin, Benjamin & Rasamin McKinney, Lamont & Leron Bosfield, Osbourne (Latoya), Donovan (Claudine), Darren & Afton (Shasta) Moxey; Kierone Knowles, Reid Sweeting, Neiko Lewis, Gheaven Douglas & Halo Rolle; Sisters: Louise Neely-Smith, Anna Neely-Forbes, Jenny Neely & Martha Duvalier; Brothers: Lofton & Patson Neely; Adopted Daughters: Malvease (Lesardo) Moxey, Ruth (Benjamin) Pinder, Julie Swaby, Brendalee Green, Glenda (Darcy) Grypma, Sandra (James) Bartlett & Ione Hepburn-Hart; Adopted Sons: Ronald Bosfield, Pas. Wendell Lewis (Naomi), Wellington (Cheryl) Ferguson, Dr. Beverton (Rosel) Moxey, Wayne Neely, Otis (KeffieAnne) Ferguson, Tracy (Ruth) Knowles, Wayde (Debra) Forbes-Ferguson, Derek (Peggy) Kelly, Pas. Eric D. (Patrice) Clarke, Brenden Swaby, Philip Smith; Sisters-in-law: Francita & Willamae Neely, Eulean, Prescilda, Euricka & Maxine Ferguson, Bethsheba Paul, Vernita Mackey, Miriam Braynen & Willamae Hanna; Brothers-in-law: Jeffrey, Elijah, Moses, Isaiah, Bishop Alton & James Ferguson, Cedric Forbes, Rodney Thompson & Daniel Paul; Aunts: Miriam Green, Luella Rolle & Mirthlyn Burrows; Uncle:Jeremiah Gibson; Nieces: Angela (Clayton) Rolle, Claudia (Roosevelt) Williamson, Royanne (Rev. Terrence) Morrison, Kayla Neely, Philippa Forbes, Melinda (Kenwood) Miller, Jennifer Neymour, Lorraine & Glendina Neely, Vernita (Perry) Charlton, JudyAnne (Andrew) Hepburn, Trestina (Trevor) Taylor, Yvette (Anthony) Gibson, Daphne McMinns, Maureen Louis, Paulette Storr, Kimberley Thompson, Roberta Bullard, Sheena Rolle, KerryAnne & Priskah Neely, Niketress Tucker. Fearlease Wallace, Kevita Green, Eulease, Levaughan & Rachel Ferguson, Michelle Evans, Mordena & Melony Ferguson, Hermia Sands, Sedra Williamson. Valria Exton, Sharlean Moxey, Jacklyn Hanna, Tasha, Janis, Christina & Shantika Ferguson, Marcia Smith, Endalyn Toker, Deborah Brown, Eulean Clarke, LaCoya D'Arby, Sarah, Ruthnell, Altaneka & LaVora Ferguson; Nephews: Police Inspector Kenrid, Apostle Dr. Clement M. (Christine) & Alexis Neely (Latoya), Nicholas, Phillip (Patrice), Shawn, Benson, Larry, and Trevor Neely. McCartney Munroe, Leslie Smith, Paul Storr, Mario (Gertrude) Miller, Montez Moxey, Jason (Antonia), Pete & Jamaal Neely, Shawn Neely. Javis, Melkeva, Moses, Zebedee, Vehavilyn, Quintin, Elesa, Pas. Luther, Marvin, Talmadge & Elon Ferguson, McRoy & Stanley Wilson, Capt. Kevin Moxey, Samuel Rolle, Shawn & Isaiah Jr Ferguson, Sebastian Curry, James Ferguson Jr, Romeo, Altoniqueo & Altaneio Ferguson; Cousins: Madeline Johnson, Coleste, Johnathon, Winfield (Maggie), Alpheus, Caleb, Joshua, Steve, Simeon, Radley & Roger Rolle, Syblean Hepburn, Ruth & Jerry Butler, Mag, Lois, Rene, Clyde, Beryl, Mable, Alton, Arabella, Maxine, Lucine & Alexander Rolle. Helen Green, Doris Kemp, Letiesha Williamson, Moreen, Princess, Cleveland, Andrew, Peter, Colin, Sanford & Herman Rolle. Velma Williams, Alice Cunningham, Ivy, Lithfield, Stephen & Luther Rolle, Ione Hepburn. Samuel, Euthal Jr., Prince, Suzie, Joel, Ernest, Velma & Craver Green, Rose Green-Thompson, Miriam Fernander, Thelicia Thomas, Lorna (Patrick) Glinton. Franklyn, Dennis, Andrew, Jenkin and Florcita Gibson, Leotha Brown, Birdiemae Beneby. Lucille & George Dobrin, LeAndrew, John Sr. (Sandra), Virginia & Bobby Christian, Addy Gavinsmith, Estelle McPhee, Theresa Adderley-Butler (Godsister), Brendalee Adderley, Ezekiel Johnson, Ezrena Forbes, Bishop Victor & Jacqueline Johnson, Charles & Pas. Shirley Johnson, Malary & Melony Green, Canard, Estherlee, Eunice, Bessie & Constance Bethel. Pressiemae Rolle, Joshua & Mitchel Taylor, Zebedee Rolle, Kermit Sweeting, Althea Higdon, Alpheus, Roosevelt & Spencer Finlayson, Marsha Neymour, Mathilda 'Ettiene' Woodside, Orthneil Lewis, William 'Willie' Smith, Joseph Johnson, Deacon Theophilus 'Tommy' Rolle, Pastor Curlene Saunders, Julia & Cedric Nesbitt, Fred Stirrup, Kendall Taylor, Annette Humes-Brown, Michael Thompson, CeAnne & Chervaughn Henfield; God-Children: Erma Lewis, Dorothy Taylor, Cherene Green, Doris Kemp, Pas. Ashley Brown, Pas. Fairdale (Brenda) Smith, Bobby Christian, Burnt (Annis) Ferguson & Roosevelt Burrows; Special & Long-time Friends: Governor General Her Excellency Dame Marguerite Pindling, Rt. Hon. Hubert A. Ingraham, His Excellency Picewell Forbes, Mrs. Sylvia Phillips & Family, Mrs. Pearl McKinney & Family, Sis Catherine Roker & Family, Dr. Jerry Horner, Dr's Jay & Euphemia Simms, Rev. James W. & Deacon Mary Pratt, Pas. Arnold Farquharson, Pas. Henry Francis & Family, Pas. Sheena Pinder & Family, Sis. Angela Achara & Family, Mother Rosaleta Davis & Family, Pas. Jeremiah Duncombe & Family, Pas. Marion Forbes, Min. Daniel Rahming, Lecitus Gibson, Jr., Pas. Stanley Forbes, Evangelist Shirley Burrows, Pas. Cedric Smith, Bishop Raymond Mackey, Dr. Timothy Stewart, Pastor Alfred Stewart, Pas. Eulalee Gibson, Rev. Moses & Min. Marilyn Pennerman, Deaconess Lorraine Green, Apostle Felix & Prophetess Cyprianna Rolle, Sis. Mearl Sweeting, Mrs. Eva Bastian, Mr. Jaciel Williams & Family, Mrs. Eureka McKinney, Mr. Hubert E. Ferguson, Mr. Larry Ferguson, Sis. Rachel Munroe, Mr. Preston L.(Hazel) Johnson, Ms. Blanche Forbes, Ms. Eula Nixon, Mr. Harrison Thompson & Family, Mr. Jack A. Thompson, Mr. Everett Hart, Mr. Melvin Seymour, Lenroy & Dinah Smith, Mr. Edmund & Mrs. Emily Rahming, Mr. Norman Bastian, Captain Nathaniel Adams, Min. Joycelyn Green, Mr. Jonathon Forbes, Mr. Zendal Forbes, Mr. Ian Byron Fawknotson, Pas. A. B. Lewis, Pas. Ezekiel McIntosh, Pas Al Rahming, Pas. Bursel (Edna) Rolle & Family, Pas. Joyce Lewis, Mr. Berkley Wildgoose, Apostle Andre Farquharson, Apostle Wendell (Blossom) Duncombe, Mrs. Janet Ramsey, Leviticus Rolle, Lawrence Rahming, Min. Archie & Min. Leanna Ferguson, Mr. Carlton (Katherina) Williams & Family, Mr. Adam Munroe, Pas. Cedric (Stacey) Beckles, Bishop Philemon & Rev. Lorna Wilson, Peter & Mona Pratt and Richardo Barrett and a host of other relatives and friends including: Bishop Ivan Neilly, Calvin Neilly, Helena Neilly, Ruthnell Smith & Family, Curlene Campbell, Carmetta Ferguson, Richard Wright, Shayvonne Moxey, Bishop Ross Davis & Family, Rev. Hubert King & Family, Mr. Carl "Cop" & Pas. Catherine Nairn & Family, Elaine Forbes, Louise Gibson, Lewis Phillips, Norman McKinney, Craig Miller, Andre Johnson, Min. Shelton (Bernadette) Rolle, Basil (Burnell) Rolle & Family, Jonathon Gibson, Henry & Edison Smith, Pastor Harvey & Roselda Woodside, Pastor Philmore (Vernita) Russell & Family, Pastor Dorinda Dean & Family, Pastor Phillip Campbell & Family, Apostle Leon Wallace, Pastor Henry Hinsey & Family, Sheila Blatch, Min. Thomas & Cinderella Hinsey, Min. Olive Curtis, The Young Family of Mar's Bay, entire Henfield Family of Long Bay, N. R. Rahming & family, Steadman & Minnalee Forbes & Family, Police Superintendent Floyd Bastian, Spencer & Carol Rahming, Brendan & Sonia Wilson, Rev. Dr. Carrington (Sabrina) Pinder & Family, Min. Leslie & Remalia Knowles, Christian Life Church Family, Pas. Dave (Angela) Burrows & the entire BFMI Family, Pas. Allan Munroe & Family, Pas. Jay (Euturpia) Mullings, Sis. Barbara Lockhart, Pastors Tony & Anne Grant, Pastor Chester Thomas, Dr. & Mrs. Robin Roberts. The Smith, Johnson, Forbes, Lewis, Green, Burrows, Neymour, Cartwright, Taylor, Gibson, McKinney, Rahming & Rolle families of South Andros. Management & Staff of Western Air Ltd, Management & Crew of M/V Captain Moxey, the South Andros Christian Centre Family, the Staff, Administration and Students of: Deep Creek Pre & Primary Schools; High Rock Primary School; Long Bay Cays Pre-School & South Andros High School, and the entire community of South Andros and many others too numerous to mention.
The body will repose in the Blessed Redeemer Chapel at Ferguson's Funeral Directors, 7th Terrace Collins Avenue, from 10:00a.m. - 5: 00 p.m. on Friday, Saturday from 12noon- 5:00pm and again at the church on Sunday from 1:00p.m. until service time.