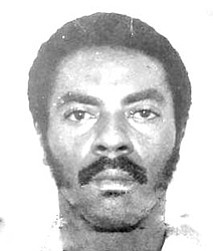 Eugene Viaud Marie Darbouze
unknown - unknown
Funeral Service for the late Eugene Viaud Marie Darbouze, aged 66 years of Fort Fincastle, Sands Lane, and formerly of Port-Au-Prince, Haiti, will be held on Saturday, 29th October, 2016, 2:00 p.m. at St. Francis Xavier Cathedral, West Street. Fr. Glen Nixon will officiate. Cremation will follow.
He has survived by his Wife: Ruth Minus-Darbouze, His Children: Dorothy Johnson (Baron Clarke), Patrice Jones (Bradley Jones) of Kansas, Missouri, Donna Fisher (Carl Fisher), Brady Johnson of Louisville, Kentucky, Bridgette Outten, CPL. 1811Stephan Johnson, Marlene Minus, Darcy Louis (Denise Louis), Sgt. 2347  Freya Emmanuel (Mark Emmanuel), Alex and Alexis Darbouze; Adopted Children: Monique Dauphin, Fabian Neely, Franklyn "Conrad" Andrews, Lenard "LJ" Fox, Valentino "Box" Williams, Kevin Hart, Rico Russell, Bishop G, Elton Major; In Laws: Sisters- in- law: Jackie Minus of St. Paul, Minnesota, Lena Williams and Laura Taylor and Edna Sands; Brother-in law: Audley Minus; Grandchildren: Nicoya Kemp, Lervette Blair (Andre Blair) of Atlanta, Georgia, Anwar Johnson, Cornelia Taylor, Dc. 735Rasheed Davies, Dhaska Gilcud, Mardeskia Fisher, Carl Fisher Jr., Shavarous Woodside, John Jr. and Johnette Rolle, Lorenzo Fisher, Brittany Minnis,  Andrew Hall Jr., Peter & Christopher Outten, Tenniel Clare, Carlita & Carlisa Fisher, Mark Jr. & Joshua "Ernie" Emmanuel, Destiney Basden, Stephanie, Stephan Jr.& Skylar Johnson, Niah-Mandi & Noah-Mandel Louis, Antoine Kemp, Antonia Lowe (Desmond Lowe), Numerous Great grand children: Whitney and Wynter Issacs, Breanna and Chanery, K, Nairobi & Khlie of Atlanta GA,     Nieces and Nephews John, Lawrence, INSP. Christopher, Keith, Scottie and Johndell Minus, Ericka, Anthony, Tanya & Tara, Chloe and Arthur Jr. Minus of St. Paul,Minnesota, Dellarese, Audie, Audrey and Arthur Minus of Freeport, Grand Bahama, Veranique Simms and Family, Other relatives and friends including: the entire Minus Family and Fort Fincastle community, The Albury Family, Clarice Moss &Family, Philip Brennen & Family, Yvonne Armbrister & Family, Valene Benjamin & Family,  Elaine Minus and the Benner Family of St. Paul, Minnesota, City of Israel Church Family, Michelle Major and Family, Lauvanie Richards & family. Ruth Outten and Family, Janine & Gary Edmond, Latravia Turtle & family, Jackson Clarke and Family,The Bain Town Boys Andrew Hall, Marie Sylvain and Family,Rowena Johnson and Family, Sheniqua Miller and family, Jason Springer, Doctors and Nurses of the Princess Margaret Intensive Care Unit. Keisha Turnquest & family, Audrey Dean & family. Richard Darville and family, The Paper Boys Junkanoo Group, Rudolph Minus & Family, INSP Tess Newbold, SGT. 256 Shavonne Dames,  Noel Rock and Family, Mansen and Karen St Sycre, and Gully.
*If we have left out your name due to this our grieving period please forgive us as we mean you no disregard. You are special to us.
Friends may pay their last respects at Bethel Brothers Morticians, #44 Nassau Street on Friday from 10:00 a.m. to 6:00 p.m., and on Saturday at the church from 12:30 p.m. until service time.