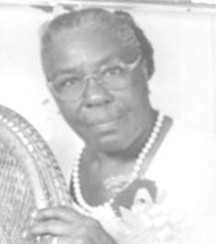 Olga Eulene Kemp
unknown - unknown
Funeral Service for Olga Eulene Kemp age 79 of Little Creek, Andros who died on October 17, 2016 will be held on Friday October 28, 2016 at 10:00 a.m at Our Lady's Catholic Church, Deveaux Street. Officiating will be Father William Quiamjot assisted by Deacon Maxwell Johnson . Interment will follow in the Catholic Church Cemetery, Tyler Street.
Precious memories will forever be in the hearts of: Four daughters: Sherry Ann King, Bernadette Woodside, Emma Kemp and Sophia Kemp-Grant; Two sons: Humphrey Woodside and Herman Kemp; Two Sons-In- laws: Terrence King Sr. and Adrien Grant Sr.; One daughter-In- law: Flora Woodside; One sister: Christina Burrows; Two Sisters-In laws: Catherine and Theresa Johnson; One brother-in-law: Luther Kemp; Granddaughters: Lakeisha, Eugenie, Jushikii, Bernika, Daniqua, Ashante, Akera, Chantia and Sian; Grandsons: Terrence 'Champ', Kevion, David Andrew, David Jr. Jamie, Arsenio, Calvin, Clejon, John, Berkley, Herman Jr., Patrico, Anfernee, Ashton, Adrien Jr. Denero and Solomon Jr.; Great grandsons: LaDante, Devane, Devario, Johnathan D, Daneko, Kayden, Shamad, Johnathan W., Abreon, Brayden, Isaac, Emery, Ashton , Davadre and Leslie; Great granddaughters: Talissa, Shamara, Shania and Morgan; Stepchildren: David, Ricardo and Hiram Kemp, Eunice Oliver; God children: Joyce Sands- Conliffe, Antanell Logan and Dianne Ferguson; Numerous Nieces and Nephews including: Robertha, Freddie, Deacon Maxwell, Fred and Sam Johnson, Dec. Theophilus and Veronica Rolle, Brenda Adderley, Janet Burrows, Esther Pinder, Arlington and Loretta Taylor, Margaret McKenzie, Orlean Clarke, Ollymae Knowles, Joyce Scott, Dorabell Sands, Edith Taylor, Richard Kemp, Susan Kemp, Malachi Lundy, Zeldreda Adderley and Thelma Fernander; Other Relatives and friends including: Solomon Uboh, Reorien Rolle, Yvonne Rolle and family, Shamad Kennedy, Patrice Kemp, Corrine Davis, the Thurston family, members of #1 Congo society , members of St. Roberts Catholic Church, the entire communities of Little Creek, South Andros and Current Island, Eleuthera; Special thanks: Nurse Valderine Rahming & Staff at Miriam Greene Health Center, Nurse Valencia Rolle and the Accident & Emergency Dept. of The Princess Margaret Hospital, Dr. Nottage and the staff of Female Medical #2 and others too numerous to mention.
Viewing will be held in the Legacy Suite of Vaughn O. Jones Memorial Center, Mt. Royal Ave. and Talbot Street on Thursday from 12:00 noon to 5:00 p.m. and on Friday at the Church from 9:00 a.m. to service time.