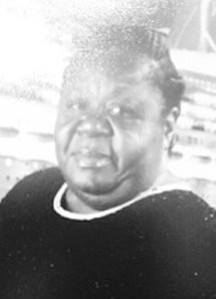 Pandora Elizabeth Charlton
unknown - unknown
Funeral Service for Pandora Elizabeth Charlton age 58 of Kool Acres and formerly of Abraham's Bay, Mayaguana who died on October 9, 2016 will held on Saturday October 29, 2016 at 10:00 am at St. John's Native Baptist Cathedral, Meeting Street. Officiating will be Bishop Carrington Pinder assisted bt other Ministers. Interment will follow in the Church's Cemetery.
She is survived by her father, Rev. Levi Charlton and his spouse Sylvia Charlton; her siblings, Ivy, Jacintha, Sherrilyn, Gregory, Sgt. 465 Charles (Patrice) Charlton; her grandmother, Idella 'Dada' Burrows; Uncles, Wellington Charlton and Teavis Deleveaux; Aunts, Marietta McKinney, Cochena Deleveaux, Johnney Deleveaux, Katie Roberts (Nigel) and Juletta Charlton; nieces, Nia (Craig) Bethel, Noya Miller, Shenika, Canissa, Kenita, Tracy, Tashata, Kristy (Kaylee), Chade', Chakia, Tanisha, Branae, Tonya and Crashante'; nephews, Deangelo (Muffy), Sharmont, Orlando, Tanaz (K.C); grandnieces and grandnephews, Demi , Kaylee, Cleare, Connor and Tashawn; numerous other relatives and friends including: Virley, Pandora, David, Arthur, Katherine, Laketah, Wenderra, Rico, Montressa, Yannique, Brad, Troy, Lebrawn, Samana, Franka, Hardy, Doral, Granville, Clyde, Theda, Olga, Dena, Cora, Roslyn, Lionel, Elfreda, Burnette, Reggie, Valrie, Brunell, Clyde, Haston, Ronnie, Florence (Flo), Edmon, Gail, Audrey, Easlie, Hazel, Mary, Frances (Godmother), Norman, Herbert, Ethlyn, Lorraine, Brenda, Judy, Clinton, Arnette, Albert, Kirk, Dotee, Karen, Kenneth, Anthony, Romel, Yvette, the Charlton Family, Moss and Brooks Family, the abraham's Bay Community, the Oxford Ave. Family, the Department of Social Services, the Staff of the Princess Margaret Hospital, the Soth Beach Community including the Ruthland Ave. Families, the Thompsons, the Evans, Pearsons, Mckenzie, Weech, Pratts, Bonaby and Smith Families, Special Friends including: Elimas Taylor, Michelle McPhee and those families too numerous to mention.
Viewing will be held in the Legacy Suite of Vaughn O. Jones Memorial Center, Mt. Royal Ave. and Talbot Street on Friday from 12:00 noon to 5:00 pm and on Saturday at the Church from 9:00 am to service time.