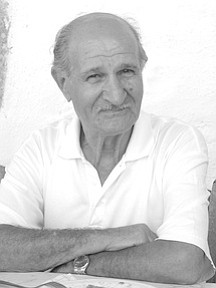 Stephanos Elias Antonas
unknown - unknown
A funeral service for Stephanos Elias Antonas, age 92 of Market Street, Nassau, The Bahamas, died at his residence, on Wednesday, 26th October, 2016, will be held at Annuciation Greek Orthodox Church, West Street, Nassau, on Saturday, 29th October, 2016 at 3:00 p.m.
Father Irenaeus Cox will officiate and the family ask that there wishes be respected for a private interment in the Western Cemetery, Nassau Street, Nassau.
Mr. antonas is survived by his wife, Maria Antonas; sons, John Antonas and Elias Antonas; grandson, Stefan Antonas, Paul Antonas and Byron Antonas; step granddaughter, Kelsey O'Rawe; daughters-in-law, Pavia Antonas and Lori Antonas; granddaughters-in-law, Julie Antonas and Ashley Antonas; great granddaughter, Olivia Antonas;; brother-in-law, Byron Pateras; sister-in-law, Alice Pateras; numerous nephews and nieces and many other relatives and friends including Chryss Hionis, Jimmy Hionis, Leo Hionis of Philadelphia, Susan, Ricardo and Riley Mayberry of Bermuda, Chris, Diana, Sophia, Nicholas and Ally Pateras, The Tyrakis Family and The Girakios Family in Kalymnos, Greece, The Antonas Family in Ohio, U.S.A., The Klonaris Family in Nassau and Australia.
In lieu of flowers the family request that donations be sent to Annuciation Greek Church, P.O. Box N. 823, Nassau, in memory of Mr. Stephanos Elias Antonas.
Arrangements Kemp's Funeral Home Limited.