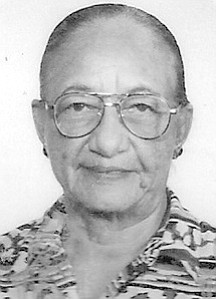 Sylvia Valencia North-Treco
unknown - unknown
Funeral Service for the late Sylvia Valencia North-Treco, aged 86 years of #36 Constitution Drive, Boyd Subdivision, will be held on Saturday, 29th October, 2016, 11:00 a.m. at Holy Spirit Anglican Church, Howard Street, Chippingham. Canon Peter Scott will officiate. Interment will follow in the Western Cemetery, Nassau Street.
Predeceased by her husband, Harold G. Treco & Son Robert K. Treco
FOND AND LOVING MEMORIES ARE HELD BY HER  SONS &THEIR SPOUSES : Greg & Joycelyn, Michael,  Keith & Laurie GRANDS: Krystal, Charles, Kadeshia, Michael & Christian Treco SISTER: Marina McCartney SISTER-IN-LAWS: Sandra North, Roslyn North, Joan & Patsy Treco BROTHER-IN-LAWS: William McCartney & Richard Treco NIECES: Dr. Cyd McCartney-Saunders (Emil), Dr. Tiffany North, Myra Albury (Charles), Sherrylyn Fowler & Lillian North, Shasta Moxey, Renee Treco & Allyson Kelly, Yvette McCartney-Meredith (Larry) NEPHEWS: Branville McCartney (Lisa), Sidney North Jr., Darren Treco, Martin Treco, Richard Treco. A host of other relatives and friends including:- Dr. Hubert Minnis & Family, Sheryl Minnis, Sydney Godet & Family, Yvonne Maura & Family, Albertha Hall & Family, Gail Saunders, Terry North & Family, Ena North & Family, Anastacia Charlow, Rev. Carl Campbell & Family, Eva Mortimer & Family, Ricardo Pratt, Noreen Major, Cathy Flowers & Family, Allan Lightbourne, Rudy Cooper, Ms. Musgrove, Freddy Pyfrom, Billy Styles, Wilfred Horton, Charles Grant, Cecil Smith, Cora Carey & Family, Rosie Thrower, Jerry McDonald, John Rolle, Terry Treco, Arlington Miller, Gwen Munnings, Edith Smith, Gracian Sands, Brentford & Wayde Christie & their Families, Stacy & Yvette Treco, Vanria Bastian & family, Donna Munroe & Family, Deeanne Christie & Family, Pamela & Etienne Heastie, Danny Wilson & Family, Charlton Tinker. SPECIAL THANKS TO: The Doctors & the Nurses at Geriatric Hospital especially Dr. Agreta Eneas-Carey & Dr. Indira Minus-Grimes, Cruckshank Ward, St. Anslems Sunday Special Prayer group, C.O. B Student Nurses, Mr. & Mrs. Dale Davis, Public Service Credit Union, Bahamas Customs, Nicholls Town Family & Hill View Seventh Day Adventist Church family & Church of the Holy Spirit family. If we inadvertently omitted your name, we sincerely apologize. It was not intentional.
Friends may pay their last respects at Bethel Brothers Morticians, #44 Nassau Street on Friday from 10:00 a.m. to 6:00 p.m., and on Friday at the church from 10:00 a.m. until service time.