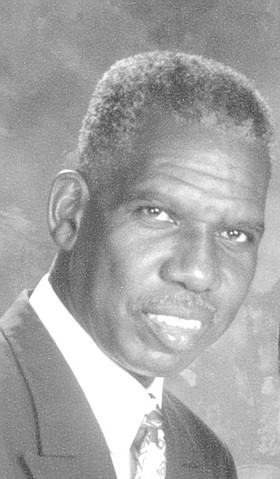 Keith A Ferguson
unknown - unknown
Funeral Service For
Keith A. Ferguson
of Fox Hill will be held on Thursday, 13th April, 2017 at Rhodes Memorial Methodist Church, Montrose Avenue, 10:00 a.m. Officiating will be Bishop Theophilus Rolle assisted by Rev. Dr. Kenneth Huggins and Rev. Emily A. Demeritte. Interment will follow in Ebenezer Cemetery, Shirley Street.
He was predeceased by his parents: George A. Ferguson and Maudlene G. Strachan, Siblings: Shirley Ellis and Leslie Strachan and his Son: Ian Keith Ferguson.
He is survived by his Devoted Wife of 38 years Sharon A. Moultrie Ferguson; Children: Akeem A.Ferguson (Shamicka) and Nasiya Keisha I.Ferguson-Rolle (Roscoe Sr.); GrandChildren: Myles Johnson, Roscoe Jr.(R.j) and Kesare Rolle; Adopted Daughter: Melessa Lightbourne; Mother-in-law: Ruth E. Johnson; Brothers: Kevin G. Ferguson(Gina), Derek , Alfred(Katrina) and Craig E. Ferguson (Bridgette); Sisters: Veronica Wilmott(Arlington), and Ernestine Sands(Keith); Sisters-in-law: Beatrice Collie-Strachan, Ingrid S.Moultrie-Moncur(George), and Stephanie Moultrie; Brothers-in-law: Kermit and Franklyn Moultrie; Nephews: Stephen Adderley, Craig Armstrong, Fenton and Burlington Strachan, Frank Jr and D'arcy Ellis, Mario Moncur(Christal), Stefan Moncur, Clinton, Kendyce Moss-Moultrie(Sonia), Deon(Debbie), Trevor, Kristen and Justin Moultrie, Ricardo, Stephan, DeAngelo, Zhivago Evans, Terrell Outten (Meredith), Cordero and Tomarge Wilmott, Jamaal and Karl Ferguson, Cravaughan Mckay, Trevor and Craig Jr. Armstrong; Nieces: Stephanie Armbrister, Sherry Williams, Jackie Adderley, Michelle Mckenzie, Bernadette Ellis, Bianca Lockhart, Nettie, Ingrid Farrington, Trez Ferguson, Tania Armstrong, Monique and Michaela Gordon, Petula Pratt(Byron), Lonette Penn, Janelle and Vanessa Sands, Lezette Miller(Shannon), and Theshala Miller, Ashley and Whitney Farrington, Channeil Strachan, Keshlia Milton(Carl), Dereka, Danielle and Andrea Moultrie, Nioshi Moultrie-Petitjean, Alma Moultrie-Mcintosh, Sharece and Stephanel Stubbs; Cousins: Angela Tynes, Brenda Newton, Evangeline Lightbourne, Patricia Beneby, Nathalie Pelatier, Dorothea Farrington, Charlene Newbold, Patrice Chea(Wellington, Ingrid Kerr, Philip Tynes, Camille Miller(Dennis), Sharron, Maurice, Troy and Garvin Lightbourne, Colin(Barbara), Clement and Sean Newton; a Host of other relatives and friends: Bernadette Clarke, Gregory Clarke(Donna), Marc Ferguson, Terry Thompson, Sharene Dean-Rolle, Chantell, Silma Lewis, Careema Johnson, Melbourne Coakley, Deanne Jones, Karen Young, Wellington Carey, Tina Carey, Bernard Miller, Staff of Atlantis Casino & Slots Dept., Rev. & Mrs. Kenneth Huggins, Rev. Emily Demeritte, The Officers and Members of Providence Methodist Church, Mrs. Joy Burrows, Mrs. June Sands and Management and Staff of Premier Travel. All Former Staff of Bahamian News.
Relatives and friends may pay their respects at Clarke's Funeral Home, East West Highway on Thursday, April 13, 2017 (TODAY) from 9am until service time at the church.