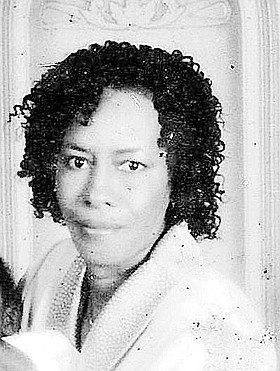 Elma Louise Darville
unknown - unknown
Last Rites For
Elma Louise Darville, 62
of Malcolm Allotment East, west of Winder's Terrace will be held on Sunday, 13th August, 2017 at 1:00pm Living Faith Seventh Day Adventist Church, Old Trail Road. Officiating Pastor Dr. H. A. Roach assisted by Other Ministers of the Gospel. Interment will follow in the Old Trail Cemetery.
She is survived by her sons: King Rolle and Brent Cory Cooper; grandchildren: K'jar, Kiyon, Kiyanno, and Kiyarah Rolle; Mother: Elma Darville; brother: Barry Darville (Boston); sisters: Sherry Brown and Brenda Darville; sister-in-law: Sally Darville; nieces and nephews: Dominique (Kevin), Shaniska (Jonathan), Elmina, Shantel (Ted), Krystal, Brandino (Shonell), Barry Jr. Cheldin, Jared (Tiffanel) and Calvaughn; Grand nieces and nephews: Brane, Megan, Shari, Branell, Branique, Niana, Jayden, Jumon, Justus, Tyler, Trent, Madisyn, Cheldon, Chandon, Brandino Jr.; Aunts: Mary Smith (Freeport), Leana Darville, Cecilia Rolle, Myrtle Cartwright (Freeport); Uncles: Louis Smith (Freeport), Anthony Rolle; Cousins: Anastina, Anderson Jr., Cedric, Inspector Julian, Humphrey, Trevor, Sonovia, Adriana, Terah, Tess, Keisha, Fabian, Virgil, Antonio, Collette, Ben, Alexiou and Arnold; and a host of other relatives and friends: Pastor Hugh A. Roach and Family, Pastor Stanley Ferguson and family, Delores Pandy, the Martins, Burrows and Rahming family, the Dawkins Family, the Bethels and Smith family (Burnt Ground, Long Island), Rose Thompson and Family, Alvilda Dorsett, the Bastain Family, Diane Barr and Family, Minister Lenora Davis and Family, Christine Brown and Family, Michelle Williams and Family, Tamara Malcolm and Family, Dorothy Taylor and Family; the Conliffe Family, Lockey Darville and Family, Craven and Marco Longsworth and Family, Ethelyn Woodside and Family, Lavern Knowles, Jennifer Bodie, Shameka Bevans, Larry Brown, Cephas Maycock, Mrs. Dulcita M. and Reginald Ferguson and Family, the Minns Family, the Honorable Senator Fred Mitchell, Jack Jacques and Family, Norman and Charlotte Culmer and Family, Karen Bethel and Family, Judy Taylor and family, the Fredrick Family of Boston (U.S.A), Gwendolyn Butler and Family, "Sister Pat" Patricia Knowles and Family, Pandora Butler and Family, Leante Williamson, Kendisha Curry and Family, Gary Brown and family, Malcolm Adderley and Family, Pastor Clarence, Patricia, and Sandra Knowles and Family, Flossie Bowe and Family, Jane Rahming and Family, Ruth Collie and Family, Phillips Family, Linda Adderly and family, Ruth Smith and Family, Charles Thurston and Family, Adie Miller and Family, the Lloyd Family, the Alpha Temple 909 Family, the Adah Chapter 967 Family, Chrissie Culmer and Family, Calvin -Charles Brown, Diane Bowe and Family, Emerson Pinder, Minister Jennis McKenzie and Family, the Carey Family, Frazer Bullard and Family; Irene Nixon and Family, Jim Curry and Family, the Wallace Family, the Brown Family, the Lockwood Bend Community, the Malcolm Allotment Community, the St. James Road Community, the Free Community Holiness Baptist Church family, Living Faith Seventh Day Adventist Church Family, along with other special relatives, acquaintances; and friends too numerous to mention.
The body will repose at Curtis Memorial Mortuary on Saturday from 10am until 5pm, and at the Church on Sunday from Noon until service time.