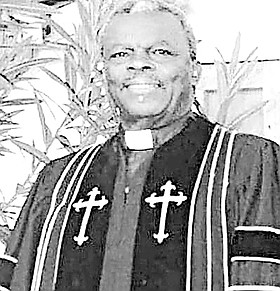 Rev. Dr. Henry Preston Pratt
unknown - unknown
Funeral Service
Rev. Dr. Henry Preston Pratt, 83
a resident of John Street & formerly of Bains Town, Cat Island, will be held at Zion Baptist Church, East & Shirley Streets, on Saturday, 12th August, 2017 at 10:00 a.m. Officiating will be Rev. T. G. Morrison & Rev. Christopher King, assisted by Pastors of Zion Cat Island District & other Ministers of Religion. Interment follows in Woodlawn Gardens, Soldier Road.
Those who will cherish his memory by following his precepts and examples include his devoted wife: Deaconess Madlyn Rolle Pratt; Sister: Prescola Pratt; Four daughters: Maedell Woodside, Mavis Pratt, W/R Sgt. 489 Densimae Pratt and Leanora Pratt; Four sons: Herk Pratt, Harvey Pratt, Assistant Superintendent Darvey Pratt of The Royal Bahamas Police Force and Leon Pratt; Other children: Coralee Rolle, Sophie Darville, Precilla Laing, Anna and Kello Rolle; Adopted Children: Beautiny King, Melony Rahming, Allie Bain, Brisco Pratt, Michael Pratt and Supt. Anthony Rolle; Grandchildren: Cloradell and Micheal Pratt, Wendy Gaitor, Arnold and Sheena Gilbert, Karlean and Ricardo Capron, Herk and Kadaysha Pratt, Keria Gibson, Able Seaman Howard Pratt of Royal Bahamas Defence Force, Correctional Officer Jasmine Pratt, Harvette and Harvey Jr., Juliano Nottage, Able Seaman Abreo Adderley of Royal Bahamas Defence Force, Correctional Officer Kerenza Pratt and Darville Pratt, Garvin Gordan, Devaughn Seymour, Aleah Pratt, Jermaine, Lacara, W/Cpl 3538 Nikita Rolle, Jennie, Adesha, Shakantala, D'Angelo, A'Janae. Gia, and Graylyn; Great Grandchildren: Dion, Ashton, Ashley, Paris, Destiny, Makayla, Makelle, Michaelnique, Michaelette, Michael Jr., Rikwon, Rikai, Hailey, Haden, Malayah and Dylan, Jaelin, Kayden, Daquez, Arianna and Gabi; Nephews: Rev. Christopher King (Olive King), Rev. Harrison King (Rhoda King), Ezra King (Jennifer King), Joseph and Huie King, Kingsley Bain Sr., Keneith and Kaleb Williams, Reckwill Pratt, Cordell, Marlon, Jacob, Luther, Audley, Roosevelt and Laverne Riley; Nieces: Redell King Hubbard of (Miami, Florida), Idell Burrows (Riginald Burrows), Minister Christine Seymour (Federick Seymour), Cordell Hunter (Prince Hunter), Eloise King Ferier of Miami, Florida, Valarie Williams Strachan, Wanda Williams, Delray Pratt, Pattie Pratt Sporleder, Yolanda, W/Cpl 322 Jenika Ambrister, Jekita, Marilyn, Paula, Denise, Petty Officer Rowena Rolle and Deloris Rolle; Son-in-law: Vincent Woodside, Cpl1341 Bernard Rolle and Gregory Darville; Daughters-in-law: Joyce Pratt, Eula Pratt and Margaret Pratt; Sisters-In-law: Leola Rolle, Inez Smith, Diane Russell, Christine Moss, Jennimae Rolle, Virginia and Maxine Rolle; Brothers-In-law: Stephen Allen, Hercules Rolle, Godfrey Russell, Benjamin Rolle, Jacob Ambrister, and Grandville McMinns; Forty five (45) grand Nieces and Nephews; and a host of other relatives and friends.
Friends may pay their last respects at Demeritte's Funeral Home, Market Street, from 12-6:00 p.m. on Friday & on Saturday at the church from 9:00 a.m. until service time.