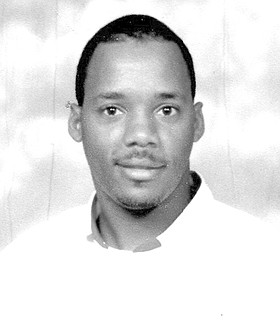 ANTONIO "TONES, TONIO" STURRUP
unknown - unknown
FUNERAL SERVICE for MR. ANTONIO 'TONES", "TONIO" STURRUP age 37 years of Jubilee Blvd, Jubilee Gardens, who died on Friday, November 10th, 2017 will be held on Saturday, December 2nd, 2017, at 10:00 a.m. at Mount Tabor Church, Willow Tree Avenue and Mount Tabor Drive, Pinewood Gardens. Officiating will be Bishop Delton Ellis, assisted by Bishop Carlton Stuart, Church of God and Pastor Hervis Bain III. Interment will be made in Woodlawn Gardens, Soldier Road.
Precious memories will forever live in the hearts of His wife: Devona
Daughter: Antonisse
Parents: Glendina and Amos Saunders; and Mark Anthony Goodman
Grandmother: Remilda Sturrup
Brothers: Charles Sturrup, Rubean and Anton Goodman
Mother-in-law: Berylyn Williams
Father-in-law: Pastor Clint Williams
Grand mother-in-law: Florinda Williams
Sister-in-law: Vanchea Goodman
Aunts: Joyce Duncombe, Jenniemae Miller, Rose, Lela and Meleny Sturrup, Portia Smith, Dianae, Dorothy and Donna Sturrup, Ena and Alice of (Florida USA), Iva, Deane and Michelle, Jacenta Sturrup, Evelyn Wilson and Ulrica McIntosh.
Uncles: Thomas, Leon, Wallas, Donavan, Daniel and Wellington Sturrup, Rodney, Gregory, Cedric, Hubert and Roy of (Florida); and Hansel and Alphaus Saunders.
Nieces: Terria, Esther Bullard, Esther and Shonea Goodman; and Chelsea and Sherlia Sturrup.
Grandaunts: Evangelist Mildred Burrows, Emily Rahming, Jestina Rolle, Albertha McPhee, Mary Ferguson; Thelma, Mary, Albertha Stuart and Minister Genesta Stuart.
Granduncles: Chirstopher, Deacon Hirken, Wilton, Godfrey and Bishop Carlton J. Stuart; Urias and Samuel Sturrup; Edmund Rahming, Randy Rolle, Carlton McPhee, Edward Duncombe, Paul Smith Sr., and Lernis Miller.
Cousins: Celeste Forbes, Jamal Miller, Thomas Jr., Charmine and Jamaine Sturrup, Lance, Oniel, Samonique, Sanvia and Shekania Miller, Aron McKenzie, Ryan, Tenia and Degino Duncombe, Glenda Bain, Latisha, Tranae, Catihendra, Antoinette, Faith, Devonique, Star Shawn, Jeremy and Phyllis Sturrup; Paul Smith, Sandra and Donna Saunders.
Numerous Other Relatives and Friends including: Rev. Garth Fynes, Bishop Roy and Lillith Burrows, Cornell and Andrew Stuart, Christine Gomez, Angela Bailey, Dr. Abigail Ramtulla, Jasmine Gayle, Meneria Talbot, Princess Neely, Cecelia Stuart, Angela King, Michelle Johnson, Charlene Burrows, Keffieann Ferguson, Leotha Rahming, Alfred Stuart Jr., Pastor Kirk and Arnett Stuart, Bentha Knowles, Shanna McCartney, Aniskha Rolle, Fabian Stuart, Edlyn Lewis, Edmund and Elisa Rahming, Sharnell and Randy Rolle Jr., Shenique Colebrook, Carlton Jr. and Garrison Stuart, Kendra Donald, Qutell Deveaux, Calvin McPhee, Thomas Beckwith, Eva Bastian, Pastor Eulilee Gibson, Elder Hartman, and Minister Franklyn Stuart, Kathleen Rolle- Fritz, Burnell Rolle, Rogina Munroe, Georgina Jones, Dave Rigby & family, The Gardiner family, Keva Hepburn & family, The Henfield family, Winfred Sturrup and family, Shirley Strachan and family, Jestina Sturrup & family, The McKenzie family, Henrique Jordan & Family (Cat Cay Bahamas), Rev. Martha Duvalier & Family, Sandy Mackey & Family, Verline Moxey & Family, Deborah Forbes & Family, Deidre Miller & Family, Francine Lavarity and Family, Pastor Catherine Burrows and Out Reach Evangelistic Church family, Mount Tabor church family, East Street Cathedral Church family, Rev. Jacob Hanna & family, the Staff of Food & Beverage Department, Atlantic Coral Towers; The Pinewood Gardens Community, The Long Bay Community, South Andros, and the Staff of Cat Cay Club.
Viewing will be held at Clarke's Funeral Home & Crematorium on East West Highway on Friday, December 1st from 11:00am to 6:00pm and on Saturday from 9:00am at the church until service time.