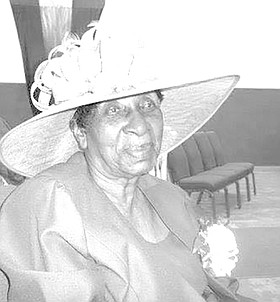 Daisy Rahming
unknown - unknown
Funeral Service For the late Matriarch Daisy Rahming age 93years
of Seymour Street Yellow Elder and formerly of Black Point, South Andros will be held on Sunday, December 10th, 2017 at Hillview Seventh-day Adventist Church, 135 Tonique Williams-Darling Highway at 12 noon. Officiating will be Pastor Peter Joseph assisted by other Ministers of Religion. Interment will follow in Lakeview Memorial Gardens, J.F.K. Drive.
Her life and legacy will live on through:
Six sons: Clarence, Charles (Justice of the Peace), Lennis, Malfreth, Dr. Elliston and Retired Police Sargent 823 Ernest RahmingTwo daughters: Rosetta Gibson & Ivy RolleOne son-in-law: Philip Rolle
Five daughters-in-law: Ruth, Carmetta, Ginger, Arthurlue and Yvonne Rahming
Twelve grandsons: Samuel, P.C. 1079 Alexander, Andre, Johnathan, Hugh, Mario, Sean, Jon, Marvin, Minister Jason, Pele', and Kristan RahmingTwenty Six granddaughters: Jacqueline Brown, Desiree Armbrister, Phillippa Rolle, Jan-Marie Brown, Vanessa Taylor, Eleanor & Bernadette Bowleg, Pandora Lockhart, Glendina Rahming, Dionne Brown, Sharvonne Woodside, Diane Jones, Patricia Ireland, Melony Gibson, Shantell McPhee, Coleen Stubbs, Gia Gibson, Nadine Miller, Annie Curtis,Melonie Thompson, Latoya Rahming, Yana Rahming Bethel, Rashanda Rahming, Tereza Jacques, Sue Ellen Smith, and Destiny Rahming. Fifty Three great grandchildren including: Samuel Jr. and Ralitsa Rahming, Charlise, Charles Jr., Travis, Travette, Travano& Treasure Bowleg, Deyonce Smith, Anwar Jr. and Neveah Lockhart, Darinique Brown, Alexander Jr., Alexis and Alexcia Rahming, Johnathan Jr., Phillease, and Phillip Cooper, Nel-Eisha and Nelson Woodside Jr., Kenreah Brown, Ree-Ann, Garron and Deyonell Jones, Sasha and Alexis Ireland, Tevin Rahming, Andrew Jr. and Andre Thompson, Jamaya& Jamari Whyms, Traysean and Martika Rahming, Rhianna Graham, Camello, Stefon, Xavion and Aniya Rahming, Jernisha Bethel, Abigail Rahming, Carter Lamm, TaiazaDemeritte, Chyna &Toure Jacques, &TagyeiArmbrister.
Five great-great grandchildren; Eleven grandsons-in-law: Charles and Harizona Bowleg, Anwar Lockhart Sr, Darion Brown, Chief Petty Officer Roy Brown Jr. (RBDF), Elder Gary Jones, Theodore Armbrister, Kino Taylor, Randy McPhee, Jermaine Bethel and Walky JacquesThree granddaughters-in-law: Isolyn, Teneille& Ariel RahmingSeven adopted children: Harriet Davis, Matthew Hanna, Eustace Jennings, Johnny Taylor, Louis Rolle Sr., William & Zella Sturrup, Ferdinand Destin, Brian & Paulette Bynoe (New York, USA), Maria Roach, and Stanley Northe Jr.Eight step grandsons: Kenneth, Michael and Quinten Kerr, Mario Mortimer, Grameko Hepburn, Brent and Anfernee Conyers and Lawrence Sweeting Jr., Six step granddaughters: Samantha and Shakera Tanis, Earnestine Hepburn, Gia Smith, Laury Richards and Brendalee RaeOne sister-in-law: ManekerbellCanter Adopted brothers and sister: PastorHenry, James and Robert Bullard and Elder Catherine RokerNumerous nieces & nephews including: Julianne Rolle, Harold Jr., Carlton and HumfreyMcphee, Clifford Saunders, Esther Rahming, Samuel Duncombe, Coralee Young, Alphonso, Berkely, Emeritta, Unamae and Susiemae Canter, Janetta Pratt, Lionel & Jennifer Johnson, Thaddeus & Carmen, Sidney, Eulamae Gordon, Eloise Demifort, Vernita Russell, Geraldine Strachan, Gertrude Brown Caregiver: Sylvia Heath;Numerous other relatives and friends including: Isaac Rolle, Cinderella Kelly, Laura Forbes, Isadora McPhee, Leila Clarke, Jenetta Ferguson, Sherise Campbell, Verna Deveaux, Ivy Humes, Annie Green and Family, Miriam Brown and Family, The Seymour Street Yellow Elder Family, Gloria Smith & Family, Minister Addiebell Curry, Eloise Smith, & Family, Minister Marva Thompson, Pastor Peter Joseph, Pastor C. Melvin Lewis, Elders & members of Hillview Seventh-day Adventist Church, Michael & Maggie Turner Sr., Charles Miller, Hazel Cleare, Joyce Roberts, Joshua Smith, Dale Davis, Eunice Greene, Rowena Smith, The family of the late Alston Rolle Sr., South Bahamas Conference of Seventh-day Adventist, Apostle Phalmon & Lady Sophia Fergusonand the family of United Faith Ministries Int'l,the Bay Street Straw Market, John Bull Business Centre, Bahamas Academy, Office of the Judiciary (Abaco),Department of Lands & Surveys, ThInterTech Security Group, and the communities of Black Point & Kemps Bay, South Andros. A special thank you to Doctor Charles Osazuwa and Doctor Kevin Moss.
Viewing will be held at Gambier House, farrington road on Friday from 10-5pm and again at thte church on Suhday from 10:30 am until service time
TELEVISION
Funeral Service For
Matriarch Daisy Rahming, Stalwart Councillor, 93
Of Seymour Street, Yellow Elder and formerly of Black Point, South Andros
Services will be held at
Hillview Seventh-day Adventist Church
135 Tonique Williams Darling Highway
Nassau, Bahamas
Sunday, December 10, 2017
12 noon
Officiating: Pastor Peter Joseph
Service by: Evergreen Mortuary
Interment: Lakeview Memorial Garden
J.F.K. Drive