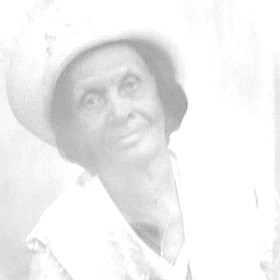 Susan Hall
unknown - unknown
Funeral service for Mrs. Susan Hall age 88 years of Rock Sound, Eleuthera formerly of Rolleville, Exuma will be held at Church of God, Rock Sound Eleuthera on Saturday December 9th at 11:00 a.m. Officiating will be Rev. Tyrone Sands and interment will follow in the Yellow Ground Cemetery, Rock Sound, Eleuthera.
Left to carry on her legacy are:
Twelve (12) Children: James (Vanessa) Hall, Edith Hall, Dorothy Gomez, Alsaida Leary, Delana Symonette, Mary Sands, Sargent 1192 Mack (Ella) Hall, Iva Hall, Jack (Tricee) Hall, Manassah Hall, Lenora (Earkson)Wright, James Hall.
Four (4) Adopted Children: Maguaritta Culmer, Ann Sands, Angela Leary, Christina Pennerman
Fifty- One (51) Grand Children: Dellarese (Patrick), Delpha (Levi), Desmond (Romaine), Darren, Jonathan, Jonay, Jamiyah, Leroy Jr. (Chicago Illnois), Sherrine, Keenya (Dugrid Sr.), Jeffrey (Rose), Deborah, Suzanne, Phillippa (Andrew Jr.), Pancho Pascual, Shemaka, Javon, Abigail, Carla (Marco), Edmund, Kate (Kipling Jr.) Antonya, Kevano, Fredeisha, Keisha (Marvin), Demetrius, Shakera, Jamilee, Virginia, James, Denerio, Nathaniel, Leading Seaman Anthony Hall, Shakandria, Lawrencia, Mackeba, Chavez, Bianca, Karissa, Ivanna, Lateria, Alpheaus, Ericka, Donavon, Terrel, Jameko, Woman Marine Shantye Hall, Dulon (Lisa), Torreno ,Garnet (Gabrielle) Pople, Crystal Bain.
Fifty-six (56) Great -Grand Children: Patrick Jr. Keyon, Ron, Omari, Diaget, Oshea, Ashley, Jermaine, Xavier, Princess, Jarred, Darrinique, Dunarje, Sherika, Dugrid Jr. Danielle, David, Garneisha, Andrenique, Andria, Aaliyah, Andrew III, Pancho Jr. Pacheran, Shaquanya, Jaimee, Precious, Xavier, Carlee, Tiarra, Terrell Jr. Terron, Doneisha, Donae, Donavon Jr. Paris, Carlissa, Kania, Deon, Shaquante, Lakenia, Latario, Ceanka, Kiano,Taliyah, Shania,Makelia, Deonte, Tavontae, Shavardo Jr. Elvanno, Ominique, Jaylicia, Andriano Jr. MacKayla, Adar.
Two (2) Great Great Grand Children: Rashawn, Onan Jr.
Two (2) Sister In Laws: Olivia Symonette, Edris Sweeting
Neices & Nephews: Sheila, Jeffrey, Constance, Noel, Sara, Patirica, Eloise, Suzette, Louise, Jerome, Garnet Brown, Patrice, Maureen , Miah, Bridgette, Cleveland, Eddie, Sandra, Charlene, Stevie, Markee, Cynthia, Ted, Nathaniel, Theola, Cleomie, Everlina, Louise, BettyAnn, Noralee, Johnny, Dorita, Shayann, Linda, Tiffany, Tricee, Devon, Dwight, Joseph, Harold, Lydia, Katherine, Garnet, Sherylmae, John Hall, Alfred, James, Brenda Rose, Vangy, Norma, Roslyn, Lena, Lilly, David, Keith, Sandy, Ross, Vincent, Paula.
Numerous Relatives & Friends:
Descendants of the Late Romanda Bodie & family, Cooliemae Francis & family, Dr. Sidney Smith & the Nurses of Rock Sound Clinic, Pastor Bradley Ferguson & family, Roland Ferguson & family, Claudia Sands & family, Godfrey Deveaux & family, Will Bain, Charlie Strachan, Lillian Carey & family, Clement Hall & family, Bill Cates, Avis Pyfrom & family, Gloria McSweeney & family, Breon Leary & family, Glenda Williams, Arthur Sands & family, Bernadette Leary & family, Robert Sands & family, Pastor Cedric Hall & family, Nurse Althea Williams, Frank Hall & family, Stasha Thompson, BTC Rock Sound Staff, Royal Bahamas Police Force (Eleuthera Division) Royal Bahamas Defence Force, Netlee Mark. M& T Teenagers, Harry Horton & family, Gary & Erueka Sands & family, Hon. Oswald Ingraham & family, Ronnie Horton & family, Hilbert Richards & family, James Jolly, Hazel Sands & family, Philip Saintil, Kipling Rolle (Gunhill Papa) Barry & Margaret Ward & family, Supt. Kemmy Hinsey & family, Garnet Thompson, Jerry & Van Oldham, Walton Cooper & family, Chris Bain & family, Millicient, Pastor Andrea Carey, Calvin Seymour & family, Merlene McPhee, Pastor Ellison Greenslade, Members of AME Church Rock Sound, Rose Gibson, Florence Williams, Stephen Maynard, The Mackey Family (Waterford) Nola Rolle Betty Gibson, Abaco Hardware, Shanamae Hall & family, Mildred Culmer, Marjorie Deveaux & family, Minister Carnetta Ferguson & family, Gloria Pinder & family, Julian Smith, Harcourt & Nola Brown & family, Leonard Braynen & family, Tina & Lance Munnings & family, Bannerman Town Community, The MP for South & Central Eleuthera Mr. Hank Johnson, The entire Community of Rock Sound, The entire Family and friends in Rolleville Exuma.
Friends may pay their respect at Demeritte's Funeral Home Rock Sound, Eleuthera on Friday from 4:00 p.m. to 6:00p.m. and on Saturday at the church until service time.